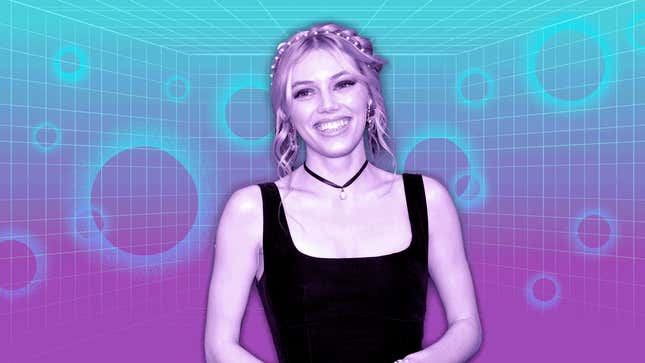 This article is part of our new women in gaming series Makers Of Now.
Although she'd been acting for years at that point—including a role as Sharon Tate in Mary Harron's Charles Manson thriller Charlie Says, and a starring role in NBC's 2019 drama The Village—Grace Van Dien's profile got a serious bump in 2022, when she made a memorable guest appearance in the fourth season of Stranger Things. Van Dien played doomed, complicated cheerleader Chrissy Cunningham, imbuing a character whose purpose in the plot is, basically, to show up, attract the attention of some seriously dark stuff, and die, with charisma and life.
Netflix plans to make you freeloaders finally cough up the dough
By the time Stranger Things came around, though, Van Dien had already established herself in a separate field: Video game streaming, which she's been doing regularly on Twitch for a few years now. With a video backlog full of her chatting with fans (and mercilessly executing opponents, most notably in Riot Games' online shooter Valorant), Van Dien has built a community in the streaming space—one that exploded after the release of her episodes of Stranger Things.
Earlier this year, Van Dien announced that she'd be putting more focus on her streaming work, after revealing that she'd faced sexual harassment on the set of a recent film. This week, she fielded questions from The A.V. Club about the artistic aspects of streaming, the benefits she gets from watching other people play video games, and the nature of taking a private process like creating art and putting it on display for the world to see.
---
AVC: Could you give folks an overview of your background in gaming? What was the first game you fell in love with?

GVD: I started gaming with Super Smash Bros. Melee on my Gamecube. My sisters and I would argue over who got to play Kirby.

AVC: Streaming is a strange sort of artform, because you're simultaneously performing and playing yourself. What first drew you to it?
GVD: I think you could say acting is also performing while playing yourself. For me, the main difference with streaming is, I control the dialogue and emotion. I like being able to connect with a community from the comfort of my home.

AVC: You've recently been streaming a lot of online shooter Valorant. What is it about multiplayer games like that that makes for good stream content for you? What's the "ideal" stream game, to your mind?
GVD: It's honestly probably not good streaming content, haha. My viewers ask me to play Animal Crossing and Stardew Valley.
I'm addicted to Valorant, that's why I play it and sometimes stream for 20 hours straight. I will log back into my [Animal Crossing] village soon though. I hope my villagers aren't too mad at me for being gone three years.

AVC: If you had the resources (money, artists, programmers, etc.) to make your own dream game, what would it be?
GVD: This is such a good but difficult question! I really love the style of The Quarry—where it feels like an interactive movie. I don't know what I'd do differently though.
AVC: You've had your dad, Casper Van Dien, on your streams. How would you describe the energy he brings? Were you a big gaming household growing up?
My dad is very similar to me but with higher energy. We played a lot of games growing up that were adapted from movies. Like X-Men or The Lord Of The Rings.
AVC: Your channel got a big bump in attention, understandably, after your great performance in Stranger Things. Has that changed the streaming experience? How do you keep yourself comfortable and safe when you have more than 300,000 followers on Twitch alone?

GVD: I'm very grateful for the connection people made with my character on ST, and then with me on stream. I haven't had to deal with any situation in streaming that makes me feel unsafe. My community on Twitch is very funny and kind.
AVC: Why do you think streaming has taken off over the last 10 years? What role do you think streamers fulfill in people's lives in 2023?
GVD: I find myself watching Valorant streams sometimes when I'm away for a couple weeks at a time. What I love about them, from an audience perspective, is how unpredictable and fun they can be. I laugh a lot.
AVC: Streaming is, pretty much by definition, independent content creation. What does that do for creators and artists? What about it do you find artistically and creatively fulfilling?

GVD: Creating for me, whether it be acting, writing, painting, has always been a private event. Streaming has changed that, but for the better. For me, having people engaged with my life and my projects holds me accountable.

What do you think streaming will look like in 10 years?
GVD: I have no idea what it will look like in 10 years. The thought scares me a bit.