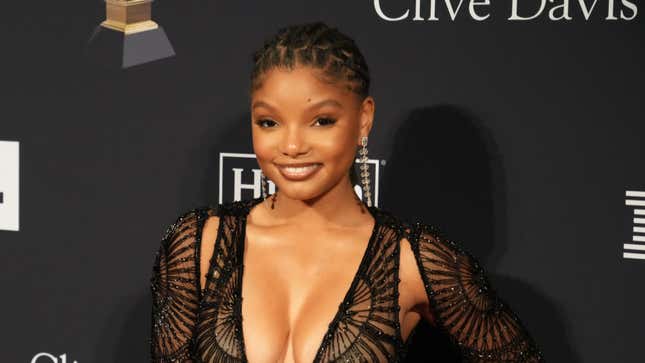 Spewing racist ire online because an imaginary mermaid has more melanin is about as cruelly dimwitted as it gets. Unfortunately enough, that hasn't stopped a very loud cohort of idiots from attacking the casting of Black actor and musician Halle Bailey as Ariel in Disney's upcoming live-action The Little Mermaid remake. Perhaps the worst part: Bailey herself saw this racist nonsense coming.

How a drag queen inspired Melissa McCarthy's Ursula
"As a Black person, you just expect it and it's not really a shock anymore," Bailey tells The Face's Olive Pometsey in a new conversation.
It helps, Bailey explains, that outside of the internet the response to her role has been largely positive. "Honestly, when the teaser came out, I was at the D23 Expo [ Disney's largest fan-centric event] and I was so happy," Bailey recalls. "I didn't see any of the negativity."

Although Bailey may have seen this all coming a mile away, The Little Mermaid director Rob Marshall previously expressed surprise over the backlash she received because he "felt like we've moved so far past that kind of thing."
"We just were looking for the best actor for the role, period. The end," Marshall told Entertainment Weekly in December 2022. Production wanted someone "incredibly strong, passionate, beautiful, smart, clever" with "a great deal of fire and joy." Bailey fit the bill perfectly.
Being the perfect Ariel, however, doesn't mean sticking to the animated redhead of the 1989 original. One of the ways Bailey made the character her own was by wearing her hair in the same locs she's had since she was three years old.
"As a Black woman, hair is spiritual, especially locs," Bailey shares. "It was really cool for them to make Ariel a version of me with my locs. I feel like that's what mermaid hair would be anyway."
As Bailey hints, however, the differences in her Ariel go beyond appearance. For one: in this version, Prince Eric is more of a "cherry on top" than the main course that makes Ariel desperate to be part of a different world.
"When we saw [The Little Mermaid], when we were younger, she gave up everything for the guy. But I don't think [that] reflects modern women today," Bailey shares. "So [now] it's more about Ariel finding freedom for herself because of this world that she's obsessed with...It's not all about him."