Determining which music is the "most hipster" has long been plagued by ambiguous methodology, such as reading the comments on any single article ever posted about any band ever. While that can lead you to the safe, blanket conclusion that the mere act of listening to recorded sound is incredibly "hipster," figuring out which sounds are the most hipster has traditionally eluded us, causing endless debate—a pursuit that is itself ironically "hipster." But now the data-miners at Priceonomics have devised a mathematical formula to help you determine which bands are the most egregious examples of that vaguely applied term, so you can more easily avoid them and get back to listening to non-hipster sounds, like fire trucks.
The Hipster Music Index plots bands along two of the most crucial hipster points besides haircuts: critical acclaim and obscurity. The first factor was determined by its review from Pitchfork; the second by the number of shares that review got on Facebook. Bands that had a high score but low social media impact were determined to be in the "hipster" sweet spot—lauded by critics, unknown by the "mainstream"—and thus the most hipster they could be. And so, by graphing Pitchfork's "Best New Music" winners from 2013-2014, it was determined that these are the 10 most hipster bands around:
1. The Field
2. Julia Holter
3. Iceage
4. These New Puritans
5. Fuck Buttons
6. DJ Rashad
7. The Haxan Cloak
8. Julianna Barwick
9. DJ Koze
10. Autre Ne Veut
Meanwhile, these are the 10 bands that are good, sure, but everyone has heard them, so it's like who cares:
1. The National
2. Boards of Canada
3. Justin Timberlake
4. The Range
5. Deerhunter
6. The Knife
7. My Bloody Valentine
8. Chance the Rapper
9. Daft Punk
10. Haim
The site also developed a more extensive breakdown of the 25 biggest "hipster" bands, whose obscurity is such that you can safely listen to them or put them in your Best Of album lists without fear of losing your edge.
And finally, there's the "Beer Me Bro" index, which lists the 25 bands who, oh really, Arcade Fire? Let me guess: Your MySpace page says you love "Rap, Dance, Country All Kinds of Music :P LOL," and also you have a MySpace page.

G/O Media may get a commission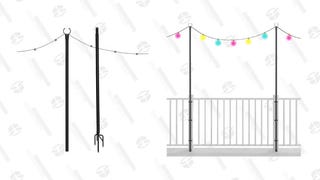 Up To 49% Off
Holiday Styling String Light Poles
Priceonomics also notes that it was unable to determine whether it's "okay to like Vampire Weekend," leaving that to tomorrow's scientists to discover through repeated trials of sniping at each other.

[via Gawker]