As the debut of 15 new Arrested Development episodes draws nearer, the time to set your expectations for the return of the Bluths is nigh. As the calendar pages fall off one by one, each cruelly revealing a day where there aren't new Arrested Development episodes (until there are), keep in mind that these new installments can't match your memories of the first three seasons. In fact, the actual first three seasons can't match those memories; no matter how funny or life-changing the experience of watching them may have been, you remember it being a lot better. Repeat to yourself: It's just a TV show—and one that was fundamentally changed to avoid constant comparisons to its former self.
And now that you've done that, take a look at these three photos from Entertainment Weekly and start getting unduly excited all over again! AHHH! George Michael's following in his uncles, er, tire tracks! YOU JUST BLUE YOURSELF!
Something something hero squad, mother! THE SEAL IS FOR MARKSMANSHIP AND THE GORILLA IS FOR FREAKING THE FUCK OUT ABOUT ARRESTED DEVELOPMENT!
G/O Media may get a commission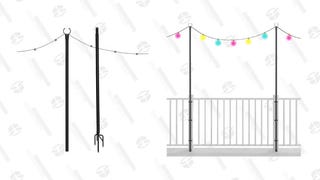 Up To 49% Off
Holiday Styling String Light Poles
Tobias in a neck brace—what could that mean? Did one of the many guest stars put him in it? Was it those Workaholics guys? It was probably those Workaholics guys. How dare they do that to Tobias. Let's go get 'em!
[h/t Uproxx, Entertainment Weekly]