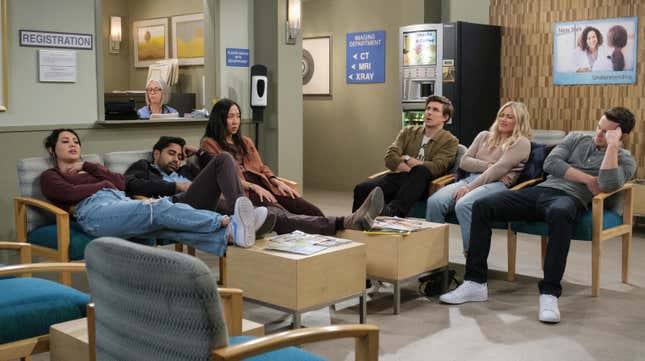 In a move that's vaguely reminiscent of when Netflix's One Day At A Time reboot moved to Pop TV, Hulu's How I Met Your Father—which is also a reboot of an existing sitcom, though How I Met Your Mother is a lot more recent than the original One Day At A Time was—is going to start airing on Freeform. A more appropriate comparison might be the time TNT, TBS, and TruTV aired episodes of Titans and The Flight Attendant as a plug for HBO Max, though that was at least partially a "we're desperate for things to put on TV during COVID move." Either way, How I Met Your Father will soon be airing on Freeform, which is a regular TV network! It comes from a TV cable and not an internet cable like Hulu does! TV is an older kind of technology, as opposed to a newer kind of technology like internet streaming!
Variety says HIMYF will premiere on Freeform on April 25 with the first two episodes of season one, and it will continue to air two episodes every week on Tuesdays until it has run through the whole first season. While a good way to pad out a linear TV schedule, this mostly seems like a major vote of confidence for How I Met Your Father… which has already received at least one other major vote of confidence in the past. Last year, about a month after premiering, Hulu renewed the series for a 20-episode second season, which is a pretty huge number considering how short seasons tend to be for streaming shows. Hell, the first season of this show was only 10 episodes. Basically, Hulu loves HIMYF so much that it's going to spend a decade telling it's future kids about how they met.
The series, which stars Hilary Duff, Christopher Lowell, and Kim Cattrall, will continue to air new episodes on Hulu—naturally, since that's kind of key to the whole "Hulu loves this thing" argument.