The Cannes Film Festival––going on RIGHT NOW in sunny France, as you and I sit in our dreary offices––poses a unique problem for movie publicists. Namely, how do you promote your movie on a topless beach? Those planes with banners behind them are just sad, and while sky-writing is great and all, who's going to be looking up? You could hire Bruce Willis to sit in a fire-enging-red suit on the deck of a boat, hoping that the reflection off of his head will act as a beacon of sorts, directing critics to your screening. But, really, that's just confusing.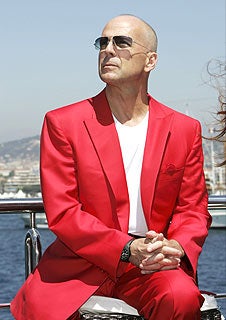 And mildly terrifying. Or you could erect a gigantic black pyramid on the beach, the size of which is inversely proportionate to the plausability of your plot, like the
Da Vinci Code.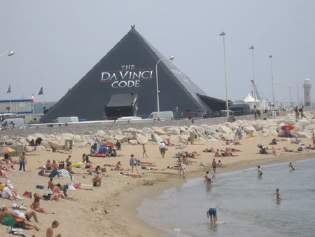 But that just gives critics a gigantic target to angrily roll their eyes towards, post-screening. Or, you could just put Sasha Baron Cohen in the most disgusting swimsuit ever and let him loose on the beach.
(More pictures
here, including a few of Borat sitting on another be-thonged sunbather). What's weird is that picture only makes me want to see Borat more. So, it's definitely working. Don't you wish you were in Cannes so you could make fun of this stuff firsthand, AND in broken French?