In Hear This, The A.V. Club writers sing the praises of songs they know well. This week: We pay tribute to one of the greatest artists of all time, David Bowie.
David Bowie, "Modern Love" (1983)
Back in the early '80s, my parents were fairly early adopters of cable TV, specifically to watch Inside The NFL on HBO (hosted by my mom's hero, Lenny Dawson), which afforded me access to the early days of MTV. Although the young network was a cultural phenomenon by that point, it hadn't yet triggered much hand-wringing about it poisoning young minds, which is probably why my generally overprotective mother didn't hassle me about watching it.
Going through this database of music videos released in 1983 triggers a lot of video memories of that era (Stray Cats, Cyndi Lauper, Talking Heads, Culture Club, Journey, Billy Idol, ZZ Top, and on and on). The length of the list shows how much artists were embracing the new medium, including David Bowie, who released three that year alone—even if he had problems with MTV's overwhelming whiteness.
At 7, I was too young to process that, but Bowie's videos made an impression. They served as my introduction to him as an artist, and "Modern Love" would quickly become my favorite.
G/O Media may get a commission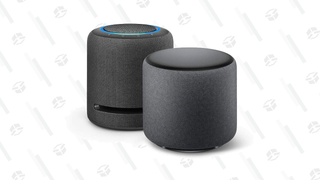 25% off - Prime Exclusive
Echo Studio + Echo Sub Bundle
It's taken from a live performance during Bowie's Serious Moonlight Tour, his largest and most successful tour up until that point, supporting 1983's Let's Dance. Set lists from that tour show that "Modern Love," which reached its peak chart position not long before the tour wrapped in December of that year, was Bowie's preferred closer.
Veteran music-video director Jim Yukich captures what looks like Bowie and his band re-emerging for an encore during a four-night stand at Philadelphia's Spectrum theater. The look of Bowie and band presages the swing revival that would follow a decade later, though supposedly it was a winking allusion to the Bowie-influenced new romantics—Duran Duran, Spandau Ballet, etc.—that were also crowding MTV at the time.
As a video, "Modern Love" is as straightforward as it gets, especially compared to the others Bowie did that year, "China Girl" and "Let's Dance." That could be because Yukich, even though he was Capitol/EMI's in-house director at the time, was still a newcomer to directing music videos, but it more likely reflects the sudden success of "Modern Love." By the time it became a hit, the tour was well under way, and it's not like Bowie could take time off from his most successful tour ever to shoot something more conceptual like the "China Girl" video.
So why do I remember it so well? It has less to do with the video and more to do with the song: As art-damaged as Bowie liked to be, he could sling straight-forward rave-ups with the best of 'em, and "Modern Love" is basically one long hook, which perhaps obscures the anxiety about faith—in both the almighty and relationships—at the song's core. Few pop songs can pull off sing-alongs to the lyrics "God and man, no religion."
It came full circle for me a few years ago when I hosted an episode of Undercover where Lucero covered "Modern Love."
The song especially suited Lucero's rootsy Memphis sound, which makes sense considering Bowie wanted to emulate Little Richard on Let's Dance. Before working on the album, he showed producer Nile Rodgers a photo of the Southern rock icon that he thought captured the spirit of what he wanted Let's Dance to be: "When he showed me that picture," Rodgers told Rolling Stone, "I knew that he wanted the record to sound modern and timeless and be rock 'n' roll-based."
As I learned about all the other iterations of David Bowie as I grew up, the look of the "Let's Dance" struck me as peculiar, because here was this art-rock icon playing what looked like a concert with the E Street Band. It took me a little while to get it. But Bowie succeeded at what he aspired to: "Modern Love" sounds both modern and timeless. David Bowie well earned his musical immortality.