Yesterday, we took a glimpse at the first half of the summer movie calendar, allowing our boundlessly optimistic inner child and our beaten-down-by-the-world outer adult to debate two months worth of upcoming event films. In round two, the contenders take on July and August—historically, the lousier half of the season. Will our inner child be able to muster any enthusiasm for a Smurfs sequel? Find out below.
Despicable Me 2 (July 3)

What it promises: Former supervillain Gru (Steve Carell with a silly accent) is tapped to help fight a new supervillain, voiced by Al Pacino. Meanwhile, his three adorable adopted children and various wacky yellow minion-critters provide a nigh-infinite supply of comedic relief.
Why our inner child is excited: The first Despicable Me was a hyperkinetic blast, hindered only by toxic levels of cuteness involving Gru dropping his bad-guy pose and melting over the orphan kids he takes in. It's always possible that with the orphans saved, the sequel will focus less on them and more on their adoptive dad's outsized action-comedy humor. The comedic timing in the trailer is snappy, with its focus on a snitty Anti-Villain League agent played by Kristen Wiig.
Why our outer adult is dreading it: On the other hand, it seems like the biggest plaudits for the first film went to the minions and the tiny girl gasping, in response to a stuffed unicorn, "He's so fluffy, I'm gonna die!" It actually seems more likely that for round two, the screenwriters will coast on cute-kid quotes and minion madness, setting the stage for 2014's all-little-yellow-nonsense-talking-capsule-dude prequel, Minions.
Grown Ups 2  (July 12)

What it promises: Adam Sandler and his buddies drinking beer and goofing around in the general proximity of the incredibly beautiful women paid to portray their wives. There may also be a "plot" of some sort, but don't bet on it. This is about bros hanging out and being bros, and the world is expected to pay handsomely to attend such a spectacle, as the bros involved are extremely famous. Also, Rob Schneider isn't in this one for some reason.  
Why our inner child is excited: Remember all those movies where Adam Sandler made crazy faces and did goofy voices? Our inner child enjoyed those. Maybe this will be a return to form for Sandler, who, just to illustrate how little he cares about the precious rules of continuity, will play Happy Gilmore here, and not whoever he played in the first Grown Ups. 
Why our outer adult is dreading it: The original Grown Ups represented one of the highest-grossing glorified home movies in cinema history. When the world rewards your laziness and unabashed self-indulgence that extravagantly, there's no real motivation to evolve.
G/O Media may get a commission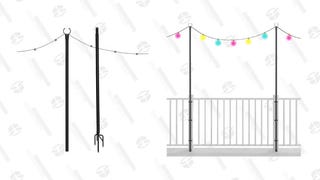 Up To 49% Off
Holiday Styling String Light Poles
Pacific Rim (July 12)

What it promises: Gigantic aliens invade Earth and start smashing things, so mankind, having grown up on Voltron and other, similar entertainments, naturally responds by inventing giant remote-controlled robots, capable of fighting on the aliens' scale. Guillermo Del Toro (the Hellboy movies, Pan's Labyrinth) directs.
Why our inner child is excited: Guillermo Del Toro! Giant robots! Ron Perlman! Idris Elba playing a character named Stacker Pentecost! But mostly, giant robots totally whaling on giant aliens whoa!
Why our outer adult is dreading it: Our outer adult is bound, gagged, and secured in a closet, lest it speak up and spoil anything about this. Certainly it isn't allowed to mention that the last feature for co-screenwriter and story originator Travis Beacham was 2010's Clash Of The Titans.
Turbo (July 17)

What it promises: In the grand tradition of a rat who wants to cook food, a penguin who wants to dance, and other animated animals with adorable identity crises, along comes Turbo, a snail with an inconvenient need for speed. This spunky underdog (voiced by Ryan Reynolds) gets a shot at his impossible dream when he's exposed to nitrous oxide, which for some reason grants him a Flash-like swiftness. But is he fast enough to compete in the Indianapolis 500?
Why our inner child is excited: As both A Bug's Life and Antz neatly demonstrated, the life and times of Earth's tiniest creatures make for ideal kiddie-flick fodder. If the commercials are any indication of what Turbo will look like, there are plenty of shiny visual pleasures in store, too. (Full disclosure: Big Fan writer-director Robert Siegel, who worked on Turbo's screenplay, is a former editor of The Onion.)
Why our outer adult is dreading it: It's hard to shake the feeling that DreamWorks is pulling a Cars and attempting to pander to racing fanatics. (The animation studio has partnered with IndyCar, the auto-racing sanctioning body behind the Indy 500.) In mollusk-related reservations, the summer's earlier Epic features a talking slug voiced by Aziz Ansari. Ryan Reynolds is way less funny than Aziz Ansari.
The Conjuring (July 19)

What it promises: Part ghost story, part biopic, the latest fright flick from director James Wan puts a real-life twist on the supernatural scares of his recent Insidious. Patrick Wilson and Vera Farmiga star as Ed and Lorraine Warren, the married paranormal investigators involved in the Amityville horror case. The Conjuring revisits a supposedly even spookier highlight of their career, the 1971 haunting of a Rhode Island farmhouse.
Why our inner child is excited: The MPAA has allegedly slapped The Conjuring with an R rating not for violence, language, or any explicit content—but simply for being "too scary." That's a hell of an endorsement for a studio horror movie. Our inner child can't wait to buy a ticket to Turbo and sneak into this instead.
Why our outer adult is dreading it: Insidious was fun, but Wan still hasn't proven he can generate more than a few mild shudders. (His other stabs at the horror genre, like Dead Silence and (yes) Saw, are more unpleasant than frightening.) So we'll take that MPAA story with a grain of salt.
R.I.P.D. (July 19) 

What it promises: After being killed, a young cop (Ryan Reynolds) ends up working alongside fellow undead law-enforcement agents in the Rest In Peace Department. He embarks on a quest to track down the man who killed him. 
Why our inner child is excited: It thinks the film's premise sounds an awful lot like the similarly themed 1988 Joe Piscopo/Treat Williams buddy comedy Dead Heat. 
Why our outer adult is dreading it: It just remembered that Dead Heat was pretty awful.
[pagebreak]
Red 2 (July 19) 

What it promises: The AARP-friendly spectacle of dashing secret agents (led by Bruce Willis) of a certain age bursting out of retirement to face down the latest batch of evildoers in the sequel to a film that apparently made enough money to make this a commercially viable enterprise, even though it was completely forgettable.  
Why our inner child is excited: Our inner child loves Bruce Willis and treasures its memories of Die Hard, Pulp Fiction, and 12 Monkeys, in spite of the actor's longstanding predilection for choosing terrible roles and scripts.  
Why our outer adult is dreading it: Our outer adult is a little creeped out that Willis is now old enough to headline a high-concept action movie about old people kicking ass young-person-style. And it's not as if the first installment left audiences panting for more, or even faintly curious about the lead character's subsequent adventures.
The Wolverine (July 26)

What it promises: The metal-skeletoned mutant Wolverine (Hugh Jackman), as previously seen in the X-Men movies, travels to Japan and gets involved in a yakuza clan war in a story based on the classic 1982 Wolverine miniseries by Chris Claremont and Frank Miller. 
Why our inner child is excited: The trailer is pretty much made entirely of fan-catnip (fan-nip?), with shirtless Hugh Jackman using his giant metal claws on katana-sporting ninjas, plus weird future tech, a battle on a bullet train, exotic weapons galore, Wolverine without the healing power that makes him nearly invulnerable, and explosions, explosions, explosions. Marvel Entertainment-associated films have been reasonably strong over the past few years, and the Claremont/Miller series took some steps toward expanding and developing a character who previously relied mostly on being the biggest grunty badass in the room.
Why our outer adult is dreading it: "Dreading" is a strong word, but our outer adult hasn't forgotten 2009's none-too-awesome Wolverine, and remains properly cautious. Also, our outer adult has enough of a memory to recall when Darren Aronofsky was originally attached to direct this film, and still wants to see his version more than this one from director James Mangold, whose career has its distinct ups (Walk The Line; Girl, Interrupted) and downs (Identity, Knight And Day).
The Smurfs 2 (July 31)

What it promises: To further embarrass Neil Patrick Harris and Jayma Mays by surrounding them with CGI Smurfs and fake-cat reaction shots. This time around, the story involves Gargamel (Hank Azaria) creating a couple of Smurf-esque creatures called "Naughties," who tempt Smurfette to be naughty so she'll turn into one of them so they can harness her magical power to turn them into actual Smurfs so they can use their newly acquired Smurf "essence" for a magical spell… Why is this so convoluted? We all know it's mostly about slapstick gags and marketing opportunities.
Why our inner child is excited: Our inner child got carsick watching the trailer and threw up all over it.
Why our outer adult is dreading it: Because of absolutely everything about it. But maybe especially because it's the latest from schlockmeister Raja Gosnell (The Smurfs, Beverly Hills Chihuahua, the Scooby-Doo movies, Big Momma's House), and will therefore make a billion dollars and prompt Smurfs 3: Smurftastic Jamboree.
2 Guns (August 2)

What it promises: A gritty (but not too gritty) heist movie with a twist: Mark Wahlberg and Denzel Washington are law-enforcement officers at different agencies tasked with setting each other up for a fall—but naturally, they end up working together against a common enemy. Edward James Olmos plays the humorless villain who's trying to ruin all the fun. Also, there is $40 million in cash.
Why our inner child is excited: Director Baltasar Kormákur helmed the totally serviceable (though ultimately forgettable) Contraband, starring Wahlberg's brother Robert. Things look like they'll go boom pretty good in this one, too. Plus, Bill Paxton with a bad Southern accent could be comically promising. And again: $40 million in cash.
Why our outer adult is dreading it: The trailer is quip-heavy, and the chemistry between serious actor Washington and former rapper Marky Mark looks problematic. (Nick Nolte and Eddie Murphy they clearly aren't.) Action movies that try too hard to be funny risk drowning in no-stakes shtick: The trailer has the two leads joking with each other as they're tied up and about to be beaten, so it's tough to discern the tone 2 Guns is going for. Is it Will Smith and Martin Lawrence in Bad Boys, or Adam Sandler and Damon Wayans in Bulletproof?
300: Rise Of An Empire (August 2)

What it promises: Zack Snyder's panting, hyperventilating surprise-hit tribute to the male form at its sweatiest and most muscle-bound receives an overdue, questionably necessary extension in this prequel that chronicles the rise of Xerxes.
Why our inner child is excited: Our inner child feels funny sometimes watching gladiator movies, and wrestling, and shower scenes in firefighter movies. Consequently, it's really, really looking forward to all of the well-toned male flesh on display here.
Why our outer adult is dreading it: The window for a 300 sequel or prequel seems to have passed long ago, and the first film was striking and influential for all the wrong reasons.
The Lone Ranger (July 3)

What it promises: The legend of the solitary Western lawman and his American Indian compatriot comes to the big screen courtesy of Pirates Of The Caribbean world-builder Gore Verbinski and his kemosabe, Johnny Depp. Armie Hammer rounds out the cast as the masked man. 
Why our inner child is excited: Reports from the troubled set made the production seem appealingly bizarre and surreal, more Heaven's Gate than Cowboys & Aliens. Verbinski and Depp have certainly illustrated their ability to put an oddball twist on all-American fare.  
Why our outer adult is dreading it: For all the on-set weirdness, this is a mega-budgeted tentpole blockbuster, so there are definite limits on how trippy Disney will let it be.
Percy Jackson: Sea Of Monsters (August 7)

What it promises: To continue adapting the Harry Potter-ish series of Rick Riordan novels about Percy Jackson, the half-god son of Poseidon, and his adventures in a world of other half-bloods and fantasy creatures. Chris Columbus directed the first installment, 2010's kinda-okay Percy Jackson & The Olympians: The Lightning Thief. Thor Freudenthal (Diary Of A Wimpy Kid) takes over for this sequel, which has Percy (Logan Lerman) and his buddies seeking the Golden Fleece in order to prevent the lord of the Titans from being awakened. Naturally, this involves traveling through the Sea Of Monsters, which is not just a name.
Why our inner child is excited: Our inner child would need to be even younger to really get excited about another CGI-heavy generic fantasy quest full of teenagers engaged in bland rivalries and an episodic quest. Maybe we'll try to get our inner grandchild involved.
Why our outer adult is dreading it: There are three more books to go in the series.
Disney's Planes (August 9)

What it promises: Planes! Planes! Whee! Anthropomorphic cartoon planes flying around in the air like majestic birds! This spin-off of the Cars franchise chronicles the lives and adventures of talking planes. 
Why our inner child is excited: Did you see the part above about the planes? 
Why our outer adult is dreading it: The Cars franchise is the lemon of Pixar's otherwise sterling fleet. The second Cars movie represented a nadir for Pixar in its regrettable decision to transform the franchise into a vehicle for the cornpone comedy stylings of Larry The Cable Guy. Like the Cars franchise, this spin-off seems motivated less by any overarching creative vision than by the tie-in possibilities. Cars sold a whole lot of toy cars; perhaps Disney is hoping Planes will do the same for toy planes.
[pagebreak]
Elysium (August 9)

What it promises: Writer-director Neil Blomkamp (District 9) returns with another grim science-fiction allegory, this one about a future in which the wealthiest citizens live on an orbiting space station, while the poor are stuck on the ruined remains of our planet. Matt Damon stars as an earthbound prole who challenges the established order.
Why our inner child is excited: Born from the ashes of Peter Jackson's scrapped Halo movie—a project our inner child would still love to see get made—District 9 established Blomkamp as a bold new genre visionary. His ambition seems to have grown with his budget, as Elysium's promotional materials hint at bigger action scenes and an even more detailed world to explore.
Why our outer adult is dreading it: While our inner child blisses out to the pyrotechnics, our outer cynic is stuck shouldering the immense weight of Blomkamp's political pretensions. Didn't the recent staggeringly terrible Upside Down, with its high-and-low social spheres, cover the same territory? In general, Elysium looks like a hodgepodge of other movies—a criticism that could also be lobbed at District 9.
We're The Millers (August 9)

What it promises: Hijinks ensue when pot dealer Jason Sudeikis rents an RV to move a big shipment of weed from Mexico to the States. He also hires people to pretend to be his family, including his stripper neighbor (Jennifer Aniston), a homeless kid (Emma Roberts), and a sad-sack teenager (Will Poulter). 
Why our inner child is excited: "Excited" overstates it, but Sudeikis can skillfully wring laughs from almost anything, and Aniston has strong comedic chops. The supporting cast is loaded with funny ringers, including Ed Helms, Nick Offerman, Thomas Lennon, and Kathryn Hahn. It's a thin premise, but it may be just light and goofy enough for an enjoyable 80 or 90 minutes—which is a fair assessment of a previous effort from director Rawson Marshall Thurber, Dodgeball: A True Underdog Story. 
Why our outer adult is dreading it: Sudeikis as a pot dealer may be the least believable casting choice since Bradley Cooper starred as a tortured science-fiction writer in Limitless. We're The Millers could also be an amalgam of movie clichés: the road trip, the strangers who somehow come together to be a family, any number of beaten-to-death pot jokes, etc.
Kick-Ass 2 (August 16)

What it promises: A sequel to the 2010 Matthew Vaughn movie Kick-Ass, adapting Mark Millar's "superheroes in the real world, sorta" comics miniseries. Aaron Taylor-Johnson and Chloë Grace Moretz are back as Kick-Ass and Hit-Girl, two young costumed vigilantes fighting crime with the aid of a growing number of like-minded heroes, and eventually battling vengeful would-be supervillain Christopher Mintz-Plasse, who decides his code name is "The Motherfucker." Super-mature, guys. Jim Carrey co-stars as Colonel Stars And Stripes, a buzz-cut, military-themed hero-wannabe.
Why our inner child is excited: Superheroes are still fun, right? Watching kids beat up dumb adults is still fun, right? Jim Carrey is still… eh, never mind.
Why our outer adult is dreading it: The first Kick-Ass didn't have all that much going for it, with its awkward blend of comedy, superhero action, and angst. And this one will be coming toward the end of a summer full of big tentpole superhero films that are likely to make its half-assedness seem more pronounced. Top it all with new writer-director Jeff Wadlow, whose previous credits (Cry_Wolf, Never Back Down) are minor at best, and it seems like a recipe not for dread, so much as mild indifference.
Paranoia (August 16)

What it promises: Some top-tier names—Harrison Ford, Gary Oldman, Richard Dreyfuss—gather for this corporate-espionage thriller. Those old guys are joined by Liam Hemsworth and Amber Heard for the younger audience, in a story that looks sorta John Grisham-esque: A guy just starting out at a big corporation is offered a job as a corporate spy.
Why our inner child is excited: Hemsworth and Heard could make an intriguing couple. And there's always the slim chance that the material could elevate Paranoia to Michael Clayton levels. Or maybe there will be a solid fistfight between the curiously bald Ford and the always short Dreyfuss, which would be a Spielbergian dream come true.
Why our outer adult is dreading it: It's awfully difficult to try and combine summer popcorn movies with anything approaching seriousness. Odds are great that there will be some sort of political posturing in Paranoia as well—the subject of corporate greed is an easy target, and frequently a snooze on film. Oh, and it's directed by the guy who did Monster-In-Law and The Ugly Truth, so look for a cheesy coating on whatever this turns out to be.
The World's End (August 23)

What it promises: Edgar Wright, Simon Pegg, and Nick Frost reunite in another apocalyptically minded film, this one about the end of the world getting in the way of a few friends re-creating a pub crawl they did 20 years earlier.
Why our inner child is excited: The World's End presents the third and final chapter of the so-called Three Flavours Cornetto/Blood And Ice Cream Trilogy, a series of films directed by Edgar Wright, starring Simon Pegg and Nick Frost, and produced by Nira Park. The quartet has done some excellent work together, beginning with the TV show Spaced, then Shaun Of The Dead and Hot Fuzz, so there's every reason to hope The World's End will follow suit. It also adds Martin Freeman and Paddy Considine to the mix, which bodes well. Wright experimented with the apocalypse in Shaun, so The World's End should fit in his comfort zone.
Why our outer adult is dreading it: The film was originally slated for a late-October release, but Wright announced in March that it was being moved to late August. That could signal trouble, as that's a time when studios dump lackluster movies. Also, the last time Pegg and Frost teamed up was for 2011's forgettable "stoner E.T." comedy, Paul, though Wright wasn't involved with that.
Closed Circuit (August 28)

What it promises: Sexy Eric Bana and sexy Rebecca Hall play a pair of sexy lawyers—and former sex partners!—who find themselves on the same sexy defense team for an accused (sexy?) terrorist. Complications ensue, presumably sexy ones.
Why our inner child is excited: Eastern Promises scribe Steven Knight wrote Closed Circuit, so that could be something, right? The film also features excellent supporting players like Ciarán Hinds and Jim Broadbent.
Why our outer adult is dreading it: Considering recent events in Boston, and what will unfold over the coming months, no one's too eager to watch a movie about the trial of a terrorist, even if they'd like to have sex with the leads.
Getaway (August 30)

What it promises: A fast-paced, non-stop, edge-of-your-seat thrill ride about a former racecar driver's race against the clock! Think Speed meets some movie where a guy's wife gets kidnapped, and then there's a hacker and Jon Voight. In other words, it reads like a mess, with a dash of Gone In 60 Seconds thrown in for flavor.
Why our inner child is excited: The worst thing an action movie can do is try to be too smart and fail, so those that don't even attempt an intelligent plot or believable characters are frequently better. Anyone attempting to make a live-action cartoon about Ethan Hawke zooming around on a mission to save his wife and being given orders by a disembodied voice should just go all the way. If Getaway can do that, it stands a chance.
Why our outer adult is dreading it: There's a potter's field somewhere filled with scripts, reels, actors, and directors who've tried to pull off this type of movie and failed. The concept sounds like something a bunch of stoned guys riffed on for 20 minutes, then sold to an executive who was late for another appointment. Simply put, it'll have to be remarkably great or almost unbelievably bad to even be noteworthy. Plus, there's already a solid Steve McQueen/Sam Peckinpah movie called The Getaway, as well as a shitty remake starring Alec Baldwin and Kim Basinger. (This Getaway, for the record, is not a remake, so thank heaven for small favors.)
One Direction: This Is Us (August 30)

What it promises: This sure-to-be teenybopper favorite is brought to the big screen via Morgan Spurlock in all three dimensions. Does Spurlock manage to clumsily insert himself and his mustache into the proceedings? We'll just have to buy a ticket to find out. 
Why our inner child is excited: OMG, our inner children are crazy about One Direction. That pasty British guy and that other pasty British guy are our favorites, and we could not be more excited to see them all up there on the big screen. And Morgan Spurlock! We will collectively faint the moment he appears onscreen. 
Why our outer adult is dreading it: We'd rather not subject ourselves to the high-pitched screeching of teenagers as they squeal their way through two hours of One Direction in 3-D, or "1D3D" to those in the know.