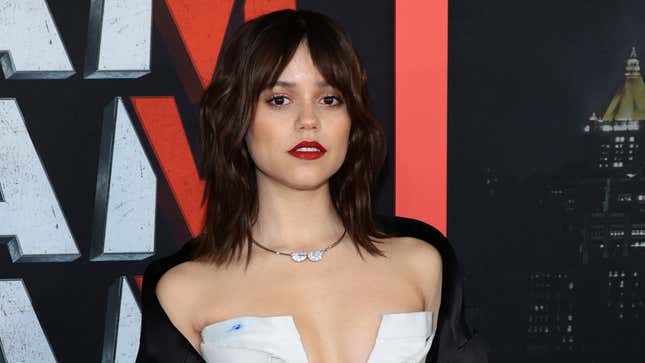 Despite her skillful penchant for taking on beloved IP, Scream VI and Wednesday star Jenna Ortega is still getting accustomed to the brighter—and sometimes harsher—spotlight that comes with leading a major franchise.
Why Christian Bale just can't quit David O. Rusell
"You begin to feel a bit like a billboard," Ortega shares in a new interview on Dax Shepard's Armchair Expert podcast, "and there's a part of me that almost feels like I've succumbed to this commercial version and kind of given up on my own personal interests."

As far as the commercialization of her character goes, Ortega says starring in a show like Wednesday—a series she admits is "not typically the kind of TV that I would watch"—presented challenges she hadn't encountered before. Namely, finding great success and recognition from a project she can't truly say she's proud of.
"I can't watch my work, but I can go home from set and say 'The scene that we shot today felt good.'" Ortega shares of her previous projects. "Wednesday, there was not a scene in that show that I went home and was like 'Ok, that should be fine.'"
She continues: "Now a lot of people know me from [Wednesday]. It's not my proudest moment internally, which I think also adds an extra level of insecurity and stress, because it's like, now I'm finally getting these offers or these places that I want but I don't want to be known specifically for that."
According to Ortega, when she first signed on for the show she thought it had a darker tone, but she didn't have all the scripts yet. Once she began to see more clearly the trajectory of the series, she says she had to really push to make sure the series didn't descend into treacly, formulaic territory.
"I don't think I've ever had to put my foot down on a set in the way that I had to on Wednesday," Ortega recalls. "Everything that she does, everything that I had to play, did not make sense for her character at all. Her being in a love triangle made no sense. There was a line about a dress that she has to wear for a school dance and she said 'Oh my god I love it... ugh, I can't believe I said that, I literally hate myself.' And I had to go 'No.'"
At times, Ortega even took the initiative to improvise on set if it meant salvaging her vision of Wednesday, a character she admits she "grew very very protective of."
"There were times on that set where I almost became unprofessional in a sense, where I just started changing lines," Ortega recalls. "The script supervisor thought that I was like going with something and then I would have to sit down with the writers and they would be like 'Wait, what happened to this scene?' And I would have to go through and explain why I couldn't do certain things."
Ortega does opine that some of her distaste for the series comes from a place of imposter syndrome and difficulty in reflecting clearly on her own work. But even so, that doesn't mean she'll be tuning in to the final cut any time soon.
"God I want you to watch Wednesday," Shepard, who himself loved the series, says at one point. "NO!" Ortega gasps.