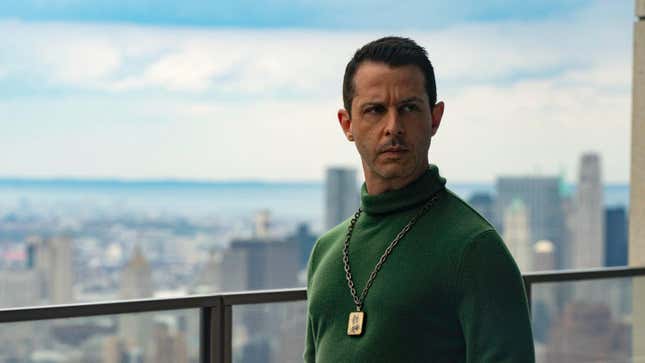 As Succession remains in production on its fourth season, Conheads everywhere are desperate for any new information on television's preeminent horrible rich family. Though star Jeremy Strong is currently promoting his role in Armageddon Time, the HBO drama was obviously brought up in a recent interview with W magazine, and the Kendall Roy actor reveals that he pulls double duty on the show as a costume designer.
"I don't know if it's a skill or secret, but fashion is a passion," the The Trial Of The Chicago 7 actor says when asked about his secret skill. "I pick out all the wardrobe for Kendall Roy, my character in Succession, and I live in those clothes when we're shooting the show. The clothes maketh the man, and aesthetics are so personal."
Strong has previously been spotted wearing Kendall's necklace from the pivotal season three episode "Too Much Birthday" on the red carpet. The limited edition pendant features art from Rashid Johnson's Anxious Men series.
"You know, I've thought a lot about Tár recently, and this idea of the signal-to-noise ratio of life," Strong continues. "When we're bombarded with so much noise, I guess there are certain clothes makers who embody an ethos that I'm drawn to. There's a designer named Haans Nicholas Mott. Everything is hand-stitched, and everything is done with precision and soul. I guess precision and soul are things that I look for in acting and everything."
In the year since the New Yorker published a widely talked-about profile of Strong detailing his unique eccentricities that help him get into character, it seems like the actor has decided to just really lean into being That Guy. Good for him, not everyone has that level of self awareness!