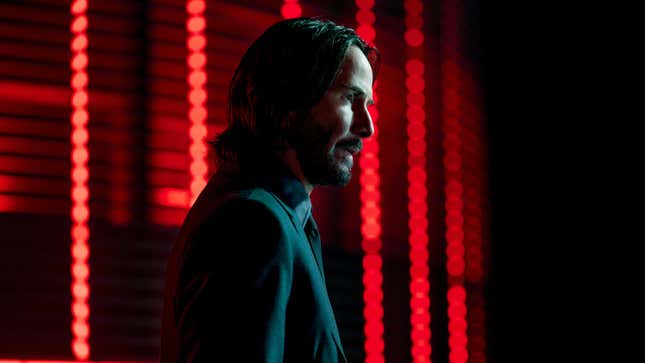 We're days away from the premiere of John Wick: Chapter 4, which means it's time to check in with how long that original, never-to-be-seen cut was. According to an interview by IndieWire with director Chad Stahelski and editor Nathan Orloff, the first cut clocked in at three hours and forty-five minutes, which is to say, in the ballpark of many other movies.
Keanu wonders if "John Wick" has gone too far
"Our first cut was three hours and 45 minutes, and it felt like three hours and 45 minutes," said Stahelski. "We were like, 'Oh, we're so screwed.'"
John Wick isn't the first to make headlines about an overlong early cut. Star Wars: Revenge Of The Sith reportedly had a four-hour cut. As did Thor: Love And Thunder, Batman V. Superman: Dawn Of Justice, Blade Runner 2049, and Elvis. While they make interesting headlines and spur Change.org petitions that hear by ordering a director to release their epic cut, an extended original cut is commonplace in Hollywood. When they say "original cut," editors often mean "assembly cuts," in which all the footage shot gets edited into a rough draft of the movie. The first cut comes out of that.
"An assembly cut is everything strung together, and in the editing process, a lot of the trimming happens inside scenes—cutting of the first one or two lines and/or dropping a line or two at the end of a scene," writes Collider's Adam Chitwood. "This is how an entire hour of a movie gets cut down, as the director sees in the work-in-progress cut that the audience may not need as much verbal information as was originally thought."
The "four-hour first cut" and the "six-hour assembly cut" are just the beginning of a process, which means that things will hopefully get honed by the time it arrives in theaters. But, of course, that process isn't easy. For John Wick 4, Stahleski says that every time they cut 30 seconds, he'd "make everybody watch the movie again."
"That's the only way you know you have the right pace. You feel that bump in movies all the time because they were doing it in pieces and not seeing it as a whole. The last thing you want to do is treat it as a bunch of parts."
Still, while they got the movie down from nearly four hours, John Wick: Chapter 4 boasts a bladder-busting runtime of two hours and 50 minutes. Thankfully, Wick always has enough bullets regardless of runtime.