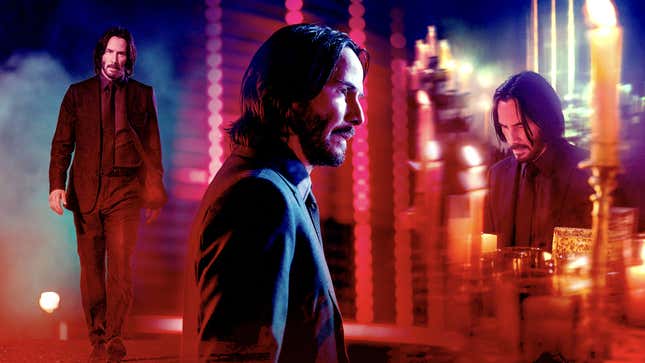 Guns. Violence. Suits. Keanu Reeves saying, "Yeah." These are the hallmarks of the John Wick film franchise, which charts one broken man's path to freedom and redemption. While at first glance John Wick looks like a standard action offering, the Wick films actually encapsulate what masculine-coded camp looks like on-screen.

Camp is flamboyance as historically ascribed to the queer community, with 19th century author Oscar Wilde considered one of the key early depicters of camp, followed by the likes of John Waters, Cher, and Lady Gaga. In Susan Sontag's famed 1964 essay "Notes On Camp," she breaks the barriers that limited the concept to homosexuality, writing, "the hallmark of camp is the spirit of extravagance." In essence, camp is playful and exaggerated, utilizing artificial constructions of self and image. But above all else, it requires impassioned sincerity. As protagonist Stephen Monk explains in Christopher Isherwood's 1954 novel The World In The Evening, "High Camp always has an underlying seriousness. You can't camp about something you don't take seriously. You're not making fun of it, you're making fun out of it."
Which brings us to the John Wick franchise and its version of camp that exudes hyper-masculinity and focuses on the theatrics of manhood. When looking at Sontag's working definition of camp, the John Wick franchise hits the defining characteristics with the same ease the titular assassin takes out his targets.
John Wick as a franchise: Sleek, refined, manly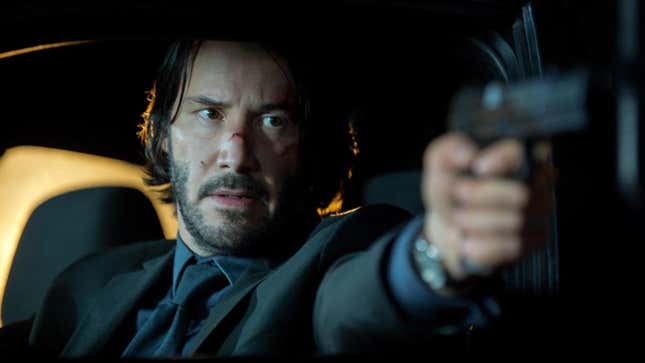 With the John Wick series, director Chad Stahelski and writer Derek Kolstad created a polished world of assassins with a reverence for order, hierarchy, and duty. Modernist and antique sensibilities meld to create something wholly singular for its fringe society, fit with ostentatious design touches and neo-noir lighting.

As the franchise continues, the extravagance grows. The spaces these characters of the criminal underworld inhabit are luxurious to the point of gaudy, flashing red velvet, gold furnishings, and pretentious art collections. John Wick and his peers move through a world of opulence where homeless men still have gold watches, contracts are sent out through a series of retro, tattooed operators, and a secret network of luxury hotels offers a safe haven for those on a job. It's wildly theatrical and extravagant, focusing on creating a mood rather than depicting reality, resulting in a chief descriptor of camp: Fun.
The montage that cements the franchise's status as a masculine, multi-film camp masterpiece takes place in Chapter 2, when Wick literally suits up to hit Gianna D'Antonio (Claudia Gerini) at her glamorous Italian rock opera coronation. He visits a "sommelier" who describes weapons as though they are fine wines, uses a tailor who lines his high-end suits with tactical body armor, and views ancient blueprints with bespectacled expertise. Everything is spoken in code, creating a heightened sense of ceremony. No one pays in cash, but in gold coins of nondescript value. It's grandiose yet silly, requiring everyone to treat each line with the utmost importance. In other words, it's camp.
As Chapter 2 continues, Wick uses his impenetrable, perfectly tailored suits as armor. The ensemble that's been a historical signifier of a man's power, wealth, and prestige, is being used to block bullets while on a job. It's an incredible detail, not to mention incredibly camp.
In general, the John Wick franchise is well-regarded for sleek and refined visuals that overwhelmingly cater to what's considered manly. It's such an extreme representation of respectable manhood that the films can sometimes feel like ads for a razor or a sports drink, just waiting for a low, grumbly voice to say, "Gillette. The best a man can get."
John Wick as a man: Did we mention he loves his wife?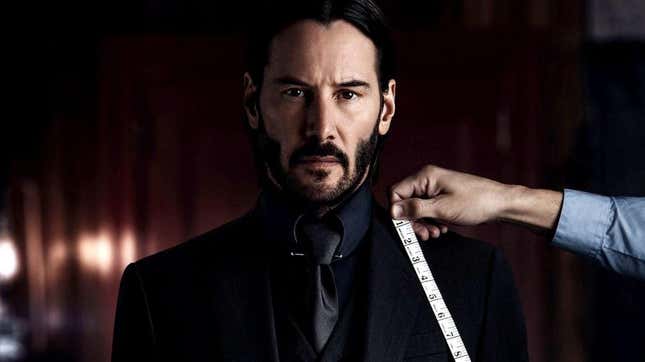 John Wick as a character is relatively simple. He's an expertly skilled man who loves his wife, dog, vintage car, and fine weaponry. He is a caricature of everything we as a society consider admirable about masculinity, magnified and toyed with right before our eyes while embodying what's stereotypically valued in men: Discipline, justice, strength, stoicism. He is sensitively masculine, as he's not only brave and strong, but loving.
The word "respectable" is key when looking at John Wick as a man. Every costume he wears and every room he enters is fit to portray his elevated sense of masculinity—becoming an archetype of manhood that any given male would aspire to achieve. He's rarely shown engaging with women combatants, especially in the early films. In John Wick, he defends himself from Ms. Perkins' (Adrianne Palicki) attacks, but he ultimately lets her go, only for her death to be carried out by someone else. This aversion to brutalizing women, even those tasked with taking him out, is a subtle but crucial element in the characterization of his manhood.
One of the first things we learn about Wick is how much this man loves his wife, and throughout the films, he never strays from this devotion to preserving her memory. When given an opportunity to kiss a photo of his wife and reflect on her death, he's going to take it (see: The library scene in Chapter 3). Time and again, we're reminded how much this man loves his wife, along with his dog, and his car. It's this easily defined sense of who Wick is that plucks him from reality, turning him into a symbol of peak manhood. John Wick's relentless perfection turns him into a character of mythic proportions, an unnatural representation of what it means to be a man.
Keanu Reeves as the man: Unflinching, without a wink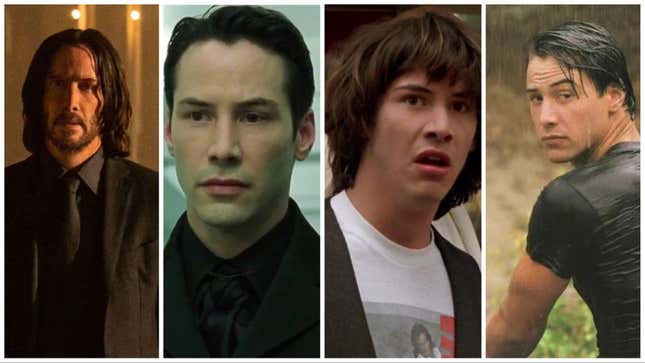 While the sets, costume designs, dialogue, and action choreography all help create this sense of camp, the concept hinges on the performance of those involved. There was no better choice for John Wick than Reeves, who brings an unflinching seriousness to the goofiest aspects of the world his character inhabits. Reeves does not deliver his simplistic lines with a wink. Instead, he grants them the same level of seriousness required for any dramatic role. He embodies John Wick entirely, bringing the earnestness needed to solidify John Wick as camp.

As an actor, Reeves' career has been defined by action franchises, transforming him into a pop culture symbol along the way. Only he—formerly Neo, Johnny Utah, Jack Traven, and Ted Logan—could bring the grounding performance needed for John Wick while still making something that feels playful. It's what he's done for decades now: Taking a moment that could easily feel corny and turning it into a triumph with his charmed seriousness. John Wick would simply not be the same without him, and it certainly would not be camp.