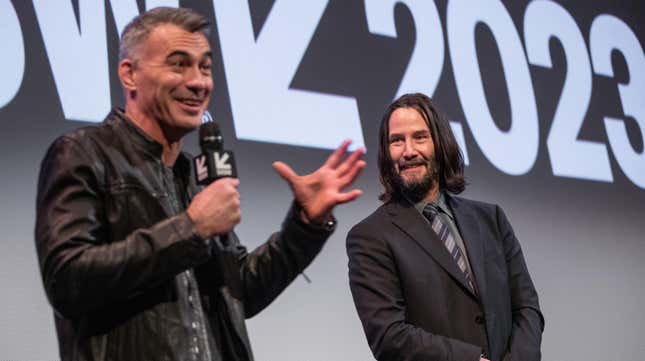 There's been a debate running, for years now, about the fact that there's no dedicated Academy Award for stunt work. Stunts appear in any number of Oscar-worthy films; they take incredible skill to perform properly; they are an inextricable part of Hollywood history. And yet, there's no formal acknowledgement by the Academy of the talent required to bring them to life, something that both stunt professionals, and their many fans in and outside the industry, have been bemoaning for years.
Keanu wonders if "John Wick" has gone too far
Unsurprisingly, that number includes John Wick director Chad Stahelski, who ended a recent in-depth interview about the just-released John Wick: Chapter 4 with a call that "It's time" for the Oscars to step up and start seriously having conversations about recognizing stunt work. Stahelski—who came up in stunts, having gotten his big break as Wick star Keanu Reeves' stunt double in the Matrix films—doesn't mince words in his conversation with Deadline: "We are as relevant as any department, and I'm gonna be a little arrogant and say, I think we'd add a little something to the Oscars. It's a legitimate win-win situation."
Stahelski acknowledges that adding a stunts category is going to be a big change for the Oscars, noting that it'll take work to figure out who, exactly, would get the awards. (Name-dropping basically the entirety of the John Wick stunt team in the process, because you had best believe Chad Stahelski knows his stunt team's names.) But he's also unequivocal about feeling that his peers deserve recognition for the hard, dangerous work they do.
Meanwhile, Stahelski also talks extensively in the interview about his relationship with Reeves, including acknowledging that, after years, and hundreds of hours of practice, Reeves is legitimately a better motorcycle rider and stunt driver than many of the stunt people Stahelski knows, which is why he does so much of his driving in the films. But also, "Keanu's not…macho. I don't mean that in a bad way, but the ego has nothing to do with it. He's not trying to be macho. He'll look at something and go, 'No'…He wants to do what's best for the shot, what's best for the movie."