Pop culture can be as forbidding as it is inviting, particularly in areas that invite geeky obsession: The more devotion a genre or series or subculture inspires, the easier it is for the uninitiated to feel like they're on the outside looking in. But geeks aren't born; they're made. And sometimes it only takes the right starting point to bring newbies into various intimidatingly vast obsessions. Gateways To Geekery is our regular attempt to help those who want to be enthralled, but aren't sure where to start. Want advice? Suggest future Gateways To Geekery topics by e-mailing gateways@theonion.com.
Geek obsession: Jonathan Richman
Why it's daunting: It's kind of depressing that the easiest way to describe Jonathan Richman to a newbie is "that singing guy who pops up throughout There's Something About Mary." It's equally depressing that one of Richman's greatest songs, "Pablo Picasso," is known to many only because of a decent-if-unremarkable cover by the forgotten band Burning Sensations on the Repo Man soundtrack. Then again, Richman's position as an underground underdog was more or less set in stone from the start. A teenage Velvet Underground fanatic who used to trek from his native Boston to New York to regularly see the band, he channeled VU's droning proto-punk—and particularly Lou Reed's deadpan speak-singing—into an alternately pounding and eerily delicate outfit called The Modern Lovers. The group formed in 1970 and counted among its members Jerry Harrison (later of Talking Heads) and David Robinson (later of The Cars); everyone from The Sex Pistols and Joan Jett to Frank Black and David Bowie have either covered their songs or cited the Modern Lovers as a major influence.
Richman himself would never see anything remotely resembling that kind of fame or success. After the original Modern Lovers lineup fell apart in 1974, Richman switched gears; gone was the angst and distortion, replaced with a jangly, whimsical style that's occasionally indistinguishable from children's music. He's been at it nonstop ever since, but his lengthy catalog is in such ill repair that many of his best albums aren't even available as legal downloads. (It also doesn't help that he's notorious for re-recording his own songs.) But tweeness and scarcity aren't the only reasons Richman remains obscure. He's very much a cult act, right down to his cutesy, insider-y nickname, JoJo—and that kind of unconditional adoration can be kind of off-putting. His concerts are feel-good, almost Kumbaya-level lovefests where huge smiles and goofy dancing spread from the stage to the audience. People wandering into a JoJo show may very well think they've stumbled across some weird, indie-pop Hare Krishna sect. Richman's eternally boyish and enthusiastic persona, however, overshadows a pensive, bittersweet depth that permeates much of his work. His philosophy about his career, his fans, and place in the world is probably summed up best by a song from his latest album, 2010's O Moon, Queen Of Night On Earth. The song's title: "If You Want To Leave Our Party Just Go."
Possible gateway: The Modern Lovers
Why: Although it's not the best indication of where Richman was about to head with his career, the 1976 self-titled debut by the original lineup of The Modern Lovers is the best place to start. Partially produced by one of Richman's heroes, former Velvet Underground member John Cale, the album's most famous track is "Roadrunner," a celebration of the radio, open roads, and America itself that milks mythos out of two chords and Richman's adenoidal, incantatory vocals. (It's also shamelessly similar to VU's "Sister Ray.") Every song on the disc, though, is a gem. From "Pablo Picasso" (a portrait of the artist as a man who was never called an asshole) to "Modern World" (a rejection of blasé decadence that unironically professed its love for the USA and girls who don't pretend to be sophisticated), The Modern Lovers snarls and bleeds and charms. Unfortunately, far too many music fans get stuck at this Richman album and never go beyond it; as great as it is, that's a shame.
Next steps: The Modern Lovers actually had two self-titled albums see the light of day in 1976—the other being Jonathan Richman And The Modern Lovers. The two records, though, are not cut from the same cloth. Unlike the first record—which was released two years after the original Modern Lovers broke up—Jonathan Richman is a document of where Richman's heart truly dwelled. His versions of "Amazing Grace" and Chuck Berry's "Back In The U.S.A." are good indications of Richman's new vision; the album is clean, clear, and rapturous—that is, when it's not playfully weird. Songs like "Abominable Snowman In The Market" and "Here Come The Martian Martians" would have been right at home on Sesame Street, but at the other end of the spectrum, "Lonely Financial Zone" is a slow, droning, gorgeously poignant track that introduces what would become one of Richman's favorite themes: metaphysical awe in the face of the wonders of the universe. Right in the middle is "New England," a paean to his native land that's since become a Richman anthem.
By the '80s, Richman was widely considered a godfather of punk. Instead of embracing or trying to capitalize on that, he retreated even further into his self-made world of nostalgia, Americana, and the occasional Caribbean rhythm. The first of his great albums from this period is Jonathan Sings! Released in 1983, it's a fully confident yet tender record highlighted by its opening track, "That Summer Feeling," which paints a vivid, buoyant image of lazy July afternoons using some of the most outrageously rhymed verses Richman's ever concocted. (Below is a hushed version of "That Summer Feeling" Richman re-recorded for his 1992 album, I Jonathan; the original version is far more fleshed-out, dynamic, and heartache-inducing.)
Also essential and from the same era: 1985's Rockin' And Romance. Note-perfect and surprisingly lush in its depiction of Richman's inner and outer lives, it touches on subjects he's visited before—for instance, famous painters ("Vincent Van Gogh) and friendly aliens ("The U.F.O. Man")—while feeling fresh and invigorated. That zest for sheer existence is encapsulated in "I'm Just Beginning To Live," a heart-stopping hymn to himself that proves he'd finally, after 15 years of artistic struggle, found his groove.
No discussion about Richman would be complete without a mention of his love songs—and while the stellar It's Time For Jonathan Richman And The Modern Lovers contains plenty of typically gee-whiz Richman detours like "Double Chocolate Malted" and "Neon Sign," the album also sports a handful of giddy affirmations of fidelity and domestic bliss. A shining example: "It's You," an acoustic-guitar-and-saxophone-driven crooner that focuses Richman's love for his significant other through a lens of rose-colored devotion.
Back to I, Jonathan: Besides being a consistently fantastic album, it contains the first appearance of a tune that would become a staple of Richman's concert sets (and pop up on later recordings): "I Was Dancing In The Lesbian Bar." As this live performance amply demonstrates, Richman is as much of a raconteur as he is a singer-songwriter, and he's more than happy to flaunt his own stunning dance moves to help illustrate his silly yet warmhearted tale of serendipitous, Friday-night fun.
For an artist who truly incandesces onstage, Richman has few official live albums—two, in fact. 1977's Modern Lovers Live is good, but it's 1994's Precise Modern Lovers Order that's the keeper. Named after his ethos of punctuality, exactness, and sobriety that chafed the other early members of The Modern Lovers—and that Richman infamously spelled out in his song "I'm Straight," included here—the album is culled from various live sets throughout the early '70s. Raw, propulsive, and leaking dark, strange passion, it also contains definitive versions of haunting classics like "A Plea For Tenderness" and "Hospital."
Where not to start: Alongside the sessions that would result in its posthumous debut, the first lineup of The Modern Lovers recorded with noted maniac and pop impresario Kim Fowley. Those 1973 sessions were later issued as The Original Modern Lovers—and while it's definitely worth having once you've acclimated yourself to Richman's music, its lo-fi and at points stilted sound aren't the best place to get acquainted. More recently, Richman's output from the '90s and '00s has been solidly decent and sporadically inspired—even if it does lean a little too heavily on reworked older material—but it's not as likely to spark an abiding love for his music. Likewise, Jonathan Goes Country is fun but no better an entry point than, say, Elvis Costello's Almost Blue, and Richman's foreign-language discs (Jonathan, Te Vas A Emocionar! and ¿A Que Venimos Sino A Caer?) are good gateways only if English is your second language.
G/O Media may get a commission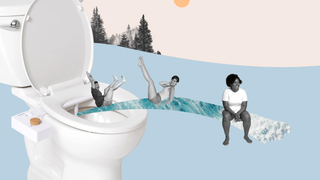 17% off
Tushy 3.0 Warm Water Spa Bidet Attachment
Which leaves one last pocket of Richman's oeuvre: his late-'70s work. Recorded in his first flush of artistic liberation following the formation of his new band, 1977's Rock 'N' Roll With The Modern Lovers and 1979's Back In Your Life are blessed with a good amount of Richman's indispensable tracks, including the latter disc's "Affection"—a spine-chilling confessional that shows Richman didn't come easy to his wide-eyed outlook on life, and that he's struggled with selfishness and cynicism as much as the rest of us miserable bastards. But flat production, listless arrangements, and a few too many novelty songs that could turn off newcomers dampen the records. Save these for dessert rather then the appetizer.