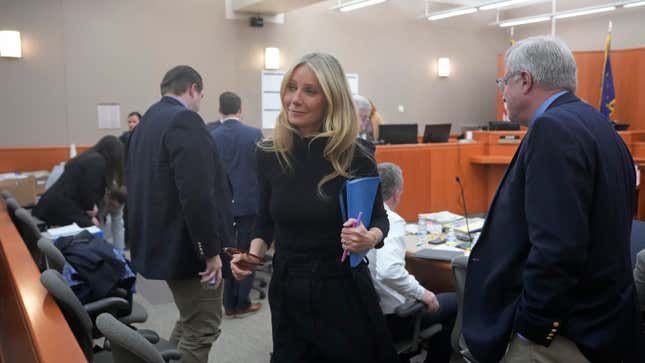 Whatever the vibes are that emanate from the products in the Goop catalog, they must really work—at least on juries. Gwyneth Paltrow, the woman responsible for putting "vagina eggs" into the national discourse, walked out of court a winner on Thursday after a jury decided she was not responsible for a crash on the ski slopes in Utah.
Daymond John really wanted to ask Gwyneth Paltrow about "Shallow Hal"
For those who have doom-scrolled past the words "Gwyneth," "ski," "drawings," and "court" over the past few days, the trial in Park City, Utah, stemmed from a 2016 accident between Paltrow and optometrist Terry Sanderson, who sued the Oscar-winner for $300,000. Paltrow countersued for $1 (plus court fees).
Sanderson argued that the crash left him with broken ribs and brain damage from a concussion that impacted his daily life. NBC News reports that Paltrow remembers it differently, testifying that she believed she was being assaulted. The actress insisted that she quickly dismissed the idea, but it didn't weaken her resolve. "Mr. Sanderson categorically hit me on the ski slope, and that is the truth," she testified.
Of course, being that the trial was about one of America's most famous and bizarre stars, there were also moments where lawyers prodded Paltrow on her friendship with Taylor Swift and whether or not her Jimmy Kimmel interviews were truthful. It's hard to believe they lost this one.
The trial began earlier this month, but Sanderson launched his suit in 2019 for $3.1 million—a judge later ruled that he could only sue for $300,000. However, the only eye-witness to come forward was Craig Ramone, whom Paltrow accused of lying on the stand, claimed he was "40 feet way" and "color blind."