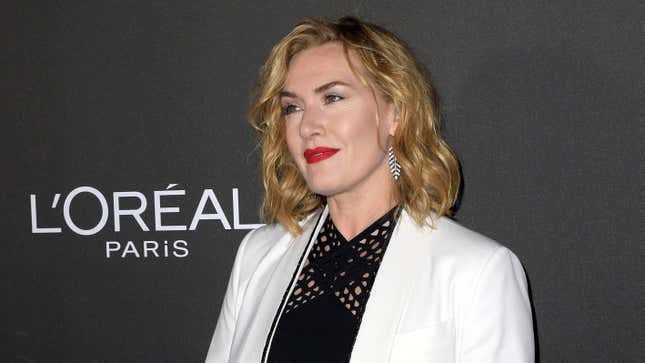 Kate Winslet is no stranger to the rampant body shaming and belittling that so often plagues women in Hollywood. While, fortunately, it may seem unthinkable now, the veteran actor experienced a whole wave of hate after filming Titanic, because, according to her, people said she was too fat for both her and Jack to fit on that infamous door. (An opinion as scientifically unsound as it is sexist and cruel.) Now, almost three decades later, Winslet is finally starting to see some changes in the industry. She's also refusing to let the haters get her down.
Leonardo DiCaprio thought Titanic was going to be 'snoresville'
"The men who think you want and need their help are unbelievably outraging," the Mare Of Easttown star said in a recent Vogue cover story. Winslet's latest film Lee, which she produced and stars in, chronicles the life of World War II photographer and journalist Lee Miller. But while the film had a well-received opening at TIFF this past weekend, Winslet says it's been a long and frustrating journey to get here. "I've... had a director say to me: 'Listen, you do my film and I'll get your little Lee funded…' Little!" she continued. "Or we'd have potential male investors saying things like: 'Tell me, why am I supposed to like this woman?'"
It's no wonder, then, that Winslet refused to let anything get in her way when the film actually went into production—not even a day-one back injury that caused "three massive hematomas" on her spine and prevented her from working out before filming multiple nude scenes.
"You know I had to be really fucking brave about letting my body be its softest version of itself and not hiding from that," she said. "And believe me, people amongst our own team would say, 'You might just want to sit up a bit.' And I'd go, 'Why? [Because of] the bit of flesh you can see? No, that's the way it's going to be!'"
But Winslet does see a real, undeniable benefit to all of the hardship she endured. "Young actresses now—fuck me—they are unafraid. It makes me so proud," she said when asked if #MeToo created lasting change in the industry. "[A]ll the shit flinging, all the struggle, all the using my voice for years, often being finger-​pointed at and laughed at—I don't give a shit! It was all bloody worth it. Because the culture is changing in the way that I couldn't in my wildest dreams have imagined in my 20s."