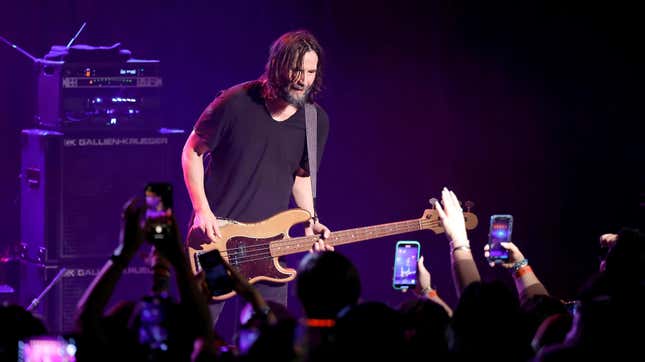 The last few years of nigh-catastrophic, massively disruptive blows to the entertainment industry have been pretty good for Dogstar, as it turns out; the three-piece alt-rock band, which is, fairly or not, best known for the fact that Keanu Reeves serves as its bassist, reunited in force during the fallow years of the COVID-19 lockdowns. Now they're planning to go on tour, coinciding quite conveniently with pretty much the entire population of Reeves' day job going on strike last week.
Dogstar—which also consists of Reeves' co-founder and fellow actor, Robert Mailhouse, on drums, and non-thespian Bret Domrose on vocals and guitars—has been making noises about reuniting for the last few years, having reportedly spent long swathes of the 2020 lockdowns playing together and rehearsing. They recently played their first public gig in years, and have now announced their third album, Somewhere Between The Power Lines And The Palm Trees, their first since releasing Happy Ending back in 2000. The trio released the first single off the album today, titled "Everything Turns Around." (In describing the song, the band wrote that it "has an uplifting message and a positive vibe that hopefully makes your day a little bit lighter. It's one of our favorite songs to play live and can't wait to share it on our upcoming tour.") The album itself comes out on October 6.
Keanu wonders if "John Wick" has gone too far
To support the album, the trio will be going on tour starting in late summer, hitting points across North America, and with a brief detour to Japan. (The band has had a long association with the country; their first album, Our Little Visionary, was released almost solely in the country, and their final concert before breaking up back in 2002 was in Tokyo.) The Somewhere Between The Power Lines And The Palm Trees tour will kick off in August in Hermosa Beach, California, and will continue through an appearance in Nashville shortly before Christmas 2023.