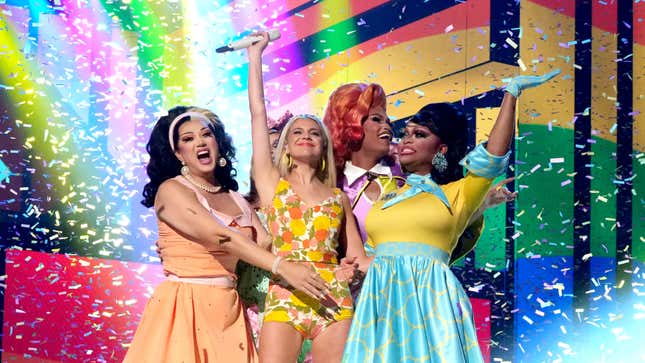 Country music has always loved a girl that's a little bit sugar and spice; a rule-breaker who swears like a sailor but still rocks waterfall curls, or the oft-stereotyped "preacher's daughter." But a new wave of female artists in the stringently stylized genre—where the "wrong" politics can get your CDs steamrolled in the streets—have favored a different kind of rule-breaking lately: refusing to stay quiet on the issues that count. With a performance at the CMT Music Awards that centered drag as its legality is threatened, Kelsea Ballerini turned a damn good show into a diplomatic middle finger—and did it all in a perfectly-coiffed bouffant. Now that's showbiz, baby.
Taylor Swift speaks at NYU graduation ceremony
Bringing her hit "If You Go Down (I'm Goin' Down Too)" to last night's Austin ceremony, Ballerini started her performance with decidedly cookie-cutter Americana stylings: picket fences, grass as green as a newborn baby, and literal little pink houses. But as she dove into the song—a cleverly sweet ode to ride-or-die friendship—it became clear Ballerini aims to be more than just palatable. Performing alongside drag queens Kennedy Davenport, Manila Luzon, Jan Sport, and Olivia Lux, Ballerini ultimately led the gaggle to the edge of the stage, where all five dolled-up gals strutted their stuff against a rainbow-flag backdrop.
According to Lux, she never felt like window dressing working with Ballerini, who consistently emphasized that this was the queens' moment to shine, and celebrate their art.
"Kelsea made it really clear in the rehearsal room and took even during right before the stage that she was like take up that space, you know, this is your time as well, and amplify the fact that you're here," Lux told Entertainment Tonight after the show.
Ballerini isn't the first of her contemporaries to make those values public. Back in 2022, Kacey Musgraves—who has always vocally celebrated queerness in her music, even in early-career hits like 2013's "Follow Your Arrow"—was honored with GLAAD's Vanguard Award, bestowed each year upon someone who "made a significant difference in promoting equality and acceptance of LGBTQ+ people." And during a January guest spot on RuPaul's Drag Race, Maren Morris offered an apology to the queens on behalf of country music itself— performers, executives, fans, and all.
"Coming from country music and its relationship with LGBTQ+ members, I just want to say I'm sorry," Morris shared. "I love you guys for making me feel like a brave voice in country music. So I just thank you guys so much for inspiring me." (Musgraves, Morris, and a host of other, largely female artists have also vocally decried the Tennessee ban).
These statements—and Ballerini's pointed performance—exist in the opposite of a vacuum. They arrive at a gravely politicized moment for drag, one that feels like a nose dive back in time. Just under a month ago, Tennessee's Republican governor Bill Lee signed into state law a bill restricting public drag performances, the first of its kind. The bill—which a federal judge blocked on Friday just hours before it was set to take effect—criminalizes "adult cabaret entertainment" on public property or in locations where it can be viewed by minors. Under the law, first-time offenders would face misdemeanor charges, with subsequent offenses classified as felonies and carrying the possibility of up to six years of prison time.
With such a glaring threat to drag narrowly evaded (for now), Ballerini's performance has a certain urgency: there's a definite, vested interest for queer communities and anyone who considers themselves an ally to draw awareness to the severe hurdles drag performance faces, now. But speaking to her mindset behind the performance, Ballerini kept it subtly, yet decisively, pro-LGBTQIA+ rights, sharing: "I love performance and I love self-expression and I love inclusivity."
Although vocalizing a love for drag still feels like an exciting frontier for a country music star, young women in the genre finding inspiration in drag makes complete sense. The loud femininity often associated with the women in the genre feels like a spiritual sister to drag—what high-femme queen wouldn't want to raid Dolly Parton's closet for a day? It's part of why Ballerini's performance managed to come off not as a shallow attempt at courting a new demographic, but as genuine creative reciprocity. Take it from the queens she worked with.
"Just like all these amazing country music artists, we drag queens are also artists," Manila Luzon told ET. "And we deserve a space to be ourselves, express ourselves, and create something wonderful for everyone to enjoy,"