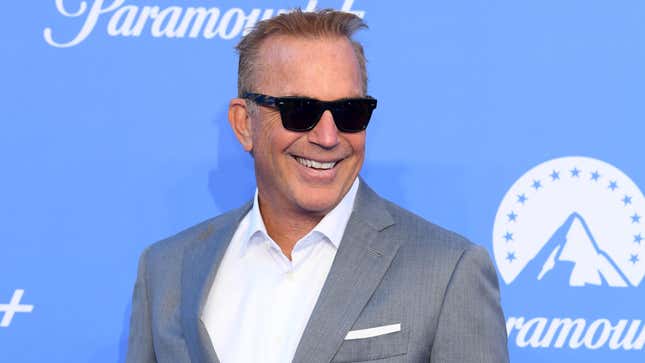 Uh-oh, is there trouble in paradise? According to a report on Deadline, Kevin Costner really does not want to be part of the Yellowstone universe anymore, to the point where he supposedly only wanted to spend a single week filming the second half of the show's fifth season—despite previously agreeing to 65 days, and then talking that down to 50 days. So that's… much less. Deadline says that Paramount and series creator Taylor Sheridan are now planning to end the original Yellowstone series in some way, after which point they will then continue the story with a new Yellowstone series with Matthew McConaughey "in talks to star."
A statement from Paramount to Deadline didn't outright confirm or deny any of this, but it did say that they company is "always working on franchise expansions" of the Yellowstone universe and that they hope Costner is a "big part of Yellowstone" for "a long time to come." No lies there, no matter what the real situation is!
Deadline implies that Costner is busy working on his own Western project, the "epic" Horizon, and Paramount started moving ahead with this "dump him and get McConaughey" plan when it rejected his suggestion that he should only have to work on this big show for only a week. He can't have really thought it would fly, though, considering that he's effectively the main character on the series and the guy whose lineage traces back through 1923 and 1883. But with those spin-offs, the brand has expanded beyond just Kevin Costner, and you can now easily do a Yellowstone thing without necessarily needing him involved.
Throw in the fact that McConaughey fancies himself a cowboy-type person and that Yellowstone has already introduced that Texas exists in its universe, and McConaughey seems like the perfect new famous guy to be the face of Yellowstone. Just give Costner his week, have him film a scene where he mentions a long-lost brother/cousin/whatever, then have him die in a fiery explosion that makes it clear that he can never return.
Obviously, none of this is confirmed yet, so Costner may stay on Yellowstone for another 10 years for all we know, but Deadline seems confident and nobody involved is going to let this show die (no matter what happens).