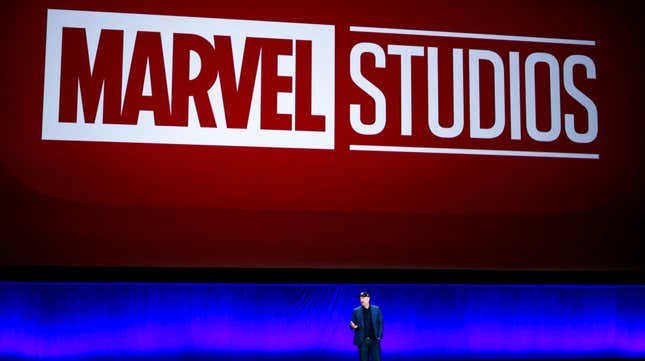 Has superhero fatigue hit you yet? It's a real phenomenon, at least according to a recent study from the fan platform Fandom (via Variety), which reported that 36% of Marvel fans are feeling burnt out by the number of releases from the studio. (The same is true for only 20% of DC fans, but then, they're not being fed nearly as well.) With Disney+ ramping up the MCU's television output, the franchise may be feeling oversaturated for some viewers. And Marvel Studios president Kevin Feige is well aware of that fact.
"I do think one of the powerful aspects of being at Marvel Studios is having these films and shows hit the zeitgeist. It is harder to hit the zeitgeist when there's so much product out there—and so much 'content,' as they say, which is a word that I hate," Feige says in a conversation with Entertainment Weekly about the studio's future. He references a recent Saturday Night Live sketch about the overwhelming amount of entertainment options currently available to illustrate his point.
"But we want Marvel Studios and the MCU projects to really stand out and stand above," Feige continues. "So, people will see that as we get further into Phase 5 and 6. The pace at which we're putting out the Disney+ shows will change so they can each get a chance to shine." Asked if that means spacing things out or putting out fewer shows a year, the Marvel mastermind replies, "Both, I think."
DC is not Marvel's only issue
This may come as some relief to fans who feel, like Feige, that the impact of Marvel's storytelling is being diluted by excess "content." But now that DC also has an ambitious slate of projects for the next few years, will it even matter that Marvel is dialing back? Though the franchises are separate, they obviously share a lot of similarities. And now the head of DC Studios is a Marvel veteran, so the films might end up sharing sensibilities, too. (James Gunn's opinion on superhero fatigue, for the record, is that it can be combated through good storytelling. "You have to make the stories diverse and different. Good guy, bad guy, giant thing in the sky, good guys win—you can't tell that story again," he told the New York Times. "You need to tell stories that are more, you know, morally complex.")
Yet Marvel's issues with superhero fatigue might run deeper than a competitive market. Reviews are mixed for Ant-Man And The Wasp: Quantumania, the first film in Marvel's "Phase 5." While plenty of critics have positive things to say about the film—the character's third solo outing, and the 31st in the franchise overall—others have highlighted a specifically Marvel issue, which is the Marvel machine itself.
G/O Media may get a commission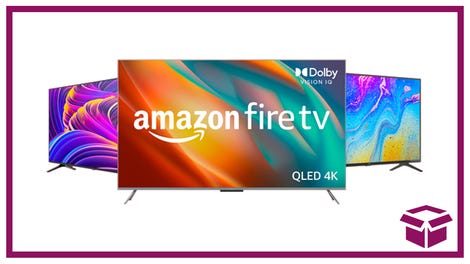 Ooh. stunning.
New Amazon Fire TVs
"The problem with Quantumania is that it's not a movie, it's a building block," writes Inverse's Hoai-Tran Bui. "Marvel movies have long become less like movies and more like feature-length commercials for the next thing, and Ant-Man and the Wasp: Quantumania is sadly the greatest embodiment of that." Kristy Puchko of Mashable agrees, "[It's] barely a movie, pulling threads together for a grander scheme of merchandizing and cross-promotion over character-based storytelling." Opines Courtney Howard for FreshFiction.tv, "When the first end credit tag holds more weight, potential, and thrills than the entire two hours that came before it, there's a massive problem."
Holding fans hostage
Part of the problem is: How does one combat superhero fatigue if every project is designed specifically to get audiences excited about the next project? The studio's bread and butter since the Iron Man sequels has been introducing characters who would go on to become major players, teasing team-ups and tantalizing them with Easter eggs. The MCU pioneered the post-credits scene, holding fans hostage in their seats to see what comes next. From those successes sprung franchise "Phases," which are just chapters within the overarching "Sagas."
And every film or show within a phase within a saga is inextricably linked to the next. "[We] don't ever want it to seem exclusive or that you need to have done your homework before watching something," Feige tells EW. Yet the plot of Doctor Strange In The Multiverse Of Madness was dependent on having seen WandaVision, and the Loki series served as a clever smokescreen to introduce Kang the Conqueror (Jonathan Majors), the new Big Bad introduced in Quantumania. Fans who want to see storylines satisfyingly finished will find themselves following those plot threads endlessly because the stories are designed purposefully not to conclude.
There's always been a question as to whether fans will keep showing up now that their beloved original Avengers are (mostly) out of the picture. Making a Marvel project more of a rare commodity may stave off the fatigue, though some fans may still get tired of the MCU's own neverending story. We'll have to wait and see whether Phase 5 has enough juice to keep people energized.