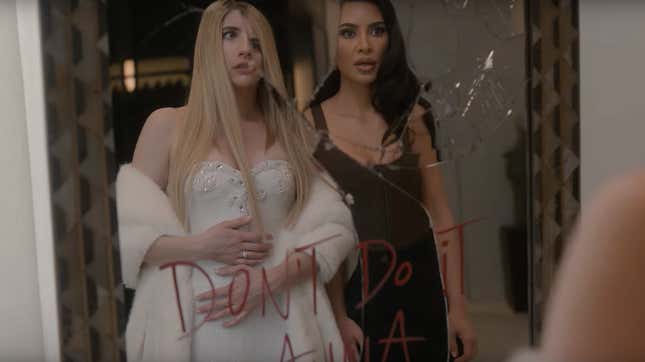 Let out a sigh of relief, America, because Kim Kardashian is back. The elusive reality TV star, who hasn't acted as anyone other than herself since she voiced Delores in 2021's PAW Patrol: The Movie, returns with Emma Roberts in the trailer for American Horror Story: Delicate, which FX is now threatening as "Part One."
Guess who's back? (hint: it's Kanye West)
Based on the trailer, Emma Roberts stars as an actor and expecting mother who must choose between her career and the mutant baby gestating in her womb. Kardashian presumably plays her agent who collapses the issues of modern womanhood into a simple phrase: "Do you want an Oscar? Do you want it as much as a baby?"
Can women have it all? It's a question that only Ryan Murphy is suited to answer by way of a Rosemary's Baby riff about a woman pregnant with a giant spider. Along the way, Roberts' emerging parental fears manifest in a common affliction felt by all expecting mothers: Cara Delevingne is stalking her. As expected, the trailer includes a montage of creepy American Horror Story stuff, too, including but not limited to Roberts pulling her hair out, a facehugger in an egg sack, and a goat.
Delicate marks Kardashian's on-screen character-based acting gig since Tyler Perry's Temptation: Confessions Of A Marriage Counselor in 2013. While we've waited a decade for more marriage counselor confessions, Kardashian's return hasn't been free of controversy. Earlier this year, patron saint of unfiltered acting opinions Patti Lupone criticized Kardashian's casting, accusing the reality star of taking acting jobs from actual, working actors, a sentiment echoed by John Leguizamo and Sharon Stone. Things got even more heated when the show continued production during the WGA strike, with Murphy reportedly threatening legal action against a strike captain.

It's all good, though, because Kim Kardashian passed the "baby bar" and plans to become an attorney one day. Like many young billionaire lawyers before her, she's still figuring her life out by promoting crypto junk on Instagram and starring on a Ryan Murphy show before jumping straight into the bar exam.

American Horror Story: Delicate Part One premieres on September 20.