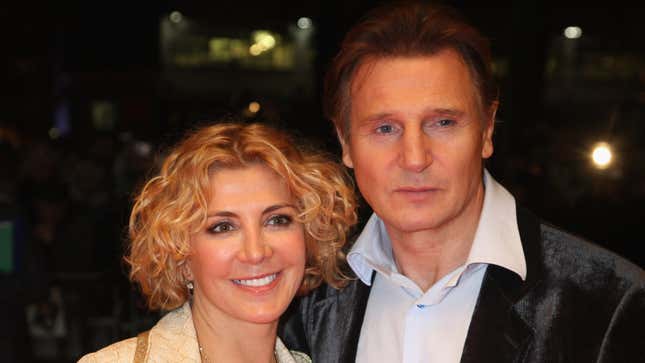 Between Star Wars and Taken, Liam Neeson is no stranger to a major franchise. But there's one classic IP he never put his name on: James Bond. In a new interview with Rolling Stone, the Marlowe star reveals that's no coincidence: Neeson says he was actually contacted multiple times in the 1990s to play 007 by Bond producer Barbara Broccoli. Fresh off an Oscar nomination for Schindler's List, Neeson was primed for another big-ticket role—but he turned the prospect down at the behest of a very special someone.
Joy Behar makes Liam Neeson uncomfortable
"I know the Broccolis. They looked at a bunch of actors," Neeson shares with Rolling Stone's Marlow Stern. "Schindler's List had come out and Barbara [Broccoli] had called me a couple of times to ask if I was interested, and I said, 'Yes, I would be interested.' And then my lovely wife [Natasha Richardson], god rest her soul, said to me while we were shooting Nell down in the Carolinas, "Liam, I want to tell you something: If you play James Bond, we're not getting married."

Naturally, Neeson says he didn't adhere to his wife's wishes before having a little bit of fun with her over the request. "I would tease her by going behind her back, making my fingers as though I'm holding a gun, and then [here, Neeson begins to hum the James Bond theme]. I loved doing that shit!"
Richardson, who died tragically in 2009 after a skiing accident, isn't here today to speak to her anti-007 motivations. But Neeson has a few theories as to why she wasn't so sold on the idea of him playing the international casanova—but no matter what inspired her, Neeson says she was serious about it.
"She gave me a James Bond ultimatum. And she meant it!" Neeson recalls. "Come on, there's all those gorgeous girls in various countries getting into bed and getting out of bed. I'm sure a lot of her decision-making was based on that!"