For all the cred that goes along with a cult following, most creators still wouldn't want their success to stop there. When Matt Lucas and David Walliams created their sketch-comedy show Little Britain for BBC's Radio 4 in 2001, they weren't writing for a cult audience. They weren't writing with fame in mind, either, but they always wanted the show to be a hit. And it is, at least in their native UK, where they just finished a massively popular live touring version of the show. Across the pond, Little Britain airs on BBC America and maintains a small but fervent fandom, though that could be expanding.
Appealing both to sketch-comedy snobs who worship Mr. Show and to Saturday Night Live fans who still quote Rob Schneider's copy guy, Little Britain unites audiences through its absurdist humor (with rampant Kids In The Hall-style cross-dressing) and catchphrase-friendly characters. Among them: Vicky Pollard, a chronically pregnant delinquent; Daffyd, an ostensibly gay man in a small village; Andy, who pretends to be disabled, and his caretaker Lou; Sebastian, a gay man who has a crush on his boss, the prime minister; and many more. Walliams and Lucas play them all, in addition to writing every episode. Their show just finished its third season, or "series" in Brit-speak. Just before Little Britain's second season was released on DVD, the pair talked to The A.V. Club about thriving outside The Office's shadow, their catchphrases, and the price of fat suits.
The A.V. Club: The show began on radio before it went to TV, which is an antiquated notion in the U.S. Is it more common in the UK?
Matt Lucas: Yeah, it's an inexpensive way of doing the shows. Radio 4 makes loads of comedy.
David Walliams: It doesn't happen with everything. I think the BBC liked that we had been on radio before. We got moved between channels; we were on the radio before, then we were on BBC 3, then BBC 2, then BBC 1. I think there's something persuasive when the TV executives can hear a radio audience laughing. It helped make the decision to commission us, really.
G/O Media may get a commission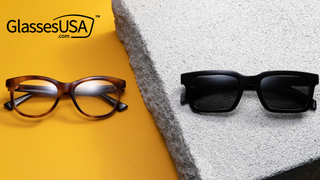 60% off frames
GlassesUSA.com Back to School Sales
ML: It enabled us to develop the comic sensibilities of the show. Although they did still change when we went to TV.
DW: Writing for radio really focuses the mind, because you can't rely on thinking "Oh, just pull a funny face at the end of this sketch." You've got to try to work on the words. It was really, really great for us. Things like doing the Tom Baker voiceover, which you kind of need on radio to figure out where you are. If we were just doing it on TV, we probably wouldn't have had that, because it wouldn't be necessary. But we tried to make it as funny as possible, and it became another part of the show.
AVC: The show came up in the shadow of The Office's success, but you said you wanted to go the other way. Why were you thinking along those lines?
ML: The Office is so extraordinary, we could do nothing but pale imitations. So why try?
DW: We knew that wasn't quite for us in the same way. The naturalistic performances—it wasn't quite how we were funny. We thought, "Oh, this can really stick, but we're going to go the other way and go back to more traditional type of humor, and dress up and have wigs and funny costumes."
AVC: Do you feel a strong urge to be successful in the U.S.?
DW: Well, it feels like a bonus. When we sat down to write Little Britain, we were never thinking, "Hmm, I wonder if this television show will play in America." But it feels great that it does play in America, and people buy the DVD in America. It would be hard to think, "Right, okay, we have to change this for an American audience," or anything like that—it would sort of be the wrong way. We've just got to do what we think is funny. I think comedy is a bit more international than people credit. We happily watch lots of American shows and American comedy films. If we did a list of the top 10 comedy films in Britain, there's no sense that it would probably be different than yours.
ML: We don't need a guidebook to understand Friends, you know what I mean? We get it.
DW: American culture is kind of an international culture, isn't it? British culture is a bit more unique. I think funny things are sort of funny around the world, really.
ML: A girl who's a delinquent should be funny in any country. And the guy falling in love with his best friend's grandmother is not an exclusively British thing by any means.
[pagebreak]
AVC: Little Britain got popular in the UK pretty quickly. Did that surprise you?
DW: It totally took us all by surprise. It just shows that actually the public makes something a hit—because people are buying into your show, and they're repeating it and talking about it, word of mouth. In a way, you can't really legislate for that. You've just got to make the funniest show you can. People just really bought into it, and it got massive really quickly. On this tour, we're playing for 800,000 people. We sold 3.5 million DVDs in Britain. It's kind of crazy. We have 9 million viewers—this is a country of 50 million or whatever. It's more successful than we ever thought. But then again, at the end of the day, it's just me and Matt in my kitchen writing and coming up with our ideas. You can't think "Oh well, hang on, 9 million people might watch this."
AVC: So you mostly write for yourselves?
DW: Yeah, what we think is funny. I think most people that do comedy do that. I don't think there is any other way you can do it, really. Otherwise it would be quite cynical.
ML: You wouldn't know how to perform a sketch that you don't find funny. You just couldn't do it.
DW: I went to visit this artist the other day in his studio, Gary Hume—he's a quite famous artist in England—and his assistant was destroying these paintings of his. And I said "What are these ones?" And he said, "Oh, these are ones I didn't like, so they're being destroyed." I said, "But you could sell these for hundreds of thousands of pounds." He goes, "Well, I'm not happy with them, so I'm destroying them." It's got to be that—it's always got to be your vision and what you want to do, and never thinking of what people might want.
AVC: Some people criticize the show for its repetition or catchphrase humor—the same characters doing variations on the same concept.
ML: [Laughs.] It's true.
DW: Well, it depends if you think that's a criticism or not, because I think, in a show that's based on a number of characters, and is unashamedly kinda catchphrase humor, that's what we are trying to do. If you only saw Daffyd once over three series, he would not have made the same impact. They wouldn't become characters that people really know. That is what we are trying to do. What would be awful would be if the sketches were really repetitive, but I don't think they are. I think we try quite hard to move the stories on, and if you look across the series, characters grow and develop and change, and things get heightened. We try to make it bigger and better each time. We read our reviews. Obviously it's sort of disappointing to get a bad review, but we are making people laugh, and that is a rare thing.
AVC: You have retired some characters, though.
ML: Like the guy in love with the granny is only in the first series. You have to get rid of characters to make room for new ones, but you also have to recognize when things are done.
DW: There's a core of about half a dozen or maybe eight that we think form the backbone of the show. They've kept consistent, and they've been in all three series. But there are new characters who are very popular—Bubbles comes in the second series, and then the dynamic changes a lot in the third series when you meet her ex-husband and his new wife. We obviously just try to move things on. But it's a hard one when it's kind of character/catchphrase humor, because you want to get to the point in the sketch where Daffyd will say, "I am the only gay in the village," because that is important. Because you have to hold onto his identity, so you should be expressing that sentiment in the sketch. So to people who don't like the show, I suppose they would look at that and go, "Well, he did that last week." Well yeah, and he'll do that next week as well. [Laughs.]
AVC: Then you have someone like Sebastian, the prime minister's assistant, who doesn't really have a catchphrase.
DW: No, he just has a situation. But all those catchphrases, they aren't sneakily created. For Daffyd, we didn't go, "Oh, that'll be a good catchphrase for what he's saying." We wrote a sketch about a guy in Wales who bases his identity on being gay and wanted everyone to know it, and didn't want another gay man to move into the village. So he said, "You'd better go on—I'm the only gay in the village." Then we thought, "Oh, we're onto something here," and we ran with that idea and that became the theme of his sketches. But it wasn't a cynical thing of thinking, "Oh, what would end up one day on a T-shirt? What would end up one day being repeated in a school or an office?"
AVC: Some characters have only appeared once, like the Scottish guy who leads group therapy for drug addicts.
ML: I think it's important that you still have those one-off [characters]. Boris the babysitter, who only appeared in one episode in the first series. The man who looks like Mr. T. All those things are good, I think, and they keep the show fresh, and they're fun for us to do. We always aim to have a few. Also, partly, with some things, you have to generate a certain amount of minutes. Just for practical purposes, if you're going to film in that location, and if you're going to spend that much time and money on the makeup. You couldn't go to the extent of doing Bubbles and only produce one sketch. [Laughs.]
DW: Because that fat suit cost £25,000, so we have to do five sketches. But also, I think of the show less as sketches, and more as a series of mini-sitcoms. There's Daffyd and Myfanwy in that pub, and that could kind of be a sitcom, really—you'd have to broaden it out more. Then Sebastian and the prime minister, that's like a sitcom, really, that could be a long-running thing about the prime minister and his aide. We just did it for two minutes each week, but if this was a sitcom, it could go on—well forever, really. Friends was, like, 10 years. You never go, "Oh God, I can't believe I watched Seinfeld, and George was in it again."