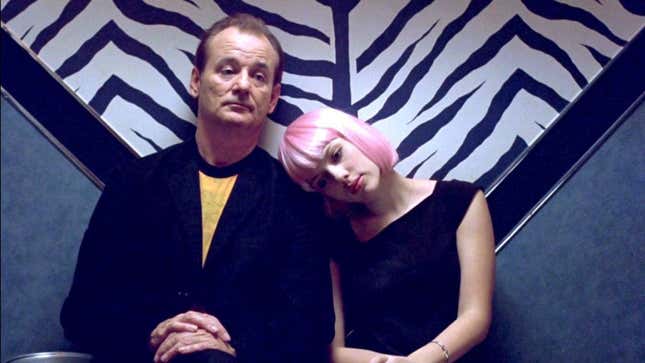 Reciting lines for a Japanese whisky commercial, Bill Murray looks deep into the camera with straight-faced irony and says, "For relaxing times, make it Suntory time." An increasingly agitated director gives him lengthy instructions that are translated, hilariously, with improbable brevity. The scene is unforgettable, even though it's been 20 years since Sofia Coppola's dramedy, Lost In Translation, first enchanted moviegoers with its mixture of gorgeous cinematography, a hypnotic soundtrack, and appealing leads.
Matt Damon recalls the horror of kissing Scarlett Johansson
Although some aspects of the film are problematic in today's world, its humor mostly still works. So do the performances, which feature Murray, then in his 50s, doing his usual deadpan delivery opposite a 17-year-old Scarlett Johansson, who's portraying a recent college graduate in her 20s. The characters bond over dissatisfaction in their lives and alleviate loneliness with each other's company. Set in and around the Park Hyatt Tokyo, these unfamiliar surroundings provide a colorful backdrop that highlights their sense of alienation and charts a "will they or won't they" course for the film.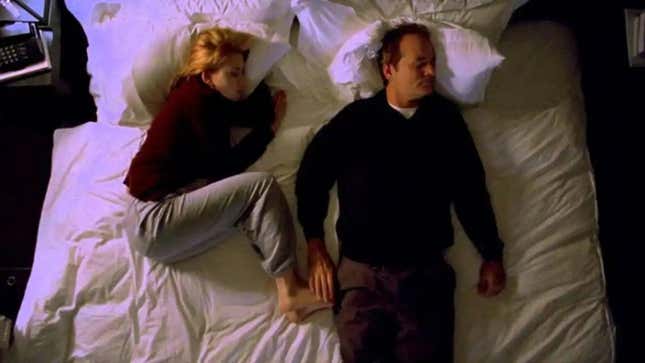 Murray's onscreen persona has always been pure id, impulsive and instinctual. On Saturday Night Live and in films like Caddyshack, Ghostbusters, and Groundhog Day, his hilarious performances made him an icon. But recent allegations against Murray of sexism and bad behavior on movie sets hover over any rewatch of Coppola's May-December quasi-romance. Last year, Searchlight Pictures suspended production of Aziz Ansari's Being Mortal, due to a sexual harassment complaint against Murray. Other allegations followed or resurfaced.
In June, Wes Anderson, who directed Murray in Rushmore, The Royal Tenenbaums, The Grand Budapest Hotel, and six other films declined to comment on the actor's behavior, saying he considers him a family member and supporter of his work. (Anderson says he replaced Murray with Steve Carell in Asteroid City because Murray had caught Covid-19, not because of the accusations.)
Whether the allegations are potentially worthy of condemnation or simply fodder for gossip websites, Murray's dependable charm seems to inoculate him from desertion by fans. And the world of Lost In Translation is so enveloping that there's little room for pondering the actor's external circumstances. Caught up in the film's dream-like landscape, attention is focused on Murray's uncanny timing, Johansson's striking beauty, and is that really Mount Fuji looming behind a golf course?
Coppola's Oscar-winning original screenplay is one of several in her career, such as Marie Antoinette and the upcoming Priscilla Presley biopic Priscilla, that specialize in women's stories. The role of Charlotte launched Johansson as a headliner, but it's Murray as Bob who bolsters the movie as the bigger star, and he makes his disagreeable character lovable. The performance earned Murray his (sole) Oscar nomination and widespread critical acclaim.
Elegant and wry, Murray fully embodies his character. And his gift for physical comedy is on display, as he crouches to get under a low shower head, races on an out-of-control treadmill, or shaves with a tiny razor. He takes the high road with his younger sparring partner, who initiates most of their interactions— approaching him at the hotel bar or inviting him to a party with her Japanese friend.
Though he's having a mid-life crisis, he's not a stereotype of a man on the prowl. He's horrified by the offer of a "massage" in the hotel and uncomfortable in a strip club where, before requesting that they flee, he tells Charlotte her male friends are "taking a dance class." The hotel lounge singer with a mane of red hair approaches him at the bar. And his early encounters with Charlotte are almost fatherly. He buys her a big plush owl when she's in the hospital. They do share tender moments, such as watching Fellini's 1960 classic La Dolce Vita on his bed, though they are fully clothed. Will they, or won't they? They won't.
While allegations against Murray may not spoil the film, a fresh viewing does throw light on unfairness to the Japanese characters, who are not fully formed and are almost entirely set up for comedy, particularly through language. It explains the film's title, even if the unlikely companions are also just plain "lost."
The swapped pronunciation of l's and r's that pepper the screenplay, such as "rock 'n' roll" and "black toe," are there for a laugh. Sure, making fun of foreigners and cross-cultural misunderstandings are international traditions. Ugly American businessmen and McDonald's-loving tourists receive their share of mockery onscreen. But here, the two sophisticates put little energy into grasping nuances or blending in, always hovering on the periphery in a travelogue of experiences at sushi bars, pachinko parlors, and Buddhist temples.
Yes, the culture has changed, but the film remains mesmerizing, a moving and powerful, if somewhat imperfect, work. As Bill and Charlotte, disconnected from their surroundings, find sanctuary in each other's presence and fall for each other unexpectedly, they prove that magic can happen, even when adrift in an unfamiliar land.