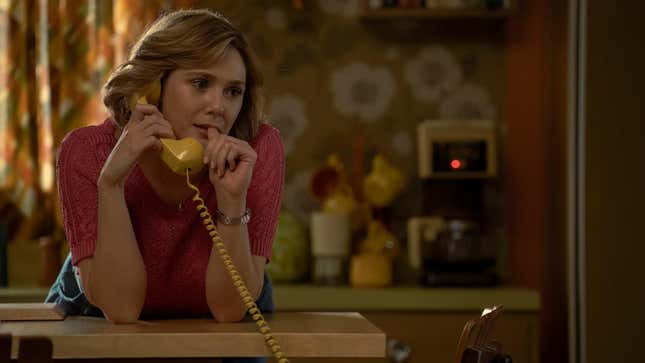 In an overly saturated media and television landscape, one wonders how a show can end up with a title as bland as Love & Death. Sure, there is something to be said about the way this David E. Kelley-developed true crime series based on axe murderer Candy Montgomery needed to not be confused with Hulu's Jessica Biel-starring Candy, but there is very little this title offers if you're scrolling through HBO Max in search of your next TV obsession. That streamer alone already has series like Love Life, Our Flag Means Death, Bored To Death, and Made For Love right on their service. But perhaps such a bland title is an apt introduction to this (mostly) toothless take on a crime that's gripped the American imagination for close to four decades now.

Grace Caroline Currey has conflicting feelings on robot love
Elizabeth Olsen stars as Candy, a Texan housewife who, in 1980, was accused of the brutal murder of her friend Betty Gore (here played by the always reliable Lily Rabe). That's not where Love & Death, which premieres April 27, begins, though. Betty's untimely and bloody death isn't so much the frame as the pivot on which this limited series turns. In this, the title all but reveals Kelley's hand. As a follow-up to shows like Big Little Lies and The Undoing, which similarly explored white-female criminality within the realms of prestige anti-hero TV and stylized melodramas, Kelley's take on the Montgomery case itches to tackle its titular Big Themes. But such lofty ambitions mean much of Love & Death feels a bit reheated, offering little in terms of keen insights into this particular case, let alone what its media circus then (and now) reveals about Americans' fascination with what could well be termed a crime of passion.
It begins, rather, with a housewife on the verge not so much of a nervous breakdown but of a kind of driftless boredom that will lead her down a path she cannot seem to escape. Candy, as we're told over and over again, is always wanting more. She's painted, by Kelley's dialogue, Lesli Linka Glatter's direction, and Olsen's nicely textured performance, as a woman slightly slighted by what society expects of god-fearing Texan women: "If you ain't growing, you're dying," she tells us. "If you ain't searching, you're lost." And so searching for more excitement she goes, hoping to find it in motel rooms with her friend's husband, Allan Gore (Jesse Plemons, in peak put-upon guy mode), reaching for an ephemeral rush she knows likely won't end well. This marital indiscretion, planned to a T as it is, is set against the backdrop of a tight-knit, church-going community that openly gossips about recent divorces and new pastors with gleeful abandon.
Such a premise lends itself to the kind of soapy dramedy Love & Death appears to be for its first three episodes (all of which are being released simultaneously before a weekly drop thereafter). Though it must be said that Allan and Candy's affair isn't that torrid; these are two people who actually create a dos and don'ts list ahead of deciding whether cheating on their spouses is worth it(!). But such lack of passion is merely table setting for the more thrilling episodes that follow once that infamous axe makes its first appearance. Candy's life, her affair even, is the most boring one imaginable; fodder, it seems, for the kinds of arguments her lawyers will come to make in the trial that makes the bulk of Love & Death and the moments where Kelley's fluency in that genre—as any The Practice fans know—pays off in spades.
But such a lull in its early episodes almost dulls the impact of the story once Candy's suburban escapades become the center of a media storm of a courtroom drama. Were it not for Olsen's perfectly calibrated performance, this latest true crime fictionalization would struggle to validate its own existence. As if intent on reminding us that she's a talent who's been mostly stuck playing in the Marvel sandbox for the better part of the last decade, Olsen is transcendent once Candy's competing and often contradictory impulses become central to her fractured sense of self. Is she a devoted wife or a potential murderer? An adulterer or a possible sociopath? A serial liar or a wounded woman?
In Olsen's hands, Candy remains a believable cipher of a figure. The actor avoids collapsing the character into any one trope; instead, she embraces Candy's multitudes. (You will crave plenty more scenes where she sings along to "Take A Chance On Me," dances to disco hits, and even finds herself lost and adrift while grinding meat in the middle of her kitchen.) Going broad with that honeyed Texan accent when needed and subtle when all we require are minimal gestures to suggest inner turmoil, Olsen offers a powder keg of a performance that culminates in a climactic scene toward the end of the series where Betty's fate is eventually put to screen.
If Love & Death cannot quite meet Olsen at her level (this is the kind of series that could've done with fewer montages no matter how many great needle drops it gifts us in the process), that may well be due to its generic constraints. This is a show being billed, per its poster tagline, as a domestic drama ("Not every dream has a perfect ending"), yet one which cannot escape the lurid sensationalism it has and does build toward.
---
Love & Death premieres April 27 on HBO Max.