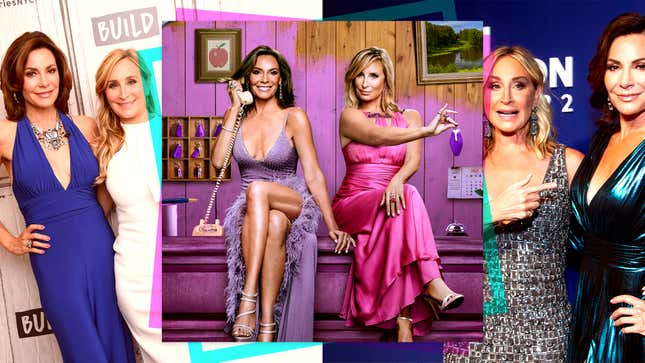 The things that make Luann de Lesseps and Sonja Morgan such good reality stars are probably the same things that make them slightly challenging interview subjects: If there is something they want to say, they're going to say it, whether or not I asked, and they're going to say it more than once. On a reality show, this is how you make a plotline; you control the narrative the best you can by picking your stance and standing by it, even despite evidence to the contrary.
"The Amazing Race" host Phil Keoghan on auditions, and being prepared
When de Lesseps and Morgan sat down with The A.V. Club to discuss their new series Luann & Sonja: Welcome To Crappie Lake, which premieres July 9 on Bravo, the two points they wanted to include were obvious: small towns and helping people out (you know, because those words came up nearly every time I asked a question). The show, which sees the former Real Housewives Of New York City travel to Benton, Illinois, to help the town as it recovers from pandemic shutdowns, is essentially The Simple Life with an aged-up Nicole and Paris, chronicling the pair over five weeks in the rural community as they wander into, yes, wacky hijinks.
Of course, some of the comments about small-town living from these two upper-class New Yorkers are a bit out of touch, but that's the whole point of the show. It's a fishes out of water story that, thankfully, doesn't put the joke on the Midwest denizens who serve as the scenery for a pair of Housewives. That's the other thing that comes through both on TV and in an interview; Luann and Sonja are so willing to put themselves out there that even when you're laughing at them, you can't help but be charmed into laughing with them.
---
The A.V. Club: I'm curious how this project was presented to you. What was the pitch?
Sonja Morgan: We got a call from Russell [Jay Staglik], who is a co-producer with Jeff Jenkins, who did all the Kardashians [shows] and Simple Life. Russell is from Benton, Illinois. He grew up there. And after COVID, they were hit really hard. They have less than 7,000 people there and they needed our help. We both, being small-town girls, thought we'll go there and do the best we can in a short period of time. You wanna tell him about the living arrangements? [Laughs]
Luann de Lesseps: You know, we were excited because we got handpicked to be the two women who they thought collectively could help this town out, with our life skills that we've accumulated over the years from living in a small town, to having lived all over the world, that we could really help these people. They didn't know what to expect—you know, New York fancy gals, coming to this small town. Half of them didn't know who we were and the other half, you know, were fans. But we had to prove ourselves to them and make them believe that we really were there to help and that we're small-town girls too, at the core.
SM: They were very, very open.
LL: I was excited, because for me it was a dream job to be able to go to this town and help people out. My background is nursing, so for me to get in there and get our hands dirty, have all these projects, and work with the mayor ... improving the town was something I really wanted to do, and Sonja was on board.
AVC: Had either of you ever spent much time in the Midwest?

LL: No.
SM: Not like that.
LL: Not in that kind of heat.
SM: We didn't even know where Benton was.
LL: Does anybody know where Benton is? As [Sonja] says in the show.
SM: They said Illinois. I was thinking Chicago like anybody else. That's our secondary market. But we were really in the farmland. Wonderful people, though. We met a lot of talented people for our variety show that we did together, and we did a doggy run.
LL: The Benton Follies.
SM: The Benton Follies! And then we worked at the gardening club, put together Christmas in July to bring everyone together to meet us.
LL: And the dog shelter.
SM: And then the park for the kids.
LL: We had a long list of things to get done while we were there, and it went by ... fast, I would say.
SM: And a lot of hijinks. Because while we were doing it, we're quite the personalities. This one was right on the square doing a lemonade sale, pulling cars over ... oh my gosh.
AVC: You've done a lot of trips on Real Housewives, but this is by far the longest you've been away anywhere. You said it went by fast.

LL: Right. Well, it went by fast because we were so busy. It was very long days of filming; it was very hot. When it rains, it gets hotter there. So that was challenging.
SM: The living quarters—we were in a motel. The room is the size of this [office] plus a bathroom. We had a tub, which was great. I always have to have a tub.
LL: She was very happy to have a tub. I hope you scrubbed that thing.
SM: Not every motel has a tub. These were classic motels, and the only guests they normally see are deer hunters. And they really are very busy in the fall, not in the summer.
LL: And catfishers.
SM: Oh yeah, catfishing is big business.
AVC: One of the things that was cool about watching this show was, you know, when you're on Housewives, you're kind of presented as regular New Yorkers, but here, you're greeted as celebrities from the get-go. You have people asking for your autograph.
SM: Well they thought we were from Hollywood. So that was good. They didn't know. They weren't sure we could even deliver.
AVC: What was that reaction from the people who knew who you were?
LL: There was skepticism, and then there [were] the people who knew who we were and were happy that we were there to help them out. Throughout all these things, we got involved with the local restaurants—
SM: Oh my God, just the crew meals put them in business! We were constantly using all the restaurants.
LL: She was constantly using all the restaurants. She was constantly ordering food.
SM: No, I was the one who wasn't getting my meals. Do you remember that? They said, "Oh, I gave it to Lu." I said, "Great, she went to bed at 9:30. Where's my steak?" No, I was constantly missing my meal. So I just got two Sonic burgers, every day, as a back up. Because I'm in a motel, there's no stove. I had a blender; I had a toaster oven. I had a basket that Luann got me at an antique store and I filled it with fruits. But then there were fruit flies. And then we opened the freezer and there was deer meat in there. It was ... different.
She was so happy to get home to her beautiful home in the Hamptons.
LL: There is so much heart with these people because ... you know, small town, heart, and a lot of comedy along the way. Cat-fishing. Monster trucking.
SM: We didn't know what to pack. I mean, we came like we were going to Monaco. But that's us.
AVC: You looked great from what I saw.  
LL: Thanks, well we had makeup and hair people.
SM: And the people in town dress really well. They travel, you know. They're worldly. More than you would think. Everyone in Benton loves being in Benton. They're there because they wanna be there. It was just they needed a little help. The schools were closed so they had a whole program for the children to have meals at home because they usually get meals at school.
AVC: I'm also from a small town, and the community of people rallying around each other is really special.
SM: I was shocked by how talented everyone was. They have a lot of dance schools there and they have this beautiful theater, and they sang so well. [Luann] was a tougher judge than me.

LL: They had a local theater group, so it was great to start with that, at least. I was like, "How are we gonna do a variety show?" I mean, the first kid we had come in was riding a unicycle.
SM: And I loved him.
LL: Playing a violin, which is bad.
SM: No, it was great. She was a tougher judge.
LL: I was the casting director.
SM: I was a casting director too. We all voted. Except you put my votes in the garbage. I found them, and I gave them to the director.
LL: We didn't have any vote cards.
SM: There were little papers that we had to vote on.
LL: Oh.
AVC: You have both been on a reality show for well over a decade at this point. The genre has evolved a lot. What has it been like to be in the center of that? How has the reaction from fans changed? Or has it changed?  
LL: I remember when we first started [Real Housewives] we used to get phone calls and emails about, "You got me through cancer" or "My mother and I connected over you guys." And through my cabaret career, as well, mother-daughters will come and they'll say, "I've been watching you for 10 years," but they're only, like, 12. Young kids, watching the show with their mommies—to have that kind of effect on people, and have them relate and identify with you, is awesome. It's either they've lived in New York and they miss it or they've never lived in New York and they aspire to. They get to live vicariously through us in New York.

AVC: Is there any particular quote that you most often hear from fans?

SM: Hers? It's, "Be cool. Don't be all uncool."
LL: Yeah, or they'll start singing "Money Can't Buy You Class" or "Chic C'est La Vie."

SM: What's my quote? "We always have a great time"?
LL: You're "the straw that stirs the drink."
SM: But also, you hear a lot of "Seeing double, feeling single." And the "Sonja Morgan's intern" is the best seller. I have my merch, the T-shirts and pillows now.
AVC: I need one of those shirts.
SM: Which one? I think when you go out and party, it's fun to wear "Seeing double, feeling single." It's quite an opener.
LL: I think it loosens people up right away. They know where you're coming from.
SM: "Crazy in the head, crazy in bed." You wear that T-shirt and you will not go home alone.