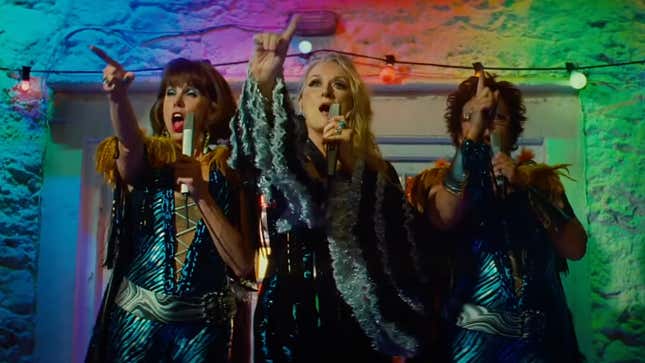 In Mamma Mia!'s magical version of Greece, anyone can burst out in joyful song at any moment, a young woman can squat in a broken-down hovel and miraculously turn it into the most beautiful resort you've ever seen, and blonde Cher can just pop up wherever and whenever she wants. In this literal Garden of Eden, why wouldn't a beloved mother and grandmother come back from the dead? It makes perfect sense to us, but more importantly, it makes perfect sense to the late, great Donna Sheridan herself.
Clooney and Streep donate millions for striking actors
"I'll have to schedule a knee scoping before we film, but if there's an idea that excites me, I'm totally there. I told [producer Judy Craymer] if she could figure out a way to reincarnate Donna, I'm into that," Meryl Streep said of her potential triumphant return in a speculative Mamma Mia! 3. This comes via a long Vogue oral history of the original film, in which she also suggested that "it could be like in one of those soap operas where Donna comes back and reveals it was really her twin sister that died."
Stellan Skarsgård, who plays prospective dad Bill, will also gladly zombify himself for a chance to return to The Bella Donna for one last summer. "I will be in an urn by the time there's a script for Mamma Mia 3, but I will gladly participate as a pile of ashes," he said.

While they wouldn't have to bend the laws of time and space in the same way, stars Amanda Seyfried, Colin Firth, Pierce Brosnan, Dominic Cooper, and Christine Baranski said they were all equally down for a Dynamos renaissance.
As for the script in question—working title "Mamma Three-a" or "Grand-Mamma Mia!" per Streep—it's not exactly in the hopper, but it's not not happening either. "I dare you to show me one person who doesn't want a third Mamma Mia!" said Seyfried.
"Nobody is saying no, but nobody is saying yes either," she continued. "The powers that be probably can't afford us to be honest. I hate to say it, because would I do Mamma Mia 3 for free—of course I would—but that's not the business we're in. What's fair is fair, and I feel like a third film is gonna come down to something stupid like whether or not Universal wants to pay the money." This is our humble plea to the studio—and science—to shell out and make it happen, already.