"Disease, Injury, Madness," an 11-minute song on Between The Buried And Me's sixth album, last year's The Great Misdirect, has its fair share of technical metal: dueling pinch harmonics, breakneck drums, Cookie Monster growling. But it also offers an extended jazz-bass solo and an impressive section of Sabbath-style blues, among other unexpected departures, not to mention some vocal parts that could be fairly described as mellow. It's just this kind of wide-ranging reinvention of traditional forms that makes the Raleigh, N.C.-based band so exciting, and a lightning rod for metal's more vociferous fans. Any genre is ripe for appropriation and transformation, and it's never been more apparent, audacious, or seamless than on The Great Misdirect. In advance of the band's show this Saturday (Jan. 30) at the Fillmore New York, singer Tommy Rogers spoke to The A.V. Club about eschewing genre, finding his voice, and naming the band after a Counting Crows lyric.
The A.V. Club: How did the band's sound evolve from the more traditional technical metal of early albums to the wide-ranging material on The Great Misdirect?
Tommy Rogers: With each record, we never plan what we're going to write, but naturally as we get older we kind of change, even if it's not really on purpose. I think the biggest goal for a band like us is, no matter what we do, to still sound like Between The Buried And Me. I think we've achieved that. Even though [2007's] Colors is a big step from [2005's] Alaska, and The Great Misdirect is a lot different from Colors, no matter what you listen to, it sounds like us. We always want to keep that in mind. We definitely always want to be a heavy band, but we're also always open to experimentation. And as a musician, it's boring to recreate the same thing over and over.
AVC: Do you still consider Between The Buried And Me to be principally a metal band?
TR: I definitely think the metal framework is necessary, and it's always in our songs. And we are, from the core, a bunch of metalheads. We grew up on it, and it's what we've always played. We just love music, so "music" is the biggest inspiration. We all listen to so much that there's not really any certain bands in general that we take our writing influence from. I think from day one we've always experimented, and now we're at a point where we're like, "Let's fucking go for it." I think a lot of bands think about writing a new record as a chore. But for us, it's like, "It's time to have fun and do some crazy shit." It's awesome, having the opportunity to write a jazzy swing part and bring it to the band, and not be worried that they'll say it's not heavy enough. As long as it helps the song, we're all for it.
AVC: Metal fans are famously argumentative, and have a reputation for not embracing significant change. Is hit hard to experiment in that situation?
G/O Media may get a commission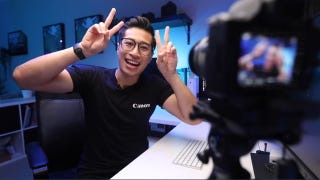 Up to 33% off
Canon Camera National Promotion
Webcam kits, lenses, & more
Since many of us adopted working from home, we've become accustomed to the crappy video quality output of our laptops' built-in webcams. Present yourself professionally with the help of a professional quality camera. Dress to impress now means set dressing and picture definition. Canon has made it easy to take your EOS camera and convert it to a webcam with the help of a variety of kits.
TR: Finding that middle ground is key. The bottom line is that we are an intense metal band, even with everything we incorporate into our music. We don't want to neglect our fans, and I think the way we've experimented on each record has helped, and people expect that now. When a new record comes out, they don't expect something they've heard before. When they listen to it, they want to be surprised. That's what I get excited about when I listen to bands. I don't want to put on a CD and know exactly what happens.
AVC: Your vocal parts have grown more ambitious, and there are large sections of The Great Misdirect where you abandon the classic growl for some pretty nuanced vocal work. Is this a concerted effort on your part?
TR: I was in some metal bands in high school, but I never even thought about singing. I slowly got into it when we started this band. Every record I push myself, and it's not something easy to me. For a lot of people it comes naturally, but it's been a lot of work on my end, and I'm pleased with the vocals on The Great Misdirect. I tried to more inventive, but the big thing for me in vocals is not overdoing it, but making it tasteful. [My vocals] sort of represent my personality. The mellow side represents me in real life, and the metal side is definitely the little metalhead in me that a lot of people don't know.
AVC: How did your band come to be named after a line from the Counting Crows' "Ghost Train"?
TR: Back when we started the band, me and Paul [Waggoner, guitarist] went weeks and we couldn't think of any names. We were looking through CD booklets at our apartment, and Paul cracked open that CD booklet one night. I interpret the phrase as what you decide to do between now and when you die. That's what the band is about. We're here for a reason, to write this music, and that name represents that. It is really long, though, and I don't think I've ever ran into someone on the street and told them my band's name, and had them understand me the first time.