Here's what's up in the world of TV for Monday, September 12. All times are Eastern.
Top picks
Monday Night Football (ESPN, 7/10:15 p.m.): Monday Night Football returns tonight, which means the fall television season is officially upon us. It also means Monday Night RAW is going to throw in the towel even more than usual, which you wouldn't expect to be the case with ratings competitions, but… C'est la vie. (And c'est la vie, just for good measure.) The fun officially begins with Washington (at home) taking on the Pittsburgh Steelers. It then continues with the Los Angeles Rams (still so weird to say) taking on the San Francisco 49ers (at home). Can you smell that? That's fall television on its way.
CBS Fall Special (CBS, 8:30 p.m.): Kevin Can Wait? Apparently not, as Kevin James will be hosting tonight's "first look" of CBS' new fall series. (And he'll also be joined by his Kevin Can Wait co-star Erinn Hayes in one of the special's segments.) Behind-the-scenes moments, Kevin James, cast interviews—CBS knows how to start the fall television season off right. See? We told you fall television is on its way.
JonBenét: An American Murder Mystery (Investigation Discovery, 10 p.m.): Then there's this. A "special three-night event" that begins tonight, because JonBenét is the new O.J. Simpson, y'all. You know, like back in the '90s. (The intense lack of Nancy Kerrigan/Tonya Harding attention in all of this '90s true-crime nostalgia has not gone unnoticed by your friendly neighborhood What's On Tonight contributor, by the way.)
G/O Media may get a commission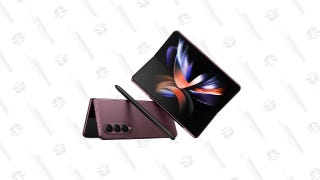 Save Up to $300
Galaxy Z Fold4
Premieres and finales
Dancing With The Stars (ABC, 8 p.m.): Monday Night Football means fall television, which in turn means Dancing With The Stars. A two-hour premiere of Dancing With The Stars' 23rd (oh yes) season, in fact. You can see the cast list for all of the stars and "stars" here, but just make sure you know we're supposed to be booing Ryan Lochte. Some of us have wanted to boo him since his reality show, but we were told we were "wrong" or "being too hard on a swimming dummy" because he was "hot." But now it's totally fine to boo Ryan Lochte (and even more so because he'll be dancing to a Michael Bublé song), so your friendly neighborhood What's On Tonight contributor is taking her shot. She's not going to watch this, but you can pretend she is when you do. "Booooooo!" Jeah, or whatever.
Fashion Police (E!, 8 p.m.): Finally, Fashion Police tackles the event it had to have been created specifically for in the first place: New York Fashion Week.
So You Think You Can Dance: The Next Generation (Fox, 8 p.m.): Now that this season is ending: Can we please go back to "The Current Generation?" Please. Sorry, kids.
American Ninja Warrior (NBC, 8 p.m.): American Ninja Warrior's eighth-season finale, "National Finals Week 3," is here. "It's the final night of the American Ninja Warrior National Finals, where top competitors from the City Finals tackle the last three stages of 'Mount Midoriyama.' Competitors who survive Stage One will take on Stage Two, and possibly Stages Three and Four." Possibly. But what an anticlimactic finale it would be if no one even survived Stage One. But that's what the potential American Ninja Warriors of the world sign up for. Well, that and the possibility of a $1 million cash prize.
Cake Wars (Food Network, 9 p.m.): Cake Wars ends just to start all over again, doesn't it? Season four of the war of cakes—possibly on cakes, even—begins tonight, with "Powerpuff Girls." "Bakers compete to have their cakes celebrating The Powerpuff Girls chosen by the judges, who include the voice actresses who play Blossom, Bubbles, and Buttercup on the animated series." That's right, sugar, spice, and everything nice… and cakes. Welcome back, Cake Wars. Even though we didn't get a chance to actually miss you.
$100,000 Pyramid (ABC, 10 p.m.): $100,000 Pyramid ends its first season with some true competition: "Jon Lovitz vs Deion Sanders and Rosie O'Donnell vs Kathy Najimy." There will probably be some bloodshed—the Pyramid is serious business—so you might actually want to DVR the Rams/49ers game and watch this live.
Running Wild With Bear Grylls (NBC, 10 p.m.): Keeping with the Monday Night Football theme, Running Wild With Bear Grylls' episode synopsis says this: "MARSHAWN LYNCH JOINS BEAR ON A TOUCHDOWN-WORTHY ADVENTURE TO THE MOUNTAINS OF CORSICA." You just couldn't help yourself, could you, Running Wild With Bear Grylls? Now we're really happy it's the season finale.
Regular coverage
Narcos (Netflix)
WWE Monday Night RAW (USA, 8 p.m.)
Streaming pick
How I Met Your Mother, "Monday Night Football" (Amazon Video/iTunes/Netflix/Vudu): Remember when it was safe to enjoy How I Met Your Mother? It feels like a lifetime ago. And in some ways, it was. Technically, this episode is about the Super Bowl, not Monday Night Football as an institution, but you can see what we're doing here, right? Right.