There are films that belly-flop so spectacularly that the sight and sound of their failure can be detected from the farthest reaches of space. Then there are failures so muddled and underwhelming that they seem to instantly disappear from the public imagination the moment they end their disastrous theatrical runs. 1984's City Heat, today's entry in My Year Of Flops, is such a film. When I mentioned that I was thinking about writing up the film to my colleague Scott Tobias, his response was "City Who On a What Now?" And he's a film critic, mind you, and a damned good one. Heck, I didn't even remember City Heat until I stumbled across its DVD box at Blockbuster and thought, "How in the hell did Clint Eastwood and Burt Reynolds make a Prohibition-era action comedy together without anyone remembering it?
At the time City Heat was filmed, Reynolds and Eastwood were two of the biggest box-office attractions in the world. So their pairing must have filled the minds of studio executives with ecstatic images of cash registers c-c-chinging happily. As Hit And Run, a book I recently read about Peter Guber and Jon Peters' disastrous reign running Columbia-TriStar, makes abundantly clear, perception is as important, if not more important, than reality in Hollywood. So the studio execs must have been able to wow peers at cocktail parties for months by crowing, "So, we've got Burt Reynolds and Clint Eastwood in a period action-comedy from Blake Edwards." Of course, if their partygoers were to ask "Yeah, but how's the script?," they'd just blankly stare at them and repeat, "Yeah, so we've got Burt Reynolds and Clint Eastwood in a period action-comedy from Blake Edwards. How cool is that? It's gonna be huge."
Eastwood and Reynolds' subsequent career paths diverged dramatically. Reynolds was a popular super-macho action star who eventually became a walking punchline. Eastwood was a super-macho action star who became venerated as a serious artist. Why? Perhaps because Reynolds mustachioed, gum-chewing bravado aged terribly while Eastwood's laconic cool, as seen in his legendary collaborations with Sergio Leone and Don Siegel, is timeless. Age diminished Reynolds but transformed Eastwood into a national treasure.
Eastwood became an archetype while even at the height of his powers; Reynolds always felt ersatz. I have a lot of respect for Reynolds' minimalist work in movies like Deliverance, Semi-Tough, and The Longest Yard, but Reynolds nevertheless went from being a very poor man's Marlon Brando, all coiled intensity and internal brooding, to a K-Mart version of Clark Gable.
Both men worked extensively with co-stars lower down the evolutionary ladder than them. Eastwood famously worked with Clyde The Orangutan on Any Which Way But Loose and Every Which Way You Can. Reynolds worked extensively with Dom DeLuise until the corpulent cut-up's feces-throwing, agitated screeching and baboon-humping made further collaborations impossible. Both men found their romantic travails splashed across tabloids. But where Eastwood's acrimonious break-up with Sondra Locke only added to his aura as a tormented artiste, Reynolds' high-profile fling with human Barbie Doll Loni Anderson made them the proto-Tommy Lee and Pamela Anderson.
G/O Media may get a commission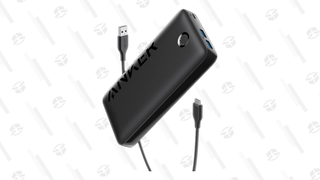 20% Off
Anker 335 Power Bank
Reynold's fortunes rose and fell with the popularity of the mustache: by the time the mustache was dead for everyone but homosexuals and cops, so was Reynolds' career. Eastwood, meanwhile, was smart enough not to become synonymous with a dated form of facial hair. I doubt we'd consider Eastwood a great director in the midst of a remarkable late-period renaissance if he were inextricably associated with mutton chops or the soul patch.
In its first scene, at least, City Heat makes the Eastwood-Reynolds pairing seem not only palatable but exciting. Reynolds enters a lonely diner on a dark and rainy night and is batted around and man-handled by goons while Eastwood sits stoically drinking coffee, seemingly without a care in the world. Eastwood adroitly underplays the scene to comic perfection: it isn't until his cup of coffee is knocked over that he springs into action helping Reynolds.
City Heat has the misfortune to peak in its first five minutes. The introductory scene finds a smart balance between hard-boiled action and glib comedy the rest of the film tries, and fails, to recapture. Eastwood here plays, of all things, a stoic, straight-arrow lone-wolf cop who was once partners with Reynolds. But after a failing out, Reynolds hooked up with Richard Roundtree, a private dick who is probably a sex machine to all the chicks. Now before you admonish me to shut my mouth, I should remind you that I'm talking about my man Richard Roundtree. I hope you can dig it.
Roundtree's death at the hands of organized-crime goons inspires Eastwood and Reynolds to put aside their contempt for each other and hunt down the people responsible for his death before the bad guys can harm any of the film's interchangeable damsels in distress: dizzy society dame Madeline Kahn, an always welcome but oft under-used presence who disappears from the film for a good forty minutes; sexy chanteuse Irene Cara; and true-blue Jane Alexander.
City Heat wastes far too much time sussing out the details of its convoluted plot. Then an indifferently staged shootout suddenly breaks out and inspires nostalgia for those glorious, glorious scenes where the characters try to figure what in the hell is going on. Even at its best, film noir dialogue teeters on the verge of self-parody and City Heat all too often crosses the thin line separating crackling from cornball. Here are some suspiciously soft-boiled attempts at hard-boiled patter: "Primo Pitt. Hell of a guy. He came in second to you in the Snot Ball pageant." "You didn't sly up here just to prove you're stealthy?" "They dug a slug out of the mess that was left of Dehl." "Don't razz my ass, Mike. I'm low." "See, I'm gonna go upstairs and try to put a twinkle in both of Caroline's eyes. If I'm not too tired afterwards, though, I'll come downstairs and pop your face inside out." "Where would you go if you had an ass-load of buckshot?"
City Heat has two modes: trying too hard and not trying hard enough. Edwards was fired early on due to "creative differences" with Eastwood and was replaced by Richard Benajmin, who peaked with his first directorial effort, 1982's charming and delightful My Favorite Year, and stumbled with everything that followed, bottoming out with the unspeakably abysmal Lisa Kudrow-gets-jiggy-with-it culture clash comedy Marci X.
In a desperate attempt at noir atmosphere, City Heat is so dimly lit at times that Reynolds appears to be nothing more than a phantom mustache floating creepily in darkness. The film has far too little psychological or thematic darkness and far too much literal darkness. Presumably, audiences for a Reynolds/Eastwood buddy movie want to be able to see both actors, not just their shadowy outlines.
When a movie like City Heat fails, pundits tend to blame its fusion of genres. Nobody eats a delicious cake and complains, "Whoa, there's flour, water and sugar in this thing? No wonder it's such a mess! Pick one ingredient and stick with it, dammit! There's no need for this kind of crazy baking schizophrenia!" But if you stick taco meat on top of a cake, of course, people are going to complain. City Heat's problem consequently isn't that it combines action and comedy. Its problem is that it combines limp, unfunny comedy with confusing, dull action.
After parceling out Eastwood/Reynolds scenes sparingly and to little effect, City Heat more or less repeats its opening scene for its finale, with Reynolds once again being pummeled while Eastwood observes passively until someone once again knocks over his drink. But by then it's too little, too late. It's hard to imagine a big-budget, period vehicle for two of the biggest stars in the world leaving behind only the barest of footprints, but Benjamin's generically titled mediocrity richly deserves to be forgotten.
Failure, Fiasco or Secret Success: Failure