In Hear This, A.V. Club writers sing the praises of songs they know well—some inspired by a weekly theme and some not, but always songs worth hearing.
More than 20 years since its debut was released, Ned's Atomic Dustbin is regarded as a curio of the early '90s, a relic of the first wave of the alternative revolution that Nirvana would kickstart a few months later with Nevermind. But for some true believers—like myself and Josh Modell—the band was one of the greats of the early alternative era. Ned's "thing" was having two bass players, but Alex Griffin and Matt Cheslin basically played their instruments like guitars. With guitarist Rat (a.k.a. Gareth Pring), the effect was like having three guitarists in the band. The thick, meaty-sounding basses complemented each other—often playing octaves of each other, at least in the early days—while the tinny distortion of Rat's thin-sounding guitar washed over them.
"Happy" and "Grey Cell Green" were jams back in the day—"Happy" remains one of my all-time favorite songs—but Ned's had several B-sides that stood with some of its best songs. Case in point: The "Grey Cell Green" single featured two B-sides that I love, including a song called "Titch." The band likely relegated it to a B-side because it's a moodier, mostly instrumental song that takes its time building to a big finish, but what separates it from Ned's other material also makes it great. Vocalist Jonn Penney doesn't have a lot to say in this song, but the way his last line—"Til I can live with my disappointments, you're gonna sleep with yours"—hangs before the band kicks into a lyrical two-minute closing just kills. (Also, drummer Dan Worton basically playing a snare roll for two minutes is awesome.)
"Titch" appears on the And Besides… compilation, along with the thoroughly essential song "Aim," but the other great "Grey Cell Green" B-side, "Trust," is sadly absent.
G/O Media may get a commission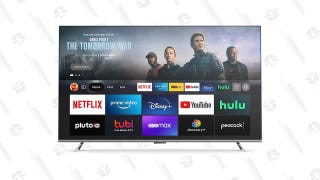 Save 46%
Fire TV 55" Omni Series 4K UHD Smart TV