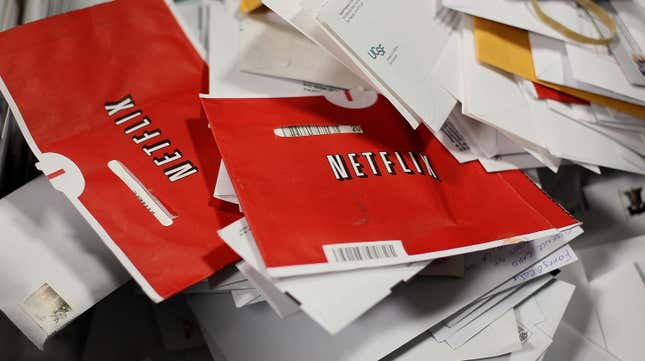 As The Buggles once said, "Streaming killed the DVD star, streaming killed the DVD star, in my mind and in my car. We can't rewind, we've gone too far, pictures came and broke your heart. Put the blame on VCR." Alright, the song parody falls apart there, but you get the idea, which is that Netflix is officially killing off its DVDs-by-mail service—a.k.a. the business that Netflix was built on before it shifted over to its current streaming focus.
Netflix plans to make you freeloaders finally cough up the dough
Netflix's DVD service has operated under the name (and domain name) DVD.com since 2016, offering separate subscriptions from the regular streaming service with old-fashioned tiered plans based on how many discs you can get at a time, but that service will be shutting down after 25 years on September 29. DVD.com made the announcement on Twitter, thanking subscribers for their support right up to "this final season of red envelopes," and Netflix co-CEO Ted Sarandos shared a slightly longer statement (via The Hollywood Reporter) in which he thanked everyone "who ever added a DVD to their queue or waited by the mailbox for a red envelope to arrive."
But, of course, Sarandos is the guy co-pulling the plug on the DVD service, so we don't really care what he thinks. See, this is decidedly a bad thing for the general community of movie-enjoyers and culture fans, because—as Paste pointed out a couple of years ago—Netflix's library of DVDs was a one-of-a-kind collection that the world will surely never see the likes of again. At one point, the company's DVD collection had over 100,000 titles, which (according to Paste in 2021) is more than the current combined libraries of all of the major streaming services.
That means we as a society are losing access to a vast collection of things that may be prohibitively difficult to find otherwise, including things that simply aren't on streaming or discs that are out of print. Sure, DVD.com didn't have the numbers that Netflix did when DVDs were its main business, so it's not like everyone in the world will necessarily notice that this is a bad thing (most of us probably don't even remember the last DVD we got from Netflix), but it was still nice to know that this service still existed and it's a bummer to know that it won't for much longer.
We've written about why physical media matters here at The A.V. Club, including the fact that David Zaslav can't take it away from you without breaking into your house (even if it's just a rental), but also that a good Blu-ray player can produce better-quality video than streaming and DVDs sometimes have cool special features that have mostly been eradicated in the streaming era. Just a few years ago you could rent a DVD copy of, say, The Number 23 from Netflix and get a full-length commentary track from director Joel Schumacher! You shouldn't need to buy a copy of The Number 23 in order to hear that (or maybe at all).
But this all leaves one lingering mystery: What's going to happen to all of these DVDs? Unfortunately, we don't know yet. The A.V. Club reached out to Netflix to find out what will happen to all of its discs once that September deadline passes, but we have yet to hear back. (Related: If anyone hears about some killer garage sale this fall with thousands and thousands of DVDs, let us know. We're looking for a gently used copy of The Number 23 and we don't want the box or anything.)