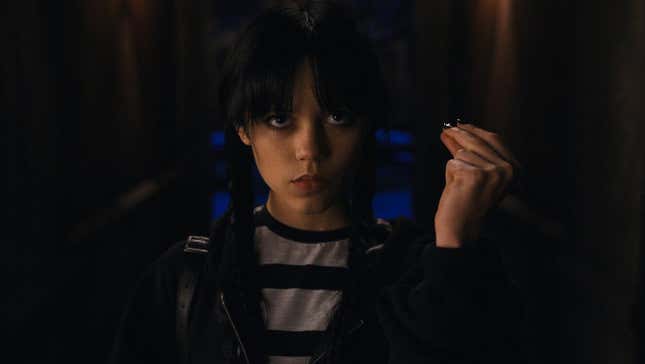 School's back in session at Nevermore Academy, as Netflix has confirmed that Wednesday has been renewed for a second season. This is, of course, massively shocking news, after the new take on The Addams Family immediately jumped to the top of the streamer's most-viewed charts upon its release in November and has yet to give up the #1 spot. (Tant pis pour Emily In Paris.)

"In the past few weeks, I've been hunted, haunted, and mimicked millions of times across the internet," star Jenna Ortega narrates in the renewal announcement video. "It's been pure torture. Thank you."
Also featuring footage of fan events from around the world, the clip is set to Lady Gaga's 2011 song "Bloody Mary," which has usurped the show's use of "Goo Goo Muck" by the Cramps in a TikTok trend paying tribute to Ortega's distinctive dance sequence in Wednesday's fourth episode.
"We can't wait to dive headfirst into another season and explore the kooky, spooky world of Nevermore," Wednesday co-showrunners Miles Millar and Alfred Gough say in a statement shared on Netflix's Tudum. "We just need to make sure Wednesday hasn't emptied the pool first."
The hit series turned the iconic daughter of the Addams Family into a teen detective who solves a murder mystery at her new boarding school with the help of her freshly-awoken psychic powers. (She also gets a hand from Thing, of course.) While Wednesday and her classmates save the day at the end of the season, she's still being watched by a mysterious menace.
"[The stalker proves] that threats remain out there…to both Wednesday and the school," Millar continues. "Not all not loose ends have been tied up neatly as she thinks they have."
In addition to cracking a new case, the second season will presumably dig deeper into the lore of Nevermore, which will also be going through an administrative shakeup. What's the deal with those people who don't have faces, anyways?