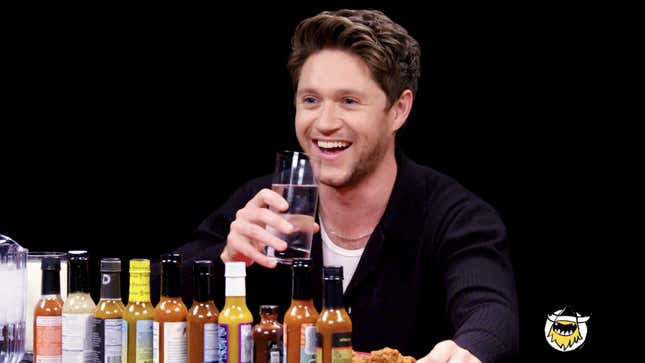 The latest Hot Ones is an early St. Patrick's Day Special: Irish heartthrob Niall Horan is the latest celeb to take on the "wings of death." The former One Direction band member is currently promoting his solo single "Heaven" from his upcoming album The Show, as well as a new gig as one of the judges on The Voice.
Horan, who once went viral for sharing his unseasoned turkey, has long been a fan of Hot Ones. "I'm seeing it in front of me, and it's making me scared," he says at the beginning of the episode. "I do tend to lean for a hot sauce with most dinners I have or lunches or whatever. But I don't wanna be that guy. I've seen too many people come on here and be like, 'I'm gonna nail this,' and then they're crying and spitting into buckets."
The songwriter discusses how to choose a lead single and how to write a bridge, as well as the challenge of rejecting contestants on NBC's singing competition. "I know what it's like to be 16 and stood on a stage and looking at some famous dude that's got your future in his hands," he reminisces of his X-Factor days, adding he's enjoyed the "full circle" experience.
That said, if he was the judge back in 2010, "I wouldn't have turned. Not for that guy. I was right place, right time. No, I don't think I would've turned for myself, put it that way. I'd turn for me now! I've learned a lot. I've been around the block a couple times, which is a lot can be said for someone that's 29. But yeah, I'd turn now, I wouldn't've turned then, that's the truth."
Horan also talks about his friendship with Lewis Capaldi, admiring how the other artist doesn't change his accent at all for other audiences. ("I actually think he talks faster to Americans.") The Mullingar native can't say the same: "I've kinda spent so much time in America that over the years, I've realized, maybe I should slow down," he admits. "Because they actually don't understand what I'm saying. Like, people would look at me like I've got ten heads."
G/O Media may get a commission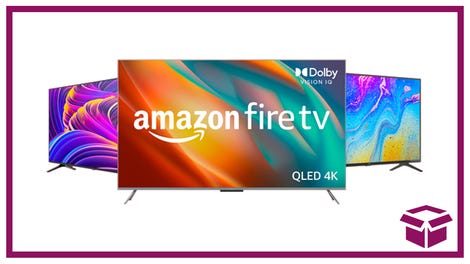 Ooh. stunning.
New Amazon Fire TVs
Nevertheless, he's proud of his heritage, citing "The Fields of Athenry" as his go-to tune to entertain a country pub. "I've always kind of grown up on that, and grown up on Irish singer-songwriters like Damien Rice and things like that," Horan says. "So he's obviously played a big part in what I do. How I naturally write would have a Celtic influence, and then lyrics, yeah, lead into that kind of storytelling that we are known for. I'm no James Joyce, but, you know."
Elsewhere, Horan and host Sean Evans discuss the ex-boybander's participation in charity golf and soccer tournaments. Evans also brings up his One Direction bandmate Liam Payne's Hot Ones appearance, in which Payne revealed he'd accidentally doxxed Horan by posting his license plate on the Internet. Evans reveals that Payne's saying he loved to grab a "cheeky beer with Niall" actually inspired a Hot Ones editor to name her child "Niall." Asked by the mother in question what song she should play for her "What Makes You Beautiful"-obsessed 4.5-year-old, the musician suggests with a laugh: "'Heaven' by Niall Horan, you can stream it now!"