Here's what's up in the world of TV for Tuesday, January 17. All times are Eastern.
Top picks
No Tomorrow (The CW, 9 p.m.): Last week's episode dropped a huge story bombshell by revealing that Xavier's asteroid theory has been correct all along. As Lisa Weidenfeld noted, that shrouds the series' cutesy love triangle in a cloud of darkness and space dust—an ominous force that Xavier can hopefully figure out how to prevent in tonight's conclusion. Then again, The CW hasn't confirmed whether or not it will renew its charming little oddball of a show, meaning that, if the writers are feeling especially gutsy, they can go for a scorched-earth season (and possibly series) finale. As always, Lisa will be watching and reviewing, hopefully from a cozy space capsule.
Chopped Junior (Food Network, 8 p.m.): The fourth-season finale involves a pudding made from chia seeds—something we admittedly didn't know were edible until just now. And yes, those are the same seeds used in chia pets, which serve as the namesake of the episode's cheeky title, "Chia Frets." More importantly, David Alan Grier returns as a guest judge, meaning one of the young chefs might finally make a well-timed reference to Funky Finger Productions while preparing their dish.
Fresh Off The Boat (ABC, 9 p.m.): This might not be a finale, but it finds Louis winning "Small Businessman Of The Year" for his work at Cattleman's Ranch. FOTB episodes centered on his steakhouse tend to be among the best, making tonight a must-watch.
G/O Media may get a commission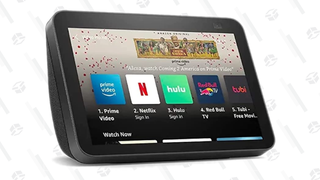 Premieres and finales
Bizarre Foods America (Travel, 9 p.m.): Andrew Zimmern has already sampled whole pig on Bizarre Foods before, so it's unclear whether the 11th-season premiere "Whole Hog" will be more of the same or a lesson in the culinary differences between pigs and hogs. Either way, we're in.
Friday Night Tykes (Esquire, 9 p.m.): If only this reality show were the Muppet Babies version of Friday Night Lights, with animated, toddler renditions of Saracen, Smash, Street, Riggins, and the rest of the Dillon Panthers (not to mention Coach Taylor's striped-sock legs) getting into all sorts of mischievous adventures from week to week. Alas, it's not. Instead, the fourth-season premiere takes us to Western Pennsylvania to show how working-class communities "connect culturally, socially, and emotionally through youth football."
Outdaughtered (TLC, 9 p.m.): If only this second-season finale—titled "The Quints Take Manhattan"—were the Outdaughtered version of The Muppets Take Manhattan, with grown-up renditions of the quintuplets taking their Broadway musical to New York and… ah, forget it.
Shooter (USA, 10 p.m.): Scott Von Doviak called Shooter "a passable conspiracy thriller" in his pre-air review of the first season (based on the same Stephen Hunter novel as the 2007 film of the same name), and we have no reason to believe that's changed. Anyway, the finale's tonight.

Sugar Showdown (Cooking, 10 p.m.): In the second-season finale, the bakers compete against each other by making something called "playground pies." Frankly, we don't care to find out what those are.
Teachers (TV Land, 10 p.m.): Molly Eichel gave Teachers a "pass" in her pre-air review of the webseries-turned-sitcom, and tonight, it graduates to a second season. According to the press release, this semester will see the elementary school pedagogues of the title (played by improv troupe The Katydids) "facing elections, demotions, and team-building exercises."
Throwing Shade (TV Land, 10:30 p.m.): Another TV Land comedy based on a webseries (and podcast), Throwing Shade features hosts Bryan Safi and Erin Gibson bringing "their unique perspective to the hottest topics of today—from politics, feminism and gay rights to the latest celebrity nonsense—in front of a live studio audience." In other words, shade will be thrown.
Regular coverage
New Girl (Fox, 8 p.m.)
WWE Smackdown! Live (USA, 8 p.m.)
The Mick (Fox, 8:30 p.m.)
This Is Us (NBC, 9 p.m.)
Marvel's Agents Of S.H.I.E.L.D. (ABC, 10 p.m.)
Taboo (FX, 10 p.m.)
Streaming pick
Rats (Netflix): We were sufficiently freaked out by the trailer for Morgan Spurlock's latest documentary, and now you can watch the whole kit and caboodle (or rat and caboodle) on Netflix. Or, you could just always rewatch The Food Of The Gods.