The members of Team StarKid are among those elite few for whom Internet celebrity has actually worked out the way everyone thinks it's supposed to: as a real, profitable career. Formed in 2009 by University Of Michigan theater students, Team StarKid made a splash in Ann Arbor with its Harry Potter parody, A Very Potter Musical. Starring a pre-Glee Darren Criss as Potter, video of the show-tuney spoof became a hit online, attracting millions of views to date. The company moved out of parody territory with its second production, 2009's Me And My Dick, a show about a boy's relationship with his dick. (Well, what were you expecting?) With Me And My Dick, the group also officially adopted the moniker "Team StarKid" after its YouTube account name ("StarKidPotter"), itself taken from a line in A Very Potter Musical.
Me And My Dick landed StarKid on the Billboard Top Cast Albums chart, and the company has continued building steam from there. 2010's A Very Potter Sequel racked up 160,000 views in its first two days online, and their compilation album A Very StarKid Album charted on Billboard and iTunes. The group's new sci-fi musical, Starship, followed suit, reaching No. 4 on iTunes's Top Albums chart. Although some of the members had scattered across the country, the team recently relocated to Chicago to work together. Now StarKid is hitting the road with the Team StarKid Space Tour, which will feature a variety of StarKid musical numbers. The tour's first stop is Nov. 4 at the Michigan Theater. (Although the gig is sold out, a little bird tells us you should keep your eye on the company's Twitter feed for potential additional ticket availability before Thursday night's show.) The A.V. Club talked to StarKid founding member Brian Holden about Internet celebrity pointers and the possibility of A Very Potter Threequel.
The A.V. Club: What was the opening night of A Very Potter Musical like, before it blew up?
Brian Holden: I personally had been living in L.A. at the time, so I just came back to watch it. I graduated in '08. A lot of the people who were in A Very Potter Musical were seniors at the time and graduated in '09. I didn't even act in the first one. I wrote the book. But it was amazing, because I hadn't even heard the songs before. There was real electricity in the room, because everyone was so nervous and excited. It was a pretty full house on the first show. Normally, we did three or four shows a weekend, and we added a few shows that first weekend because it got so popular. We wound up with lines of people out the door of the Walgreen Arts Center. We were turning away dozens of people at each show.
AVC: Do you remember at what point you realized that A Very Potter Musical, and Team StarKid, had made it big nationwide?
G/O Media may get a commission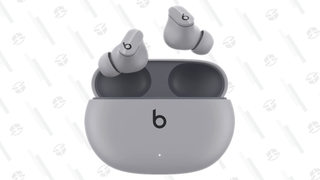 BH: I think it hit us when the first musical went up online, when we put A Very Potter Musical online. And then we started getting calls from people, and e-mails. Not only were a ton of people watching it, but people were contacting us, like agents, Harry Potter fan sites, writers—wondering if they could get the rights to it, all sorts of stuff. And then there was copyright stuff, and we were like, we hadn't even thought about that. At first we were worried about J.K Rowling or Warner Bros. just not liking it and wanting to take it down for that reason or whatever, so I think we edited out some of the more profane language on the first play. But then we realized that, as long as we weren't doing anything to really piss off Warner Bros. or anything, we were okay. We don't really have an issue with them because we respect their copyright, basically.
AVC: Team StarKid is one of those key examples of an Internet sensation, a low-budget viral video, turning into a profitable career for those of you involved. What's the key to success that helped you and the rest of the team to rise above the hordes of wannabe Internet stars?
BH: I think one key is we didn't ever really intend to be Internet stars. I think we've tried to stay pretty humble and grateful throughout this time period. And I think that people are attracted to what we are as a group. And we started out as classmates and college friends, basically. This wasn't a curricular project or anything like that. It was just something we did for fun. And I think people can see that when they watch the shows. And what's amazing and fortunate for us is we're now able to be successful at the same time.
AVC: What can we expect to see at the Michigan Theater Space Tour show?
BH: You can expect to see all of us every excited and nervous. We're going to be doing songs from all of our shows. So we're trying to show the fans the stuff they want to see, but I want to surprise them, too, with the different arrangements these songs are in now. And they're some of the best arrangements we've done. So I want to give them what they want, and give them something more and better than what they've seen us do before. We've never done a musical tour before. And we're also not strictly, like, music vocal performance majors or anything like that. We're acting majors. We're not even musical theater majors. It's exciting for us. But there's always the question of, "Are we doing the right thing here?" It's kind of nerve-wracking. And some of these places, like in Boston, we're playing to a crowd of 2,300 people, I think.
AVC: How does it feel to be coming back to one of Ann Arbor's biggest venues, after jump-starting your career here on a much smaller scale years ago?
BH: Oh my God, it's amazing. I just don't know—I never thought I would be doing anything up there, because I never thought anything like this would happen. One of the company members used to usher at the Michigan, and he still gets the usher e-mails, and he's getting e-mails now about ushering for the Starkid show.
AVC: Do you think you guys will eventually outgrow the "Team StarKid" name?
BH: Sure, yeah. I mean, I guess it's like we came up with the name because there was kind of a line from the show. And our YouTube and our Facebook page are still called StarKidPotter, which is a line from the show. I don't really worry about outgrowing the name team StarKid. I think people will grow and branch out and do other things, which is probably for the better. But I think Team StarKid will always be around in some capacity, at least our YouTube channel, I hope.
AVC: What motivated the team to move to Chicago, and how's it working out so far?
BH: We all sort of moved here last year for the company, to sort of focus in and see what we could do with it if we were all in a concentrated area. Objectively, it's great. I work on StarKid full time, and it's wonderful. But it's been a challenging year. You're creating all the work that you have to do, and it's tough. But God knows we've learned a lot.
AVC: You've floated some hints that you're planning a third Potter musical. What's next for Team StarKid?
BH: The scoop on that is really that Darren [Criss] played Harry Potter, and he's on Glee right now. It's sort of like when the time is right we'll do it, and we'll do it when we can do it. There's a script that's pretty far along in development. It's one of those things, like when you hear about a movie and you just need all the pieces to line up. That's basically it. This year, 2012, will hopefully be an interesting year for us. We've got some other parody ideas planned, and hopefully we'll do some original work. I always think about ways to expand something like a web series or something to that effect, a short comedy series or something. In the past though, it's always been that we move pretty quickly when we get onto a project. Like this tour we're on now, we only started planning in September. We're not a group that enjoys sitting around and waiting, but sometimes it kills our long-term plans because we're so focused on the short term.