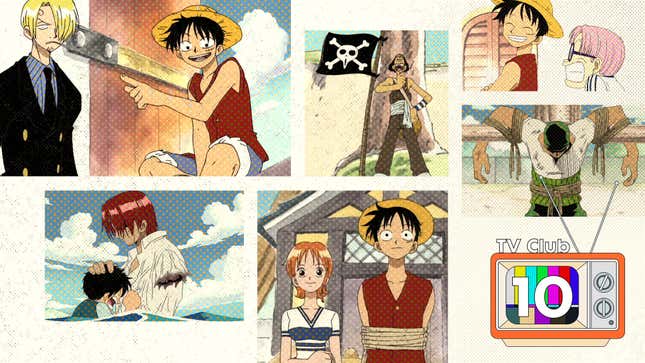 There's been a lot of praise for Netflix's One Piece live-action series, which premiered August 31. But for the uninitiated, the conversation surrounding the series can be difficult to parse, and that's because getting into One Piece is a daunting task. A long-running, massively popular manga and anime series in Japan (it's actually the best-selling comic series in history), One Piece never achieved the same sort of cultural saturation with American audiences as, say, Naruto or Dragon Ball Z. So while the live-action series is hugely significant for some, it's left a lot of others in the dark.

With One Piece, it's not just that there's 26 years' worth of backstory to catch up on; it's that the volume of content produced by series creator Eiichiro Oda in that time is staggering. Since the manga debuted in 1997, Eiichiro has written and drawn more than 1,000 chapters of One Piece. The anime, which has been running consistently since 1999, has a similar amount of episodes, too. Which could all leave a prospective fan to wonder: How can I tell if this is for me without overcommitting?
Especially for viewers who are discovering the world of One Piece for the first time with the new Netflix series (which was just renewed for a second season), there's a lot to dive into. The anime's first season alone is 61 episodes long and even though they're less than 30 minutes each, that's still roughly 30 hours of television—and it's almost all table-setting. But that's because the thing that makes One Piece so special is how deeply it cares about its world and its characters.
The series takes its time setting up protagonist Monkey D. Luffy's motivations. He wants to be the King of the Pirates, to find the legendary pirate treasure known as the One Piece. And the series chronicles his entire journey, from his childhood to building his crew to becoming one of the most well-known pirates in the world. It's worth getting into all of it if you're positive One Piece is for you, but if you're just looking for an easy entry point into the anime, we've picked 10 key episodes from the early parts of the show that serve as a good introduction to some of the main characters and arcs you'll recognize from Netflix's live-action series. (And we suggest watching them in this order.) It's only a small taste of what One Piece has to offer, but it should be enough to help you decide if you want to invest more time in the show—or help prep before season two.