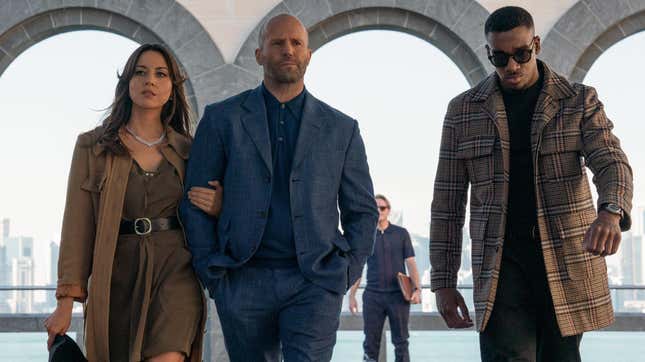 Guy Ritchie's movies are recognizable for a few things. A team of some sort groups together for a mission. They could be gangsters or spies or a combination of both. The team's comprised of mostly men, though sometimes a woman or two is included. Some or all on the team are British with some distinctive accents and they like to spar verbally with each other. Their adventures take them to some exotic locales, there's some nifty choreographed action and a few car chases. Everything is light, sprite, and a fun ride. No one gets hurt except the bad guys, and our heroes always win and continue to snap jokingly at each other. With the exception of some forays into big studio movies (Aladdin, King Arthur: Legend Of The Sword), Ritchie has followed this formula in all his movies, starting with his debut, Lock, Stock And Two Smoking Barrels (1998).
Wrath Of Man's Raúl Castillo on why he loves Snatch
If it ain't broke, don't fix it. Ritchie doesn't change much in his latest, Operation Fortune: Ruse de Guerre. He brings back his merry band of actors he's worked with before: Jason Statham (Revolver, Wrath Of Man), Hugh Grant (The Man From U.N.C.L.E., The Gentlemen), and Josh Hartnett (Wrath Of Man). He also adds two newcomers to the Ritchie company who are well versed in quick-witted repartee, Aubrey Plaza and Cary Elwes. The plot almost doesn't even matter; Ritchie's fans know exactly what they're in for. For the record, the story involves Statham, Plaza, and Bugzy Malone (The Gentlemen) as operatives in a shadowy British government agency who are tasked by their boss (Elwes) to infiltrate the inner circle of an international arms dealer (Grant). To that end, they recruit a movie star (Hartnett), who happens to be the arms dealer's idol. Chaos ensues henceforth.
All the ingredients are here. British accents abound; from Elwes' clipped English to Grant's over-the-top Cockney. The snappy dialogue is full of sexual innuendo and mildly threatening one-upmanship. Throw in a couple of silly character names (Statham's eponymous Orson Fortune and Hartnett's Danny Francesco) and the laughs come easy. Nothing and no one is serious and that's all intentional and fun.
G/O Media may get a commission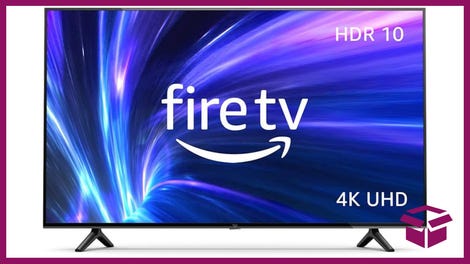 42% Off
Amazon Fire TV 50" 4K Smart TV
The comedy comes from the quick dialogue and the expert delivery of the actors. But it's also in the characters. Take Statham's Fortune, for example. He has many phobias and is particular about how he travels (only on private jets). He also loves very expensive wine. He's so extravagant that he threatens to bankrupt the agency. The script gives Fortune these characteristics so the other actors can tease him about them while he maintains his deadpan facial expression. Imagine if Statham had been called upon to have an accent other than his own or to actually emote; the film would've been in deep trouble. And this is part of why Statham works so well here, he's here to deliver his persona, not an actual character.
Grant, on the other hand, delivers a fantastic character performance. He works from the outside in, giving his nefarious arms dealer a rather frightening tan and that aforementioned accent. His line deliveries vary from genuinely scary when he's threatening his adversaries, to earnestly admiring when talking to Hartnett, to flirty when he's with Plaza. Grant is so committed that he throws off the balance of the ensemble because no one else is as good as he is. Everyone else understood the assignment correctly as light and easy.
In addition to the fast dialogue, there's fast action. Ritchie knows how to shoot a foot chase through a labyrinthine location: the way he cuts from one operative to the other in their pursuit of the mission builds tension and provides thrills. However, as the film barrels on, things do get repetitive, and it doesn't help that the "McGuffin" being pursued needs a convoluted explanation. Ritchie also resorts to too many of the requisite car chases and shootouts when that's not what distinguishes his movies.
For the most part, Operation Fortune: Ruse de Guerre is a fun time at the movies. There's laughter, action, and movie stars playing to their strengths. It's exactly what audiences expect to see from Ritchie and that's its main selling point. If only the second hour was tighter, maintaining the film's fast rhythm.