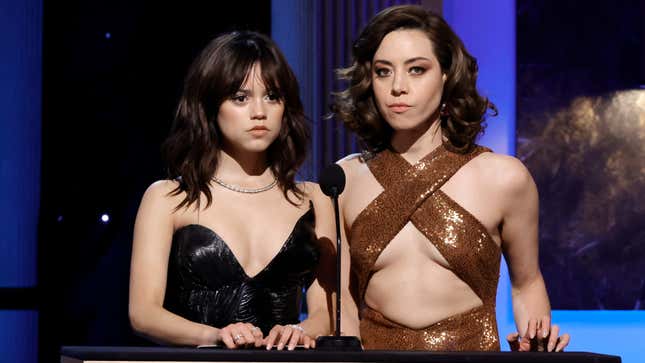 On Sunday night at the Screen Actors Guild Awards, Jenna Ortega and Aubrey Plaza efficiently maximized their joint deadpan slay while presenting the award for Best Male Actor in a Television Movie/Limited Series. As they stood together onstage, they jokingly pretended not to understand why they would be paired together, or what they have in common, despite speaking in a nearly identical monotone.
Asked afterwards if she would ever collaborate with Ortega, Plaza said yes, and even threw her own idea for the film into the mix. "I'm down," Plaza told Entertainment Tonight. "We'll just kill everybody with our eyes."
Now that Plaza has verbally greenlit a hypothetical project with Ortega, there's no time to waste. In the name of striking while the iron is hot, The A.V. Club has compiled a list of free ideas for a new Ortega-Plaza movie. Screenwriters of the world (who haven't already started on a Plaza-and-Ortega-kill-with-their-eyes spec), crack your knuckles and load up Final Draft—there's work to be done.