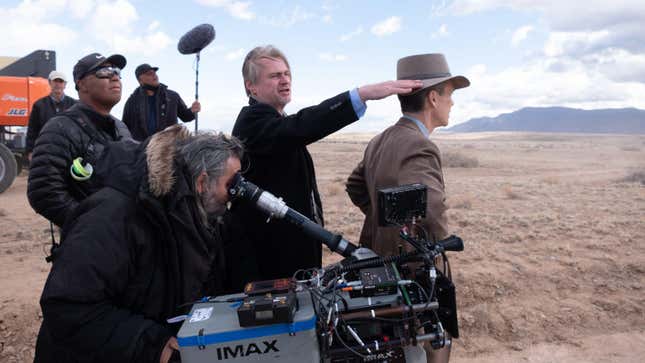 While the plot of Oppenheimer has not been kept under as strict of a lockdown as its opening-day companion, Barbie, we're usually hesitant to share plot details or previously unannounced character beats before a film is actually released. In this case, however, we're not sure the existence of a character who can be loosely described as "Girl Who Gets Blown Up" really counts as a spoiler. It's kinda the film's whole thing.
Who is the lucky actor who gets to step into this role in Christopher Nolan's upcoming "zero CGI shot" film? That would be his own daughter, Flora Nolan, in what is certainly a new twist on the whole "nepo baby" conversation.
In a recent interview with The Telegraph, the Tenet director revealed that the casting decision was largely spontaneous. Flora—along with Nolan's wife and Oppenheimer-producer Emma Thomas—had come to spend a week on set when inspiration struck to cast his eldest daughter in a still-vacant role The Telegraph describes as "a nameless young woman who appears to the title character in a hellish, conscience-pricking vision, in which the flesh is flayed from her face by a piercing white light." You know, like every father wishes for his kid!
"We needed someone to do that small part of a somewhat experimental and spontaneous sequence... so it was wonderful to just have her sort of roll with it," Nolan said.
The director, however, wants everyone to know that this choice isn't that weird. "I hope you're not going to make me sound like Michael Powell on Peeping Tom," he said in the interview, referencing the 1960s thriller in which the director cast his young son as a childhood version of the film's serial killer, and himself as the boy's abusive father.
He continued: "Truthfully, I try not to analyse my own intentions. But the point is that if you create the ultimate destructive power it will also destroy those who are near and dear to you. So I suppose this was my way of expressing that in what, to me, were the strongest possible terms."
Oppenheimer premieres July 21 in theaters.