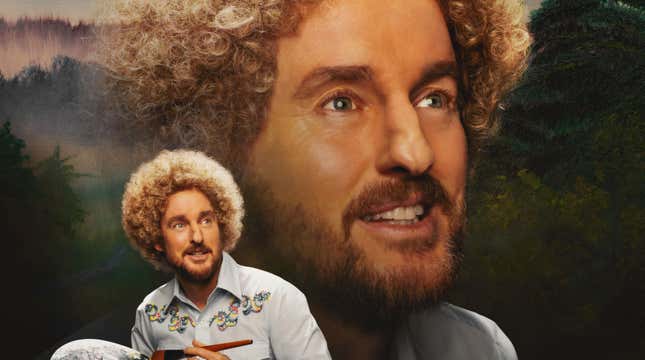 Owen Wilson's voice has always been his superpower. Soft, concerned, and a little bit stupid, Wilson has weaponized his murmurs throughout his career. Still, it's hard to find any project that does it more explicitly than Paint, a new comedy in which Wilson plays Carl Nargle, a Vermont-based PBS painting instructor who wears his influences on his sleeve. Armed with a bouncy, wild perm and a wooden pipe, Wilson leans into his inner Bob Ross for the role. It's where the trailer takes such an unassuming character that makes this movie look so intriguing.

Bob Ross impersonations are a dime a dozen. Pop on any old Disco wig from Spirit Halloween and speak gently about the "happy trees" you paint in Sap Green and Cadmium Yellow. His signatures were so easily parodied that it's easy to forget that the beloved TV artist made painting accessible to millions. What Paint presupposes is, what if he was a huge egotistical jerk, too?

Here's the synopsis:

In Paint, Owen Wilson portrays Carl Nargle, Vermont's #1 public television painter who is convinced he has it all: a signature perm, custom van, and fans hanging on his every stroke… until a younger, better artist steals everything (and everyone) Carl loves.
Based on the trailer, Wilson seems in the pocket for this one, but he's got a strong supporting cast to back him up. Michaela Watkins, Wendi McLendon-Covey, Ciara Renee, Lucy Freyer, and Stephen Root are joining Wilson on this trip of artistic self-discovery. Paint is the first feature from Brit McAdams. However, it's worth noting that McAdams directed Katt Williams: American Hustle, which is the one with the Crocodile Hunter chunk and the highest-rated special in Comedy Central history.
Paint opens in theaters on April 7.