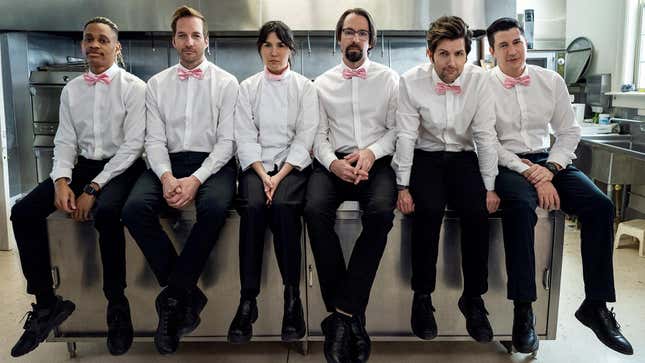 Did you hear the news? Party Down is back, and it's as strong as ever. Set during the pandemic, the sorry caters of Party Down are still struggling to keep any semblance of hope alive. At least they have their fellow caterers to keep them grounded

In the third season of Party Down, Henry (Adam Scott) still isn't having fun yet. When we first catch up with him in episode one, he's given up on acting and returned to civilian life as a high school teacher. He's also directing the school play, for what it's worth. But by episode two, the rest of the team has started slipping back into old routines. Flanked by another personal tragedy, Henry's back to slinging drinking to people that treat him like dirt.

Also, back-sliding into the world of catering from his heights as the Nitromancer is Kyle. Though, he seems to be fairing much better. In this exclusive clip from this week's episode, Henry's moonlighting as a server to help make court payments, and Kyle's never heard the term "moonlighting" before—not that the term makes any sense.

Party Down season three, episode two

The new Party Down season has been particularly invigorating for fans of one of America's sharpest cult comedies. In Jenna Scherer's recap of the debut episode, they praised the show as "a rare TV revival that actually works." Scherer continues:
TV revivals rarely stick the landing; it's all too easy for them to come off as thin shadows of what they once were. But Party Down's stacked cast hasn't missed a beat, and neither have its writers. It's still a grim, laugh-out-loud exploration of life on the raggedy edges of Hollywood, asking us to consider whether it's better to give up for the sake of your sanity or keep chasing your deeply embarrassing dreams.
Party Down airs Fridays on Starz.