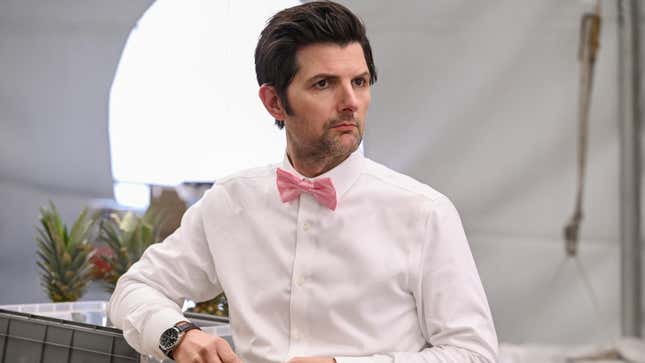 I've been so caught up in the breezy, dark-hearted delight of Party Down being back in our lives that it wasn't until the gasp-inducing closing moments of the season-three finale that I thought, Wait…there's gonna be more, right?

The A.V. Club's weekly film round up
Starz hasn't made any announcements about the show's future yet. But whichever way the wind blows, that, my friends, is how you know you've thrown a good shindig: when you forget to think about the reality that, at some point, the good times will end. And like the theater nerds in "Sepulveda Basin High School Spring Play Opening Night," I was enjoying myself too much this season to think about the lights coming back up.

Kudos to the writing team for ending on a note that's just too juicy to be the show's last, as Henry spies none other than Casey Klein (we missed you, Lizzy Caplan!) in the kitchen. And the moment they locked eyes, I was all in.

But first, we've got some season-long arcs to wrap up—and Henry's directorial debut! It's opening night of Sepulveda Basin High's 'Tis Pity She's A Whore, and our hero is watching proudly from the wings as his leading man, Todd (Mason Vale Cotton), delivers the final lines of this weird-ass English Renaissance play. When the kids invited "Mr. P." out for the curtain call, my heart grew three sizes.

When the curtain closes and the teen cast breaks out in cheers, I, like Henry, am pulled back to my days as a high school theater nerd, wrapped up in that sublime moment of communal joy. Henry has particular praise for Riley, who has done a full 180 from when we last saw her on the verge of quitting the play. It's her delight that is ultimately the catalyst for Henry's arc this season: He sees himself in her, and for the first time, it's not jealous regret he feels; it's second-hand joy at having helped a kid discover her passion.

When the teens head into the courtyard for toasts with store-brand Sprite, they find something much swankier: Evie has thrown Henry and the kids a surprise cast party, and you can guess who's catering. After thanking his GF, Henry's face falls. "Wait…do I have to work this?" No, Hen! Take a load off!

Kyle and Roman are heading up the bar in the man of the hour's stead (serving up, among other things, real Sprite). Things are looking up for our himbo and down for our pedant: Kyle is on the verge of getting cast as the lead in the Lost Boys reboot, while poor Roman is reading a devastating news item in the latest issue of Variety. Smydgyn, the streamer who bought Wells Of Time, has gone bankrupt after only a month. The painfully real fallout? Roman doesn't have the rights to his own story anymore. "It's vanished into a spreadsheet on the computer of some hedge fund lawyer. It's gone forever," he says. And truly, that sucks a whole lot. IP is a bitch!

Ron is looking swanky in a tailored suit, having graduated to a minorly successful business owner who no longer feels the need to labor in the pink-bowtied trenches. (I know his shirt is supposed to be hideous, but I kinda dig it.) But because this is Party Down, terrible lawyer Gene Sleeves calls to deliver the bad news: They're late on paying vendors because, for mysterious reasons, the company's invoices have been going to Constance's business manager, Gary Fiero. Despite her bang-up job at the prom last week, Ron's partner is even less helpful than usual because she's too busy getting orgasmic massages and tripping balls at an ayahuasca retreat. (I cannot stress enough how much these two should not be running a business.)

Before long, Vice Principal Marty Mittman (Veep's Dan Bakkedahl) arrives to put the kibosh on the party. That's because a surprisingly clueless Evie didn't get a permit to serve alcohol or food on school premises—and you do not fuck around on Food Service Union turf. But Henry's feeling so celebratory and nostalgic that he agrees to his students' scheme to relocate the shindig to the school library. Despite his misgivings, Ron agrees to play along after Henry tells him the good news about landing the part of Colonel Balorian in the Star Saga franchise. Ron's got a lot of bad traits, but his best one is that he's a genuinely good friend.

Elsewhere, Roman's Wells Of Time letdown leads to an exchange with Lucy about creative frustration that comes to define the episode—and the season. The most determined chef since Carmy Berzatto tells Roman to suck it up and move on to a new project—not starting over, but continuing. "The struggle never stops; persevere," she says. By episode's end, in the wake of Lucy's own creative loss, he'll give the same advice back to her. And so it goes.
Surprisingly, it's cynical, stubborn Roman who gets this season's most powerful character arc. With the help of Lucy, psilocybin, and a series of humbling moments, he's been shoved out of his stagnation, finally becoming a striver like those around him. And most importantly, he's turned into a man who is occasionally optimistic—and even, dare I say, kind.

Lucy is continuing to chase her own culinary ambitions; she tells Sackson that she has an audition for a gig at Hauteur, a swanky restaurant where she'll get the chance to work with ingredients like sloth milk, vampire squid roe, and eagle. For the occasion, she's skimmed off Party Down's budget to make a single hors d'oeuvre that's "$2,000's worth of saffron threaded over a core of mentholated wasabi in a pinecone reduction." In an act of divine justice, a very stoned Ron later eats her masterpiece in a single bite. It blows for Lucy, but it's amazing for him—because the dish's promised "floral earthiness to sinus devastation in three seconds" jump-starts Ron's COVID-ravaged sense of smell.

Our dude got baked after splitting a joint with Mittman on the bleachers. These two ridiculous men have a surprisingly moving conversation about the latter's deep regrets. Before he was a universally loathed vice principal, Mittman was a teacher who was as beloved by his students as Henry is. Now, he's forced to play bad cop to Principal Gordon's good cop; she gets to do the dunk tank at the fun fair, while he plays the asshole.

Ron, who has a thing for authority figures, tells Mittman that it's the vice principals of the world who saved him from himself back in his bad old teen years. Mr. Duddes' scolding led Ron to clean up his act…and then fuck up again…and then go straight again…and then go off the rails again, ad nauseam until he became the business owner he is today. (Is he still living out of his van? Inquiring minds need to know.) Rather than shutting down the party when he rediscovers it, a newly chill Mittman joins right in, serenading the crowd with a sweet guitar rendition of Bill Withers' "Use Me."

When Evie sees Henry interacting with his champagne-drunk kids, who clearly love him, and hears him talk about how much his own high school theater days meant to him, she can see the writing on the wall. Henry's been half-hearted about restarting his acting career from the jump. He's got the perfect opportunity to peace out when Principal Gordon (Jean Villepique) catches him hosting an unauthorized party with underage drinking.

It's in the waiting room where Henry pours his heart out to Evie. "I thought this is what you wanted," she says. The way Adam Scott fits all of Henry's complex, painful hope into the response "It was" proves that he more than deserved that Emmy nod for Severance. Evie is tearful but supportive; and when Mittman helps Henry get off with a warning instead of a firing, the couple decide to make the most of the two months they have left before Evie heads off to Tunisia.

Cut to four months later: Party Down is catering a press junket for Bisno Studios, the company's first high-end industry gig since Ron took over—meaning that Constance's wooing of Sloan Meets was a success. They've got a strict event manager in Rick Michard (Jordan Carlos), who forbids the caterers from fraternizing with talent. Henry, for the first time in a while, has no bad news to report: His students are rehearsing to perform at a state thespian conference, and his ex-wife hasn't called in months.

Prepare to have your world rocked, Henry—because who's that woman in the black dress rifling around in the Grey Goose stash? IT'S CASEY KLEIN! Both their faces light up when they clock each other, and so does mine. No shade to Jennifer Garner, but the chemistry between Scott and Lizzy Caplan is instantly electric. Thirteen years later, the current is still very live. There's so much between these two: romantic frisson, a shared sense of pitch-black humor, and a mutual yen to burn their lives down.

In just a few minutes, we discover the dire straits Casey is in. She's here for a press junket for The Stabilizer, but she confesses, "With every fiber of my being, I want to drink all of this and blow the entire thing up. Just ruin everything." There's our girl! Just then, Rick bursts into the kitchen to make sure she hasn't gotten into the sauce. "You get buzzed and call a producer a sex pest one time," she quips to Henry. As they hug goodbye instead of making out (booooo), Casey whispers into her ex's ear that she'll see him sooner rather than later, because she's ramping up to "quit the fucking thing" and move back to L.A.

Rob Thomas, who co-wrote this episode alongside John Enbom, knows from untimely cancellations and returns from the dead: Before Party Down, he was the brains behind the great teen noir Veronica Mars, a cult hit that UPN rudely canceled on a cliffhanger. Considering that he managed to bring that series back for a movie and a long-delayed final season, it's safe to say that Thomas knows how to leave an audience (and a network) begging for more. And with Caplan's reappearance, we certainly are. Get on it, Starz!
Stray observations
Line delivery of the week goes to Ken Marino when, after Constance hangs up on him mid-massage, he murmurs, "I'm—I'm—I'm—I'm…I'm trapped in a cartoon."
Kyle is over the moon that he landed the lead role of bad-boy Damian in Lost Boys; but when Cloris points out that he's No. 7 on the call sheet, he learns the harsh truth: He's playing Damian's dad. Cue midlife crisis.
Kyle's new manager? Lydia! She's kept her word to stop handling her daughter's business and has passed her off to Ted Fine (whom she's also meeting for a date at—LOL—Red Lobster). And her negotiations with the Lost Boys team is on point: "Is that an offer or an ant's dick? I can't tell; they're both so small."
Sackson gets sidelined again in this episode, which is a shame. His meager story involves him trying to figure out how to capitalize on his trending video of face-planting at the prom last week. If we get another season, I'm crossing fingers for better Sackson plots.
Henry finds out that Colonel Belorian's canonical first name is, yes, Joffro. "It's short for Jefferson," Evie explains.
If Mason Vale Cotton, whose Todd stars in 'Tis Pity She's A Whore, looks familiar, think young: He played the last and best Bobby Draper in Mad Men.