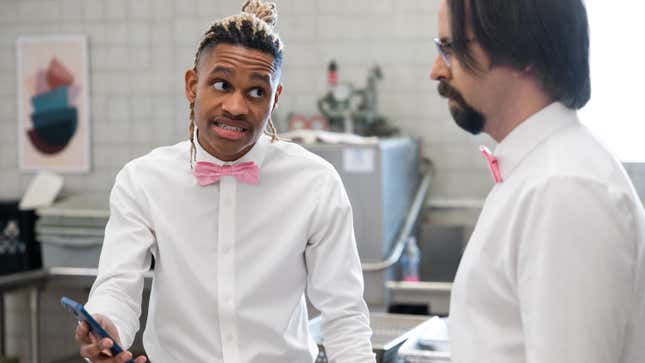 Right from the start of this season, the specter of Escapade Dunfree has been looming over Party Down like the Ghost of Christmas Future. Like all dreams made manifest, Lydia's now-famous daughter is the source of all her greatest hopes and deepest fears—particularly once Kyle filled her in on the fact that child stars are prone to becoming the worst kind of grownups.
Steve Guttenberg on "Party Down," "Diner," reunions, and movie set souvenirs
When we last saw Escapade on the season two episode "Party Down Company Picnic," she was a bratty tween actor showing early signs of the rot a childhood spent in the movie industry can wreak, surrounded by the kind of confident idiots (cough cough, Kyle) who ask her whether or not she's started shaving her arms.

So by the time we meet the now 23-year-old Escapade (Yellowjackets' Liv Hewson) at the fake prom Lydia has staged for her, we assume she's going to be a real piece of work. But there's nary a shaved head or alarming drug habit in sight. The twist isn't that Escapade appears to be a functional, emotionally healthy adult, but that she actually is one. And that's a lot more than can be said for any of the middle-aged staffers at Party Down.

"Once Upon A Time 'Proms Away' Prom-otional Event" features the triumphant return of Megan Mullally and Jane Lynch, whose Lydia and Constance have been notably absent from the last few installments. They each lend their painfully earnest weirdo brilliance to an episode that's an odd combination of touching and scatalogical.

Since this is Party Down's version of the classic teen-drama prom episode, everyone's out to impress. Lydia has designed the night (which doubles as a hype event for Escapade's new movie, Proms Away) as a grand gesture to make up for her daughter's lost chance at a "normal" childhood. She even invited the person who was supposed to be Escapade's actual prom date before she bailed to film an adult diaper ad. ("It was a hard decision, but she needed drama on her reel.")

Ron, meanwhile, is losing his shit over the fact that "events legend" Sloan Meets (Lyric Lewis) is in attendance; she's a tough customer, but he's psychotically determined to win her over and perform the sacred exchange of business cards. He's also literally losing his shit after stress-eating all of Lucy's specially prepared red sea urchin hors d'oeuvres.

It's apt that Carrie gets a mention in the episode—because while there isn't any pig's blood, there are certainly a lot of other bodily fluids sloshing around. Turns out Lucy's urchin guy sold her "hot urchin" (both in the sense that it was stolen and left out in a hot car), which gives Ron a nasty case of food poisoning with a side of what seems to be anaphylactic shock.

Cue a queasily drawn-out bout of gastric distress as Ron goes from white-knuckling his way through the night with a mottled, swollen face to pooping and vomiting violently into a stock pot in the back kitchen. (And look, I like gross-out comedy as much as any red-blooded American, but between Ken Marino's committed performance and the…very wet…foley effects, this was a lot.)

Despite looking "like a lobster being boiled while having a heart attack," Ron sticks to his mantra that "pressure makes diamonds." "Very rarely. Usually it just crushes things," Roman says in an odd moment of wisdom.

Mr. Hard Sci-Fi thinks that proms are stupid—so of course he falls in love with the first cute nerdy woman (Taylor Ortega) he sets eyes on. She seems to be genuinely into the concept of Wells Of Time, the space opus he's gone back to writing following his shroom-fueled creative breakthrough; and that's the fastest way to his shriveled little heart.

Alas, she's here with her boyfriend, which Roman is a real dick about—at least until he discovers Steph is actually a development exec who wants to turn his story into a series on Smidgen, a new streaming service "optimized for tiny screens" (e.g., the kind you find on vacuums and refrigerators). Congrats, buddy!

With Ron down for the count (read: expelling all the fluids from his body with his face puffed up like a marshmallow), it falls to Constance to take up the clipboard and show Sloan that Party Down knows how to throw a proper event. Instead of taking the advice I'd been shouting at my TV throughout the episode and calling a damn ambulance, Constance reluctantly steps out into the fray, transforming into the kind of efficient but monstrous boss she knows Sloan wants to see.

Meanwhile, Escapade is having a very phony good time. It's a mask that only slips off when she gets stuck in the middle of a dance-off between Kyle and Sackson that rapidly devolves into a dick-measuring contest. "I was having fun with you as part of a performance," she tells them. "I've been acting all night! My sense memory is exhausted from psychological gesturing."

On the inside, she's been dancing three times as hard as these dudes. Is it because she's got a scheme brewing? No! It's because she loves her mom and wants the night she planned to go off without a hitch. Aww. But when Lydia spots Hollywood super-manager Ted Fine (Seth Morris) in the lobby, she worries her plan to make amends has backfired and that Escapade is going to drop her like a hot urchin.

What follows is a disarmingly sweet mother-daughter heart-to-heart, as they realize they've both been worried about the other's happiness. Despite the fug of stage-mommery that's been hanging around Lydia since we first met her, she's no Mama Rose; she somehow managed to raise a pretty good kid. In the end, it's Lydia who decides to fire Escapade as her client so that she can put more energy into actual parenting. Though it's a refreshing spin on the "monster child star" trope, it's also a bit anticlimactic.

Henry takes a backseat this episode, but Adam Scott's lovingly constructed TigerBeat hairstyle ("shades of Van Der Beek," Kyle enthuses) does not. He and Evie have once again decided to turn a catering gig into a date—rocking '90s looks to make up for the proms they missed back in the day. She shows up late from a business dinner with lots of news: She landed a promotion, is going to start working on a new project in Tunisia, and she's found Henry a recurring part in her company's superhero franchise (if he's interested). In classic Henry fashion, he responds to these bombshells with an excitement that's tempered by low-level despair. He's not a guy who knows how to take good news—or how to seize an opportunity as it's flying past.

Constance is, though. Much as she hates to be in charge, she plays the part of a capitalist hardass with aplomb. She even goes as far as "firing" Henry for making out with Evie on the dance floor. "This is no joke! This is catering!" she snaps dramatically. The act pays off; she scores Sloan's business card, then runs off to puke from nerves in the men's room. It's there she runs into Ron, ensconced in an open toilet stall and somehow still not dead. "I knew I could do it! I did it!" they shout in unison. And for a moment, I stop thinking about how ungodly that bathroom must smell right now.
Stray observations
Speaking of child actors who did alright for themselves, tween Escapade was played by actual movie star Kaitlyn Dever, in one of her very first screen roles.
In the mid-credits scene, Kyle and Sackson bring their dance-off to the lobby, which culminates in Sackson taking a nasty tumble while surfing down a banister. "Still the coolest!" Kyle whoops as Sackson's limp body slides up the escalator.
I may be wrong, but it looks like Ryan Hansen did that backflip on the dance floor for real. If so, damn, dude—you are the coolest.
Lydia tells Henry she has the worst "gaynar"—which is, of course, "gay sonar to know who's gay."
Sight gag of the week once again goes to Ken Marino for executing a well-nigh balletic pratfall after walking directly into a restroom wall.
In case you didn't catch it in the end credits, I must tell you the good news that the guy spinning prom tunes is named DJ Normal Jeff.
Props to Lyric Lewis for making Sloan's habit of spitting her martini directly back into the glass after tasting it look classy as hell.
"Sackson! Sackson! You do computer dances like the Goobod and the Schmaz…"