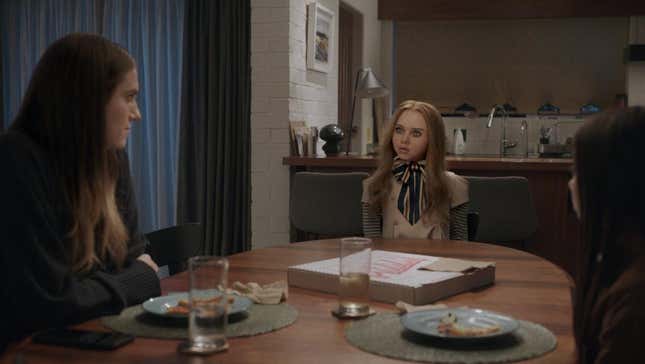 M3GAN is the perfect friend and damn near the perfect killer doll movie. Well, except for one thing, where was all the gore in this movie? Sure, M3GAN bites a child's cheek off, but there must be more Karo syrup where that came from. Let it be known: M3GAN's corporate overlord, Comcast, is aware of the problem. Comcast hears you, Comcast sees you, Comcast loves you. As announced earlier today, M3GAN will make her unrated debut on Peacock on February 24, so everyone can spend a belated ‌Galentine's Day with America's sweetheart.
Randall Park on workplace comedies, Jimmy Woo, and MCU vs. DCEU
Despite being a rousing crowdpleaser about the dangers of A.I. days before ChatGPT buried the internet in uninteresting conversations with a robot, M3GAN didn't give people everything. We're looking forward to seeing the new cut as, like many people, the theatrical version dulled M3GAN's blade. In our write-up of the movie, reviewer Leigh Monson argued:
It's an understandable creative choice—after all, PG-13 is a more accessible rating to the demographic making M3GAN fancams on TikTok—but it's a choice that should have been worked out before having to reshoot scenes to secure the lesser rating, because the obvious cutting around the violence leaves the film feeling tamer than it should be.
That's not to say that M3GAN doesn't have its charms. For one thing, there's no blood needed in the glorious "M3GAN comes home" sequence, which gave us that magic moment when M3GAN takes off her sunglasses. However, it did leave us hoping for something that matched the gonzo energy with M3GAN screenwriter Akeela Cooper's previous movie, Malignant. The M3GAN faithful deserve a gorier friend.

M3GAN is coming to your home on February 24.