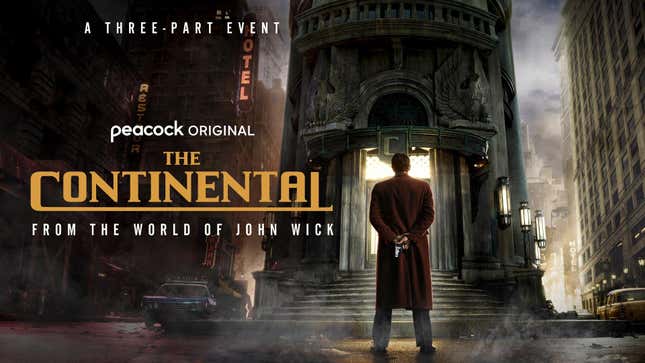 The John Wick franchise is taking us back to '70s New York City with The Continental: From The World Of John Wick, a three-part prequel miniseries following Winston Scott's (played by Colin Woodell) ascent to The Continental throne. While the teaser offers little detail on the forthcoming show, it does set the mood to the tune of Donna Summer's "I Feel Love."

Keanu wonders if "John Wick" has gone too far
The three-part prequel follows a young Winston prior to his ownership of New York City's The Continental, as he navigates the luxurious assassin hideout he will eventually oversee. Per the series' official description, Winston confronts his past and "charts a deadly course through the hotel's mysterious underworld in a harrowing attempt to seize the hotel."
John Wick director Chad Stahleski serves as an executive producer on the series written by Greg Coolidge, Kirk Ward, and Shawn Simmons. In an absolutely confounding choice, Mel Gibson stars in the series as Cormac, who does not make an appearance in the teaser trailer. The cast is rounded out by Mishel Prada, Ben Robson, Hubert Point-Du Jour, Nhung Kate, Jessica Allain, Jeremy Bobb, Peter Greene, and Ayomide Adegun, who plays a young Charon, the beloved concierge of The Continental.
The Continental is just the first spin-off in what's becoming an expansive John Wick universe. Next summer, Ana de Armas will make her debut as the Ballerina, with Keanu Reeves, Anjelica Huston, Ian McShane, and the late Lance Reddick in supporting roles. The film will follow Rooney, a ballerina-assassin trained by Huston's The Director, as she seeks revenge for the death of her family.
Murmurs of even more spin-off projects have been swirling following the release of John Wick: Chapter 4, including one featuring Caine and Akira, played by Donnie Yen and Rina Sawayama, respectively. After the events of Chapter 4, the two have unsettled business with a premise that feels ripe for production.
The Continental: From The World Of John Wick premieres on Peacock this September.