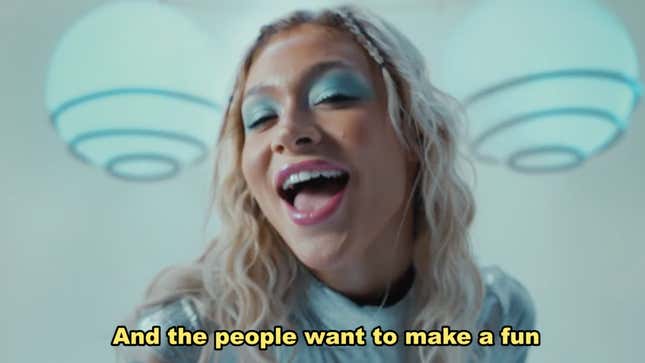 The runaway song of the summer—DJ Crazy Times and Ms. Biljana Electronica's viral eurodance parody "Planet Of The Bass," of course—is now over three minutes long, available on all streaming platforms, and has its own full-length music video featuring the first and best Biljana, Audrey Trullinger. All of the dream: sometimes it really do come true!
To flesh out the track, DJ Crazy Times (a.k.a. Tiktok personality Kyle Gordon) has added a shouted intro, one verse, a "na na na" pre-chorus (both sung by real Biljana, Chrissi Poland), and a long spoken outro to the 51-second clip that went mega-viral at the end of July. Were these additions needed? Probably not. We can't say we see any sort of real staying power for this particular trend once the leaves start to turn. But they are, at least, as perfectly on pitch for the genre as the other elements that made the song so fun in the first place.
Wes Anderson doesn't want to see your memes, thanks
"If you want parties to be making, have some noise. Bratislava!" Gordon shouts over the opening of a "Rhythm Is A Dancer"-esque beat, before Biljana/Poland launches into the usual nonsense—this time, including slightly less snappy but still fun and goofy gems like "when the pleasure is a dream on a secret love" and "heaven is a time today." It's also revealed that the two vocalists are in something of a situationship with each other, through a sexy(?) outro chat that sees our favorite DJ asking if his partner is "the girl of the love" and Ms. E responding "yes, I am a girl." The chemistry is off the charts, obviously.
What may or may not make the charts is the song itself. "If it starts off as ironic but people genuinely love it—and let's say it does chart—at a certain point the irony has to wear off," Gordon said before the full song's release in an interview with the New York Times. With these additions, it's clear he's taken the path of leaning into the irony of it all instead of actually attempting to make this a genuine club banger. That's probably a good thing—we have enough Tiktok stars trying to spin their 15-seconds into real music careers already (cough cough, Addison Rae)—but whether the gambit will pay off for Gordon or annoy the rest of us into never wanting to feel the groove again remains to be seen.