For years now music industry doomsayers have been predicting the end of the record label as we know it, but such a shortsighted view ignores the fact that, as this New York Times article puts it, "Lifestyle brands are becoming the new record labels." What? Also, yes: Predicted as early as 2008's Wrigley-backed Chris Brown song "Forever," today's musical artists are increasingly becoming, to borrow a phrase from critic Douglas Rushkoff, "lapdogs of the great corporations," whose efforts to associate their brands with the personality-defining images evoked by popular music has led them to launch imprints of their own, play A&R, and even pay for tours and studio time, as was rumored to be the case with Weezer's (completely coincidental!) relationship with clothing company Hurley.
Rushkoff compares this sort of partnership to what "great painters did in the Renaissance," when the idle rich became patrons of the arts to shore up their status and stave off the boredom of dying from syphilis. We can think of certain people who would characterize it less charitably, but hey, these days making any sort of living at all as a musician is especially hard, and anything an artist can do to make that happen and all that. Except for putting "Double your pleasure" in your song. That's pretty disgusting. Don't do things like that.
Fortunately that's not the case with Converse's new Rubber Tracks studio, which plans to offer bands free recording time in Williamsburg in exchange for nothing more than building "goodwill" for the shoe. Which it needs, apparently. Perhaps one day through their efforts, Converse will be universally known as the shoe preferred by rock musicians such as The Strokes and Ramones, and not as the shoe of people who kick puppies square in the face. Anyway, bands will earn these studio hours by applying on the Converse website and proving their dedication and neediness, and that's (supposedly) the extent of the company's input. The artists will still retain ownership rights to their songs, and they won't be asked to write jingles about Chuck Taylors or the like; instead they'll just have to allow Converse to borrow its reflected aura of cool. Oh, and have mentions of the company's shoes awkwardly wedged into statements like this one from marketing officer Geoff Cotrill—whom the NYT helpfully notes wears ripped jeans and a Rolex. (Always with the potent imagery, the New York Times.)
"Think of a cul-de-sac with four garages, and in those garages are four bands. On the street are all the big brands of the world—Coke, Apple, the car companies—standing there waiting for the garage door to open and the cool band to step out so they can tell them they're going to make them famous. But I would venture to say that inside those garages those kids are already wearing our shoes."
Yep, that's a decidedly uncool vision of where music is heading—way more Rolex than ripped jeans, to put it in common parlance. But still, as the article points out, "lifestyle brands" (so far, at least) are actually much less likely to screw you over than a major label, giving out shorter-term deals and demanding far less—usually an implicit endorsement, which is better than all of your money. To put it crudely, either way you've established that you're a whore; you're just haggling over the price. Don't you want to make it in this town, baby?
Of course, there are a few other concerns, chiefly the question of whether bands will now try to openly court these "lifestyle brand" labels by being as homogenously appealing as possible. (You know, as if some bands don't do that already.) And yes, it's also kind of rankling to read this line from Best Coast singer Bethany Consentino, who recently agreed to collaborate with Kid Cudi and Vampire Weekend on a song for the Converse website: "We just made something that is a fun song that will hopefully make people dance around in their Converse during the summer." Yeah, less of that sort of blatant endorsing, please.
G/O Media may get a commission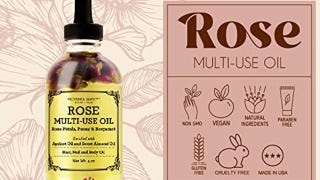 Provence Beauty Rose Multi-Use Oil
Nevertheless, free, no-strings-attached studio time is a good thing, right? In this interim when corporations are still attempting to profit from their associations with bands without being grossly obvious about it, interested parties should probably take advantage right away—especially before these "lifestyle brands" become the only semblance of a music industry left standing, and they're free to start caring less about pretending to value artistic freedom. Get it while the getting's good, is what we're saying.