Journalist, essayist, and CBS News commentator Andy Rooney, the man who turned being a curmudgeon into something approaching an art form, died last night. Rooney's death came only a little over a month after his final broadcast on 60 Minutes, where he had spent more than 30 years offering his musings—or most often, complaints—about whatever topic had entered his prickly purview that week. Shortly after leaving the show, CBS announced that he had been hospitalized for complications stemming from a recent surgery, where he remained until his death. Rooney was 92.
Long before 60 Minutes, Rooney honed his writing skills during World War II as a reporter for Stars And Stripes, earning commendations for his coverage in France and Normandy, and compiling his wartime experiences into two books, Air Gunner and The Story Of The Stars And Stripes. (His 1995 book, My War, offered further reflection on how his WWII experience—including being among the first journalists on the scene when troops entered the concentration camps—had shaped him both as both a writer and human being.) After the war was over, Rooney worked his way into television as a writer for Arthur Godfrey's variety specials, but his biggest break came with a series of essays that he wrote for Walter Cronkite.
The titles of some of these—"An Essay On Doors," "An Essay On Hotels," etc.—pointed toward what was to become Rooney's standard style of finding inspiration in the mundane, while also paving the way toward a series of CBS primetime specials like the Peabody-winning Mr. Rooney Goes To Washington, in which Rooney examined specialized departments of government. Perhaps more importantly, they marked the start of a longtime working and personal relationship with the late news anchor Harry Reasoner, who would be the one to bring him aboard 60 Minutes.
Beginning in 1978, Rooney owned those last draining few of the 60 Minutes, the camera most often finding him hunched over his walnut table—which Rooney, an avid woodcarver, had fashioned himself—with Rooney's unruly eyebrows, ringed eyes, and deep-set jowls giving him the permanent appearance of someone who'd just been rudely awakened out of a nap. Often it seemed like that's exactly what had happened—that Rooney had been peacefully slumbering, enjoying the golden age American dream of the Eisenhower era (one of the few politicians he ever liked), when modernity had come barging in with all its loud, confusing claptrap.
To be fair, Rooney did like some things: He enjoyed the simple pleasures of an ironed shirt, a good game of football, Christmas (or the idea of it, anyway), getting a nice handwritten letter delivered by an actual person in the mail, etc. But Rooney was indelibly identified with what he didn't like, which was almost everything else. For over three decades, Rooney's commentaries were full of non-stop kvetching—mostly witty, sometimes just plain angry—about all the stuff he just didn't understand, and there sure was a lot of that.
"Did you ever notice…?" was the gist of the majority of Rooney's commentaries (though he never actually said those words himself—blame Joe Piscopo's parody for that), and most of the time, yes, you probably already had noticed that it was no fun to wait in line, that road maps were hard to fold, that cereal boxes didn't contain enough cereal, that groceries cost too darn much. But Rooney transformed these everyday observations into miniature prose poems, and turned the everyman's lament into a weekly dispatch on the slow decline of society. Over the years, these withering observations took on an even more accusatory tone, as Rooney began to feel the world increasingly passing him by.
That attitude got him in trouble many times. Most famously, Rooney was suspended without pay for three months in 1990 for saying, "Too much alcohol, too much food, drugs, homosexual unions, cigarettes. They're all known to lead quite often to premature death." (Making matters worse, he was subsequently quoted in The Advocate as saying, "I've believed all along that most people are born with equal intelligence, but blacks have watered down their genes because the less intelligent ones are the ones that have the most children. They drop out of school early, do drugs and get pregnant." Rooney denied ever making such a statement, and The Advocate could not prove that he had, though the damage to his reputation lingered.) He also drew criticism for saying, in 2002, that women did not understand football and thus had "no business" reporting on it, and again in 2007 for complaining in his newspaper column, "Today's baseball stars are all guys named Rodriguez to me." Most recently he received plenty of angry letters and emails for calling both Mel Gibson and Rev. Pat Robertson "wackos."
G/O Media may get a commission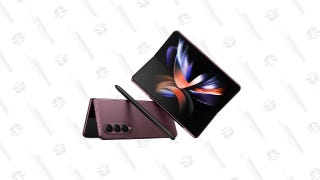 Save Up to $300
Galaxy Z Fold4
And in addition to these most obvious moments of outrage, Rooney earned plenty of ridicule from successive generations the more he grew into the role of everyone's crazy ol' Uncle Andy. His commentaries, stubbornly focused on drably ordinary things, began to seem incredibly superfluous in a social networking age where the mundane forms our own ever-spinning narratives—not that Rooney would have noticed, preferring his typewriter, because he didn't trust computers. It's too bad, as Andy Rooney would have made one hell of an Internet commenter.
They also took on an increasing tone of "you kids get off my lawn": In one of the most famous examples, Uncle Andy looked at the outpouring of grief over Kurt Cobain's suicide and asked aloud what those mourners would be doing if they had "real problems like a Depression, World War II, or Vietnam," as well as grumbling, "No one's art is better than the person who creates it. If Kurt Cobain applied the same brain to his music that he applied to his drug-infested life, it's reasonable to think that his music may not have made much sense either." (Rooney apologized the very next week.)
Despite his many years of criticisms, Rooney, ever the proud stick in the mud, did nothing to update his style, occasionally even bordering on self-parody as he did entire segments based on surveying the pop charts to ask how Lady Gaga could be so popular if he's never heard of her—and why do we even need new music, anyway? Or cleaning out his desk while declaring rubber bands and staples among man's greatest inventions. Or even just wandering around the produce aisle, insulting the fruit.
That style made Rooney an easy target for comedians—even amateur ones, like the people who write these Newswire articles, which often targeted Rooney's out-of-touch whining about something. (Who are those writers, anyway? I wonder how they'd feel if they suddenly got drafted. They probably wouldn't think they were so funny then.) Even Rooney himself summed up his career during his final commentary as "a lot of complaining"—shortly before asking all of his fans to please, just leave him alone. But every hack who's ever poked fun at Rooney probably knows in their heart that time eventually makes curmudgeons of all the smartasses, and any mocking of Rooney is really only mocking themselves. (I do, anyway.) And after all, even though you kind of wish he would just shut up sometimes, who doesn't love their grumpy old uncle?
Rooney often said he thought of himself as harmless—even insignificant—and while the former is true, the latter definitely isn't. In addition to the awards he received or the bestselling books he amassed, on top of his impact on pop culture, Andy Rooney was an icon to anyone who admires the truly American exercises of free speech and being sort of a dick about it. Yes, he often used it on some questionable things, but he also wasn't afraid to speak truth to power on important matters; witness his demanding of an explanation and apology from President Bush for the Iraq War. 
Above all, Andy Rooney's sole purpose in life was to say exactly what was on his mind—even when he knew it would be unpopular, even when it wasn't about anything particularly interesting—and more often than not, he managed to entertain even when he was being a deliberate drag (and sometimes even more so). The fact that Rooney built such a long career out of such proud, cranky obstinacy makes the man who had so often railed against change, ironically, sort of a rebel. Even though he would probably really hate to hear that.