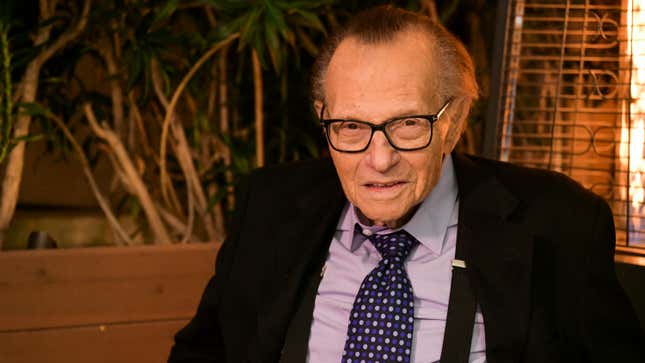 Larry King, the broadcasting luminary who had established his legacy through a number of radio and TV talk shows over the course of over 50 years, has died. Per CNN, Ora Media—the production company that King co-founded—announced his death with an official statement on Facebook. "With profound sadness, Ora Media announces the death of our co-founder, host and friend Larry King, who passed away this morning at age 87 at Cedars-Sinai Medical Center in Los Angeles," it reads. "For 63 years and across the platforms of radio, television and digital media, Larry's many thousands of interviews, awards, and global acclaim stand as a testament to his unique and lasting talent as a broadcaster." King was recently hospitalized with COVID-19 for over a week; however, an official cause of death has not been released. He was 87.
Brooklyn-born Lawrence Harvey Zeiger began his news and broadcasting career in Miami, Florida, where he landed his first job in radio. At first, he was hired to clean and perform miscellaneous tasks. When one the the station's announcers unexpectedly quit, King was tapped on the spot to replace him, which led to his first broadcast in 1957. When it was clear that he had every intention of remaining on the air, Zeiger was urged to change his last name, which was deemed "too difficult" to resonate at the time. Just before returning to the airwaves, the burgeoning host landed on the surname King—a name inspired by a Miami Herald advertisement for King's Wholesale Liquor. He legally changed his name to Larry King to years later.
Anthony Hopkins has figured out what we all knew about Marvel movies
As he began to establish himself as a local personality, King started to conduct interviews. His first celebrity interview was with singer Bobby Darin, who was in town for a show and was familiar with King's work. He would continue to expand his professional portfolio with work in sports commentary and late-night radio hosting. In 1978, he got his first national radio gig with Mutual Broadcasting System, which gave him a nightly show that was first helmed by Herb Jepko. As is the case with his early foray into broadcasting, King quickly gained a devoted following that grew attached to his affable style of questioning and straightforward insight. After gaining a certain level of prominence, he was given his own show—Larry King Live—by CNN in 1985.
Over the show's 25-year life span, King conducted over 30,000 interviews and cemented his impact on journalism and the broadcast industry. Fans grew enamored with his unchanging, breezy style of interviewing that conveyed a deep interest in his guests, whether they were dignitaries or promising upstarts. To King, his limited time with the person on the other side of the desk was best spent granting them space to share a genuine piece of themselves, and that meant setting his own ego aside and letting his show ultimately be about them. "There are many broadcasters who'll recite three minutes of facts before they ask a question," he wrote in his 2009 memoir, My Remarkable Journey. "As if to say: Let me show you how much I know. I think the guest should be the expert."
King departed Larry King Live in 2010 with the intention of hosting the occasional special event. In 2012, he left the network entirely. In that same year, he co-founded Ora TV with business magnate Carlos Slim. There, he continued his talk show work with Larry King Now despite his very public health issues with heart disease and diabetes. Determined, he continued to examine politics and American culture one interview at a time. (Ora TV even hosted the third-party presidential debate in its first year.)

As a pop culture figure, King's TV career includes over 60 guest starring credits—most of which involve him lampooning himself—in shows ranging from Arthur to WWE Raw. His dark-rimmed glasses, suspenders, clasped hands and intimate, forward-leaning posture culminated in a vision ripe for friendly impersonation and contributed to his status as a familiar icon. As tributes continue to pour in, fellow political journalist and TV host Steve Kornacki perhaps summarizes King's impact best: "Larry King was a radio and TV legend with an insatiable curiosity about people and a real sense of humor. He could get anyone talking, from Hollywood stars to the guy on the corner." King is survived by his three children Larry, Jr., Chance, and Cannon.